Author Archives for Bryn Jones
Time to upgrade? Talk to us about the value of your current van.
Not categorized

Posted by

Bryn Jones
Comments Off

on Trade In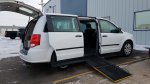 Trade In Vehicle Requirements MoveMobility accepts trade-in vehicles toward the purchase of a MoveMobility new van purchase. Get a trade-in quote with some of the best rates in the mobility van industry. Update your current wheelchair van, or trade in a car, truck, minivan, full-size van, sports car, or accessible vehicle towards a new or used handicap accessible ramp van. MoveMobility uses a variety of appraisal tools, including Kelley Blue Book, NADA, and the Manheim Market Report. We will assess your vehicle's trade-in value and provide you with a great offer towards the purchase of a new wheelchair van or a used wheelchair accessible van with new or used conversion. Step 1. Submit Your Vehicle's Information The first step is to fill out the form below. The basic information you provide helps our mobility consultants create the best trade-in deal possible for you. Be sure you include the correct VIN and mileage, and submit photos of your vehicle. Step 2. Trade-in Inspection A mobility consultant will typically return a trade-in quote within 24 hours of receiving your vehicle's information. After a price is agreed upon, we will inspect your vehicle. For local Winipeg, Manitoba area customers, bring the vehicle direc [.
Flexible Wheelchair Van Seating at a Cost Effective Price
Not categorized

Posted by

Bryn Jones
Comments Off

on Dodge Rear Entry Conversion
The MoveMobility Rear-Entry Dodge Caravan enables you to travel with comfort, convenience, and peace of mind. Our affordable minivans provide flexible seating options that will meet the need of every client. The rear-entry conversion is very cost effective when compared to a side-entry van, often $10,000 - $15,000 less than a standard manual or power side entry van.The rear-entry model allows for a bench row to be added in the back, allowing you to carry up to 6 passengers plus a wheelchair. Contact us by filling in the form on the right or give us as call for more information!
Specifications:
Manual rear ramp, preventing electrical shortages and untidy door cables
Operation couldn't be easier: simply use the handle to pull out and lower the ramp
Spring tension system eliminates the stress of a heavy ramp
91" conversion length (A)
31" pan width (B)
23.5" mid-row seating clearance (C)
6" [...]