MoveMobility's Rear Lift accessible conversion for the Ford Transit is used in a diverse range of applications that require flexibility for wheelchair and ambulatory transportation.
Maybe you're:
Worried about increasing costs of running heavily modified buses
Anxious about rider discomfort
Struggling with declining ridership or participation
Frustrated with driver complaints or injuries
If this sounds familiar, it may be time to consider the Rear Lift Accessible Ford Transit by MoveMobility for your program.
Proud to be Canada's Leading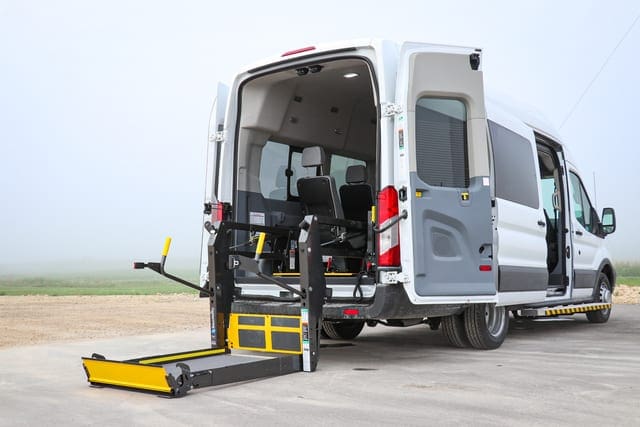 Multipurpose for many applications
The Rear Lift accessible conversion by MoveMobility is designed to suit organizations looking for flexibility, efficiency, and comfort, including Municipal Transit programs, group homes remote communities, medical transportation, and shuttle services.
Easy to drive, maneuver and park in city and rural applications

Maximize use of interior space and headroom; standing height means less caregiver injury
High ground clearance; no scraping on gravel or snow-covered roads
Rear Wheel Drive and All Wheel Drive available
Rider comfort and dignity
Drivers and caregivers enjoy more space to safely secure wheelchair passengers without personal injury. Transport more passengers in over 1,000 seating possible configurations with AutoFloor.
Transport ambulatory and wheelchair passengers, with stretcher compatibility available
Full standing interior height for easy wheelchair securement and passenger access
Running boards and grab handles for passenger security
Heat and Air Conditioning system designed for Canadian climates
D409 Certification
CMVSS Certification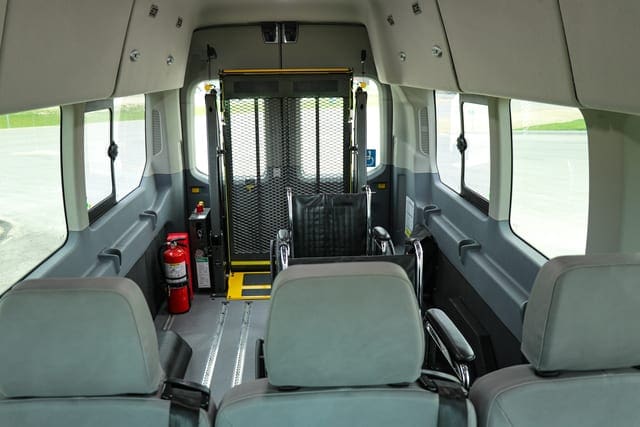 Compatible with wheelchairs, walkers, and stretchers, the Rear Lift Accessible Ford Transit is adaptable to every mobility requirement.
Heavy duty, 1,000 lb lift for large, powered wheelchairs
Smooth, quiet lift operation
Manual, bi-fold ramp option available
Infloor Wheelchair Restraint System
Non-Emergency Stretcher Medical van available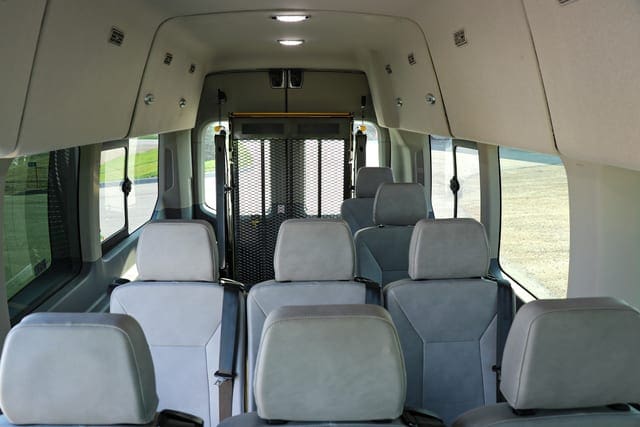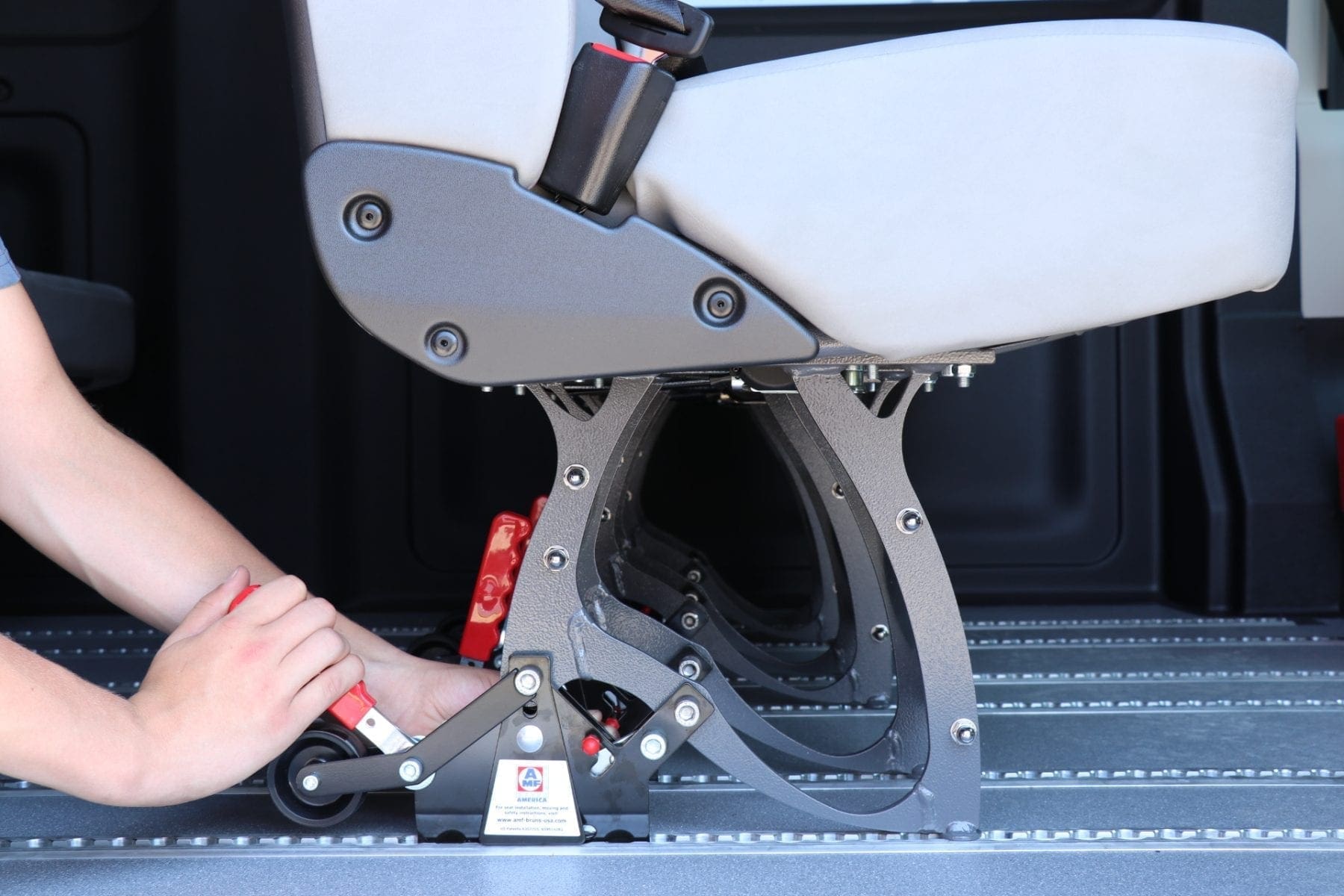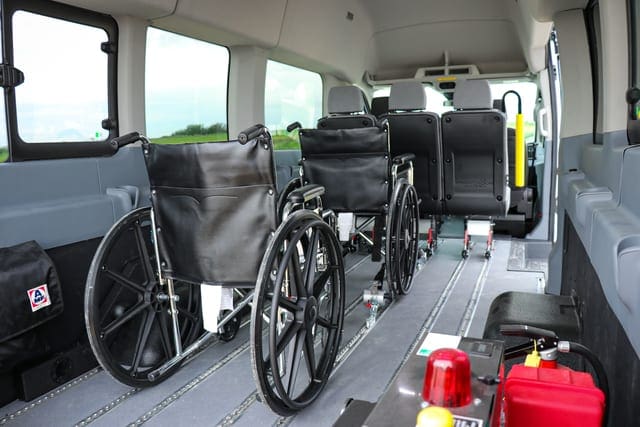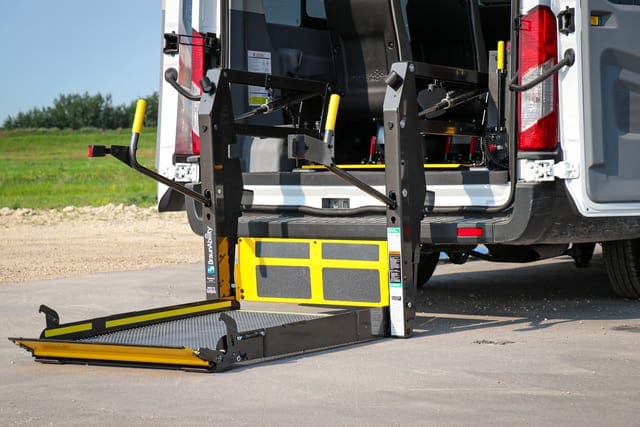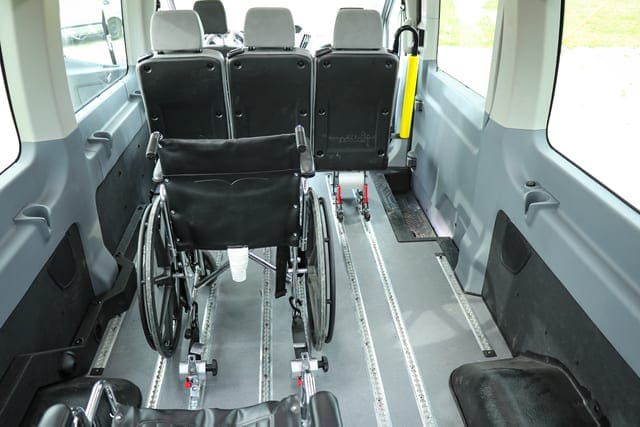 Flexibility with AutoFloor
The AutoFloor track system gives you complete control over seat and wheelchair configurations for your accessible van.
Wipe-clean transit grade seats
Lightweight and removable on wheels for easy reposition
Operators can easily wheel seats in or out of the vehicle using the lift
Transport a combination of wheelchairs and ambulatory passengers
Maximum flexibility and efficiency on every route
Customize the seating layout to suit each clients' needs
Do you worry about expensive repairs or uncomfortable passenger rides on your accessible van fleet? Experience lower operating costs with the MoveMobility Rear Lift Accessible Ford Transit.
Questions? Let's Connect.
While our team would love to be on the road with our innovative accessible vehicles, we're providing the same demonstration opportunities virtually. Contact us today to set up your online, no-obligation vehicle demonstration to see the value and fleet efficiency you can enjoy by partnering with MoveMobility for your accessible van needs.