Side Entry Ram Promaster P3
Compact Side Entry Wheelchair Van with Patent Pending Ramp and Door System
MoveMobility's P3 wheelchair van is built on the Ram Promaster 136" Wheelbase Low Roof model. It is only slightly larger than a minivan such as the Dodge Grand Caravan, but provides more flexibility and customizable floorplans.
The P3 can be configured for up to 8 ambulatory passengers, up to 3* wheelchairs, or a combination of both. Mobility passengers can enjoy an unobstructed doorway.
*Depending on wheelchair size and layout.
**Excluding BC.
***This is based on information made publicly available online. It varies by model and driving habits.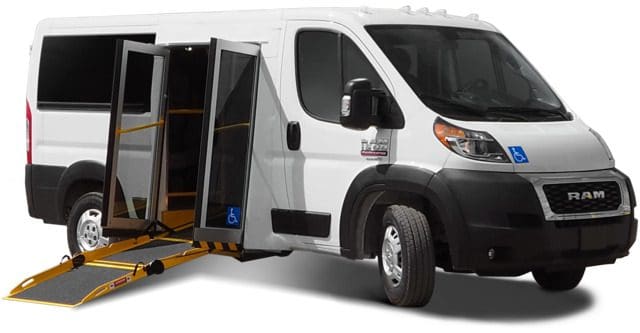 Download the P3 vs. Minivan Comparison Sheet
Wondering how the P3 compares to a traditional side entry minivan? Download the Comparison Sheet for a side-by-side look at both vehicles.
Get Your Copy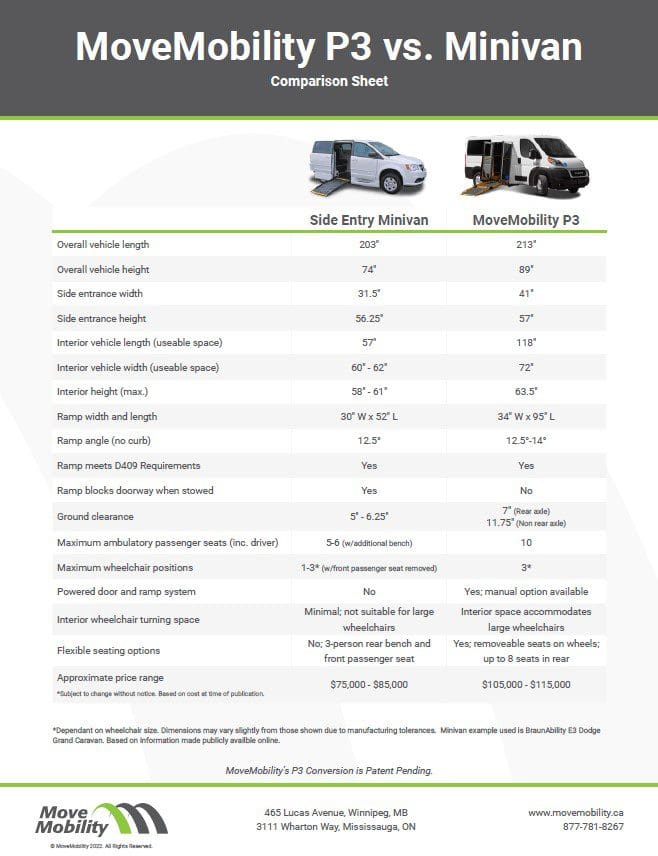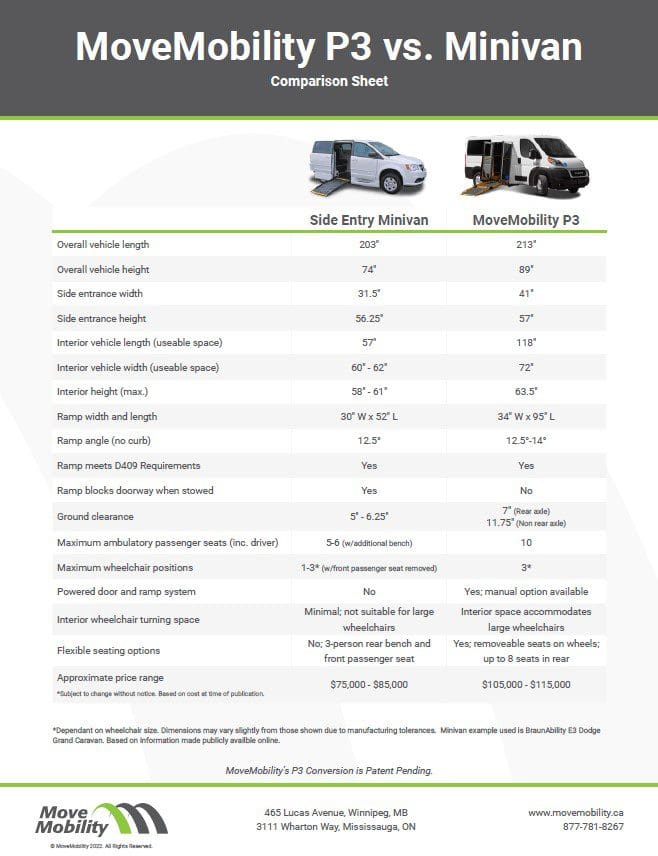 Download the Comparison Sheet
Wondering how the P3 compares to a traditional side entry minivan? Download the Comparison Sheet for a side-by-side look at both vehicles.
Get Your Copy
AutoFloor Flexible Floor and Seating System
AutoFloor is an innovative floor track and seating system that allows you to configure seats and wheelchairs in the vehicle in different layouts. Your organization can save time and money with an adaptable vehicle that meets any rider needs.
Manual or Powered Ramp
The heavy duty, transit grade ramp allows for quicker, safer passenger access than a hydraulic lift. It allows mobility passengers to enter independently.
Barrier-Free Door Entry and Exit
All passengers use the same entrance, eliminating feeling of isolation and anxiety for mobility passengers.
Wheelchair Restraints
Wheelchair restraints are used in conjunction with a shoulder harness and lap belt securement system for wheelchair occupants. Designed with safety and aesthetics in mind.
Side Entry Powered Ramp
Heavy duty, transit grade ramp
Ramp doesn't block entryway when stowed
Ramp can remain stowed for walk-on passenger access
Barrier-free entry with no steps

1,000 lbs ramp weight capacity

Quiet, smooth operation
Manual backup system
Ramp has integrated handles for manual deployment when needed
Manual ramp option available
Bus Style Doors
Wheelchair Restraint Systems
Dimensions
Additional Options
Pricing
Why Side Entry?
Most Common Seating Layouts
Side Entry Ram Promaster P3 Images
Mohawks of Akwesasne First Nation
Melanie G., Akwesasne Non-Insured Health Benefits Program Manager
Akwesasne recently purchased the P3 Ram Promaster low roof van to provide Medical Transportation Benefits to our clients. The Medical Transportation drivers are very pleased with a vehicle of this size as it delivers excellent handling and maneuverability; our clients have a more spacious vehicle that offers plenty of room for wheelchairs and seating.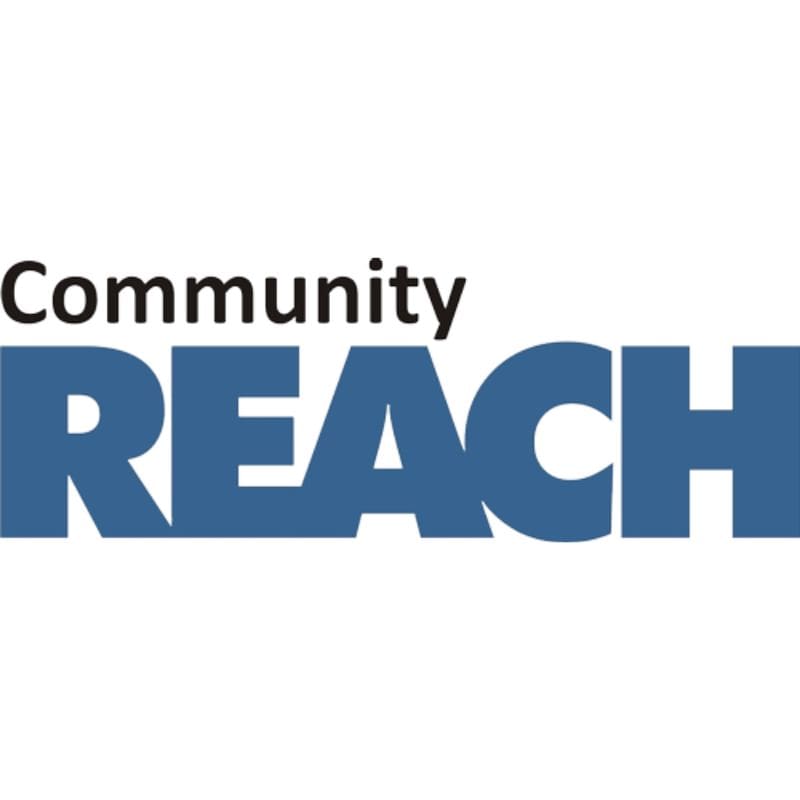 Midland Community Reach
Rick I., Transportation Manager
The automatic door system and power ramp allow for easy access and less work for our drivers, as they operate at a push of a button. The ramp can accommodate almost all larger chairs and the adjustable seat track system allows the driver to configure the best seat layout easily. The drivers enjoy this vehicle as it has more room to stand up, move around and adjust the seat layout. The glass doors allow the driver to line up the ramp with the curb and with a press of a button, the door opens and the ramp unfolds. The driver can then assist the passenger up the ramp to their seat, or to latch down their wheelchair. Then, with a push of a button again, the ramp folds up and the door closes and the ride can proceed. We have been using this vehicle for almost a year now and have had many positive comments from our riders that they enjoy the ride, with the extra headroom and the good visibility out the windows.
Looking for more information or pricing?
Contact MoveMobility using the form below and our team of commercial mobility specialists will be in touch shortly.