Budgeting for replacing or adding a new accessible van to can be a complicated process. There isn't much unbiased information available online about the process of purchasing and converting a wheelchair accessible van. This makes it hard to find out how much a wheelchair van actually costs.
The truth is, it's a tough question to answer. Wheelchair accessible vans have many variables and options that may or may not be appropriate for your community or organization. If you're in the market for a mobility vehicle, you need an understanding of the costs involved in this type of purchase.
In this article:
A brief note on purchasing an accessible van: Vehicle dealerships and their salespeople are often perceived as solely focused on upselling their clients on vehicle features they don't need.
MoveMobility is not a traditional dealership and we encourage you to learn more about what is involved in purchasing a wheelchair accessible van. We strive to educate every prospective buyer, even if it means that you decide that MoveMobility's accessible vehicles aren't right for your requirements.
The more educated you are when you contact an accessible van provider, the easier the decision-making process will be. You'll be more likely to end up with a vehicle that suits your community or organization's needs. The last thing you need is to be sold a vehicle by someone who doesn't understand how your transportation program works.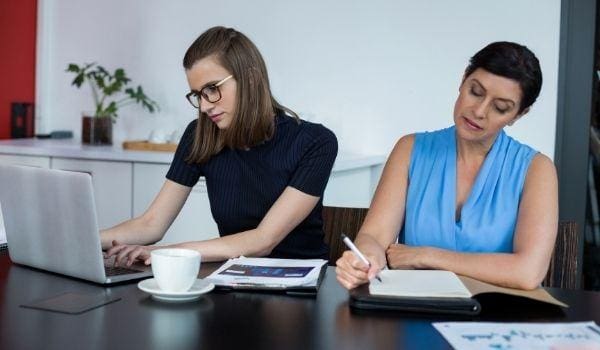 Who is this information for?
Please note that this information is tailored to companies, communities, and organizations who use accessible vehicles, such as:
First Nation Communities
Rural and Urban Paratransit Providers
Medical Transportation programs
Adult Day Care organizations
Community Outreach and Support programs
Personal users may not find the following information relevant. The following discussion will cover the different factors that make up and affect the cost of wheelchair accessible vans for commercial users.
How much do wheelchair vans actually cost?
Below is a list of the ballpark costs for different types of wheelchair vans used in commercial applications.
| Vehicle | Budget Range |
| --- | --- |
| P Series Accessible Vans | $130,000-$160,000 |
| Ram Promaster & Ford Transit Classic Series | $125,000-$140,000 |
| T Series Accessible Van | $140,000-$170,000 |
| VL Series | $110,000-$135,000 |
| Rear Entry Minivan with manual ramp conversion | $85,000-$100,000 |
Budget ranges provided for informational purposes only. Subject to change without notice.
Now that you know the average prices for commercially-used wheelchair vans, you're probably wondering why some wheelchair vans are more expensive than others.
What drives the cost of an accessible van up?
In the automotive market, the actual vehicle frame or body is known as the chassis. Chassis costs have a large impact on the cost of a wheelchair van. Sometimes, the cost of the chassis and wheelchair accessible conversion are similar.
The cost of a vehicle chassis isn't something that accessible van manufacturers have much control over. You'll find that the cost of the chassis purchased from a wheelchair van manufacturer is similar to the price you would pay for the same chassis at an OEM dealership.
If the conversion manufacturer is well established and a trusted provider in the industry, they'll have strong relationships with OEM manufacturers such as Ford, Ram/Chrysler (Stellantis), and Mercedes.
Aside from the cost of the vehicle itself, the wheelchair accessible conversion modification includes numerous other components. These include:
Conversion type
Whether the van has a flexible floor track system for seating and wheelchairs
Wheelchair access equipment: lift or ramp
Interior paneling, insulation, and finishing
Removeable seating
Wheelchair securement restraints
Safety equipment
Entry and exit assists (grab poles)
Lighting systems
Heating and air conditioning systems
Custom medical equipment
As you can see, there are many components that affect the price of a wheelchair accessible van and conversion. It's mainly the customization of the wheelchair van conversion that drives the cost of the vehicle up.
See more about recommended accessible van conversions by use case here:
What keeps the cost of a wheelchair accessible van down?
While there are ways to save money when purchasing a wheelchair van, this can sometimes compromise the functionality or features that may be required for you to be able to provide fully accessible transportation as it pertains to your passengers' needs.
For example, some communities opt with a manual wheelchair ramp instead of a powered ramp. While this can save a few thousand dollars, it does mean the ramp is required to be manually operated each time it's used.
This works well for communities where powered or electrical systems don't operate reliably in a cold climate. However, in an urban centre where it's important that passengers board efficiently as possible, a powered ramp is usually a better option.
When clients ask us if there are any ways to keep the cost of a wheelchair accessible down, it prompts the discussion around whether they are willing to make the investment into a wheelchair van that will provide them the accessibility and flexibility they need in the long term, or whether they are looking for the cheapest mobility van option available.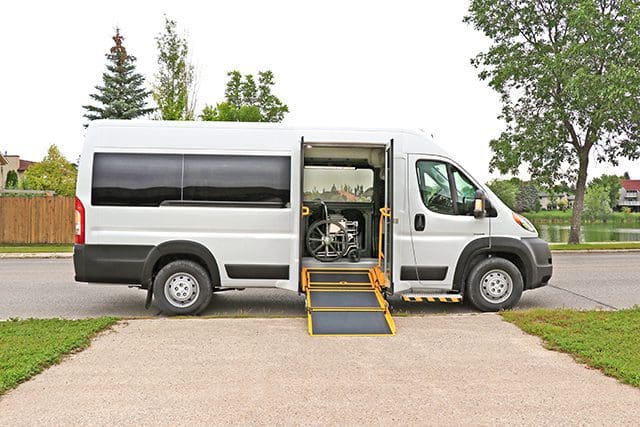 Why are some wheelchair van manufacturers more expensive than others?
If you've been tasked with procuring wheelchair vehicle for your organization, chances are you've been told to get multiple quotes to compare prices. That's normal when making a capital purchase.
However, it's important to understand that every company who manufacturers and/or sells wheelchair accessible vans is different, and this will be reflected in the quotes you receive.
There are many reasons why pricing for wheelchair vans differs between providers. Each company builds vehicles differently, so there's a few things you should consider when reaching out to various companies.
Safety.
In Canada, there are numerous regulations and safety standards that vehicle modifiers must adhere to. In simple words, these regulations govern the safe transportation of mobility and ambulatory passengers and ensure that wheelchair users are properly secured during transportation.
Quality.
There's that saying that goes, "you get what you pay for". This is quite relevant when it comes to vehicle modifications. Modifying vehicles for wheelchair accessibility is not work that any person or company can do. It requires specially trained technicians to achieve the high level of quality of workmanship that you expect in a wheelchair accessible van.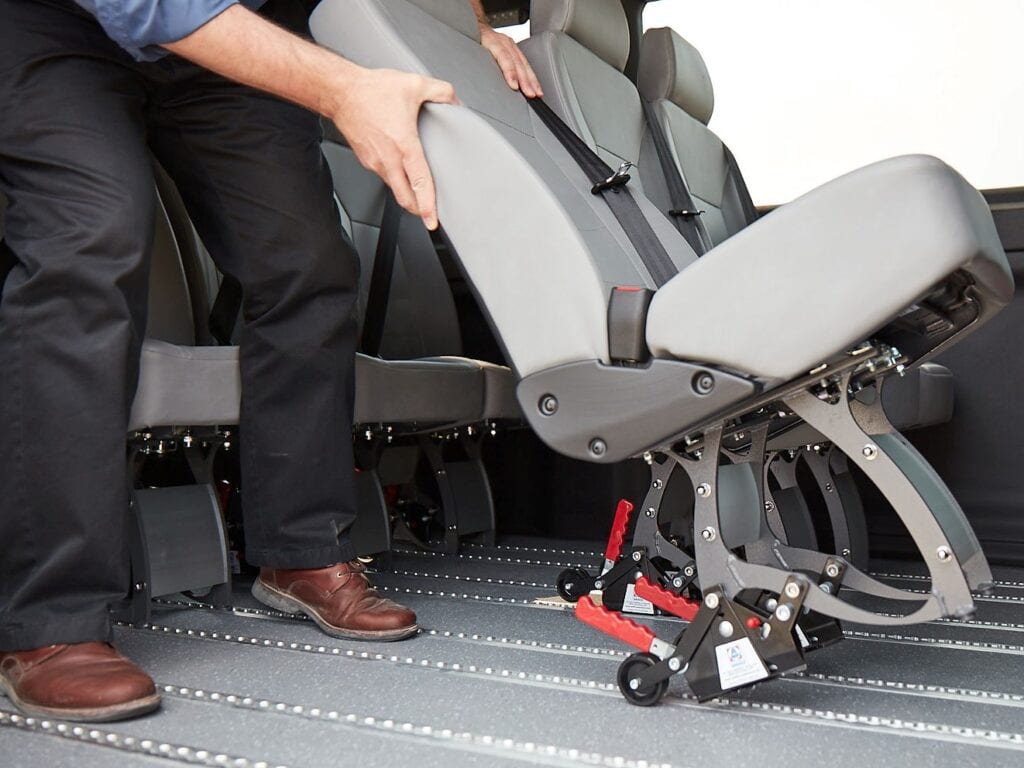 The company stands behind their products and service.
If a wheelchair vehicle provider provides after-sales service with a dedicated customer service team, you know they're invested in your transport program's success. Too many times have wheelchair van operators been left hanging with no one to support them while they struggle with vehicle downtime or too many hours in the garage.
Company size and their priorities.
As with any industry, different companies have different internal structures and teams. Some have team members dedicated to innovation and developing new products to provide you, the buyer and user of their products, with something even better next time you're in the market.
The same goes for wheelchair van manufacturers. Engineering and testing plays a huge role in being able to bring a new wheelchair van to the market, and often buyers aren't aware of the research and development process involved in doing this.
Ultimately, if a wheelchair van provider you contact has a department specially for developing new wheelchair van conversions, the investment is likely to be more to fund those innovation efforts. While this may seem hard to swallow at first, you're guaranteed to be working with a company who is highly knowledgeable and experienced in wheelchair van manufacturing and is interested in the future of mobility.
So, this leads us to…
Why are some wheelchair van manufacturers less expensive than others?
Some wheelchair van manufacturers may have significantly lower prices than others. This could be for many reasons. Wheelchair van conversions vary by manufacturer, so different features, functions, and options affect pricing you receive.
After-sales service may not be available or may not be a priority for companies who prefer to sell wheelchair accessible vehicles for lower prices. They may not stand behind their offering, which should prompt you, the buyer, to consider whether your priority as a purchaser is the lowest price or the most value.
Some providers may be willing to discount prices frequently to win business. While each organization and community have their own decision-making process, wheelchair van conversion companies may face competition to offer the lowest quote. This may save buyers money, however it may be a sign that the van conversion company is lacking business and wants to win a sale by discounting their vehicles.
Your next steps to budget for a wheelchair van
If you've worked with MoveMobility before, you may know that we're not typically the lowest-priced provider of wheelchair accessible vans in Canada. Our mobility experts are transparent about this throughout the wheelchair accessible van purchase process.
MoveMobility focuses on innovation to bring to market new mobility vehicle options that are more appropriate for transit needs, rather than so-called 'one-size-fits-all' options. Paratransit service providers and their riders deserve safe, barrier-free accessible van options.
We're happy to help you get an actual budget cost for the wheelchair accessible vehicle your organization or community needs.
If you're ready to talk to a MoveMobility expert today, click here.
Or, check out these related articles for more information: