Ford Transit Wheelchair Accessible Vans
TL Classic
The Rear Lift Ford Transit is configured with a heavy-duty BraunAbility hydraulic lift in the rear position. You can change your passenger seating and wheelchair positions to best suit your organization.
TR Classic
The Rear Ramp Ford Transit is configured with a manual bi-fold ramp in the rear position. You can use this conversion for wheelchair transportation as well as non-emergency stretcher transport applications.
T6 Accessible Van
The T6 Accessible Van is your cost-efficient solution if you need the functionality of a bus with the cost savings and flexibility of a van. This vehicle is designed for transit programs that prefer the layout of a traditional bus, without the high running costs.
The Ford Transit accessible vehicles are available in two roof heights and three lengths:
148″ Wheelbase, Medium Roof
148″ Wheelbase, High Roof
148″ EXT Wheelbase, High Roof
*May vary based on vehicle availability.
AutoFloor Flexible Floor and Seating System
AutoFloor is an innovative floor and seating system that allows you to configure seats and wheelchairs in the vehicle in different layouts. Your organization can save time and money with an adaptable vehicle that meets any rider needs.
Standard in all full-size MoveMobility vehicles, AutoFloor facilitates a fast, flexible design for your vehicle's interior and provides built-in social distancing.
Removeable seats on wheels and compatible wheelchair restraint systems make it easy to keep your passengers safe and comfortable.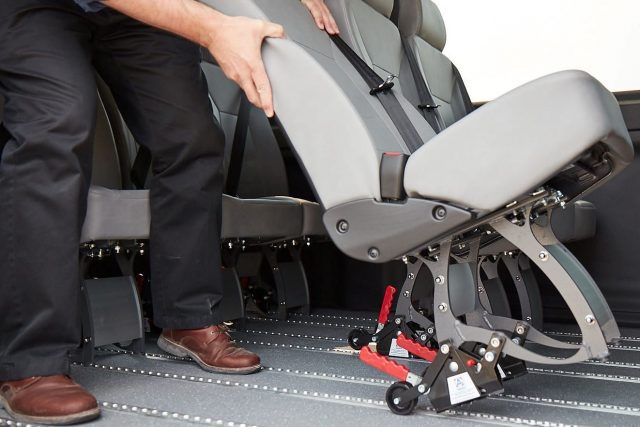 Looking for specifications or pricing?