Ram Promaster P6 Accessible Van
Dual Entry Ramp Wheelchair Van for Microtransit and Community Shuttle
MoveMobility's P6 wheelchair van is built on the Ram Promaster 159" EXT Wheelbase High Roof model. It is a popular option for accessible transportation providers downsizing from a large cut-away bus to a more efficient, flexible vehicle option.
The P6 is configured with dual access ramps. This provides side entry and rear entry access for walk-on and mobility passengers. The P6 can be configured for up to 10 ambulatory passengers, 3* wheelchairs, or a combination of both.
*Depending on wheelchair size and layout.
**Excluding BC.
***This is based on information made publicly available online. It varies by model and driving habits.
Vehicle Model: Ram Promaster 3500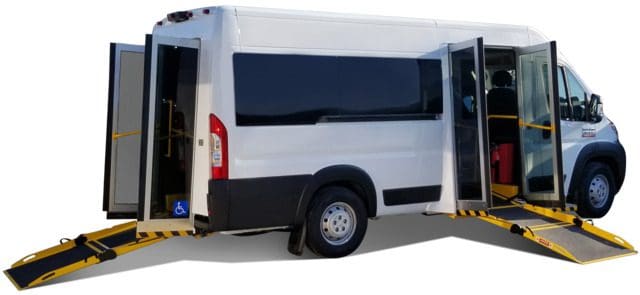 AutoFloor Flexible Floor and Seating System
AutoFloor is an innovative floor track and seating system that allows you to configure seats and wheelchairs in the vehicle in different layouts. Your organization can save time and money with an adaptable vehicle that meets any rider needs. AutoFloor is included in each full size van conversion.
P6 Dual Entry Ramp Wheelchair Accessible Van
The P6 Dual Entry Ramp wheelchair van is configured with bus style doors and a powered ramp at the rear and side entrances. The doorways are unobstructed, so that passengers with any level of mobility can access the van without steps.
Ramp access allows for quicker, safer loading and unloading than a hydraulic lift.
Dual entry access is often used by transit agencies that serve a large number of riders each day. The ability to enter and exit from the side or rear entrance reduces disruptions to seated riders. It allows multiple riders to load at once, lowering the wait times at each stop.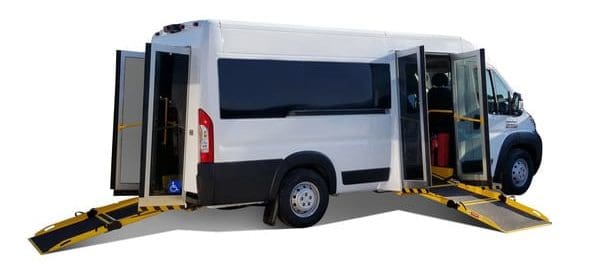 Patent Pending P Series Conversion.
Side & Rear Entry Powered Ramps
Heavy duty, transit grade ramp
Operated from driver's dash
Optional external door switches
Ramp doesn't block entryway when stowed
Ramp can remain stowed for walk-on passenger access
Barrier-free entry with no steps

1,000 lbs ramp weight capacity

Quiet, smooth operation
Manual backup system
Ramp has integrated handles for manual deployment when needed
Manual ramp option available
Bus Style Doors
Wheelchair Restraint Systems
Dimensions
Additional Options
Pricing
Why Dual Entry?
Most Common Seating Layouts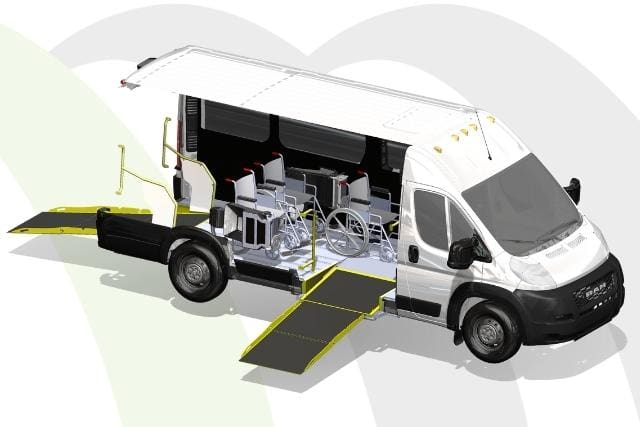 Interior and Exterior P6 Van Features
Looking for more P6 information or pricing?
Contact MoveMobility using the form below and our team of commercial mobility specialists will be in touch shortly.