Trail Edition Van Upgrade
Exclusive Off Road Wheelchair or Mobile Medical Van Upgrade
Off Road Van: Trail Edition Upgrade
Travelling gravel and snow routes takes a toll on your van. If your community relies on gravel or winter roads, you need an off road wheelchair van that can tackle the terrain all season long.
The Trail Edition Upgrade is an off road package to add to your Ram Promaster or Ford Transit van from MoveMobility.
It's designed for communities that need a heavy duty, reliable van. The Trail Edition Upgrade gets you the durability you need, on and off the beaten path. This off road van upgrade adds heavy duty equipment to your wheelchair vans with:
*not available on M Series Vans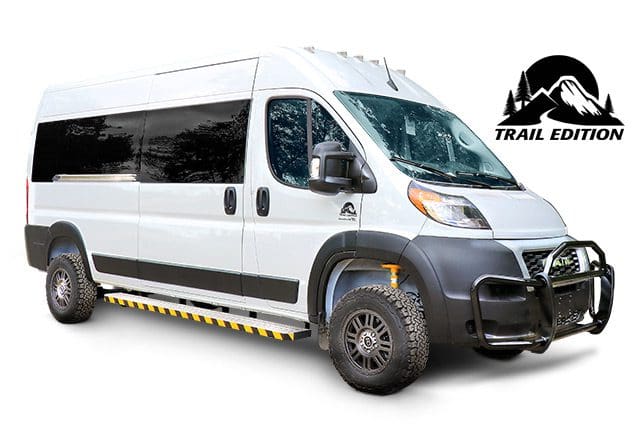 Off Road Wheelchair Van Trail Edition Upgrade Availability
Wondering what's inside the van? The Trail Edition upgrade is an exterior upgrade that doesn't affect the van's interior, such as seats, wheelchair positions, or the floor. 
This equipment upgrade can be added to MoveMobility's Ram Promaster and Ford Transit wheelchair accessible vans and mobile medical vans. Models include: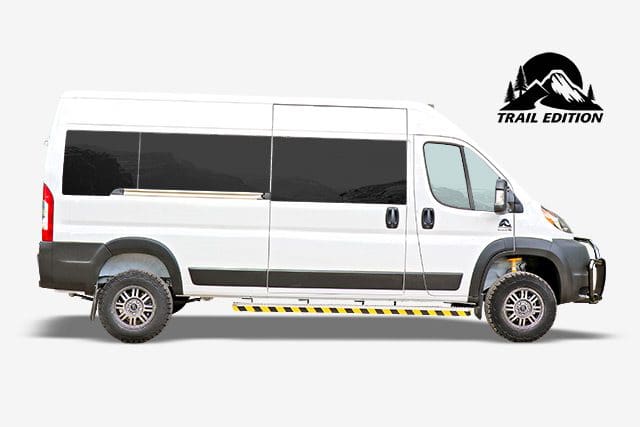 Extreme Use Suspension Package
Give your riders a comfortable ride with the off road Extreme Use suspension package.
Suspension Lift Kit
Overcome rough terrain with the heavy duty suspension lift kit.
Off Road Wheel & Tire Package
Conquer snowy roads like a boss with the aggressive off-road wheel and tire package.
Underbody Steel Protection Package​
Beat the cold with the off-road underbody protection package that protects your engine and transmission.
Rear Body Shell Stiffener
Maximize the life of your van on rough road conditions with a rear body shell stiffener.
Front Grille Guard
Prevent downtime caused by wildlife encounters with the front grille guard.
Looking for more information or pricing?
Contact MoveMobility using the form below and our team of commercial mobility specialists will be in touch shortly.