Seniors in Canada are a rapidly growing segment of the population, and they are living longer and more independent lives than ever before. By the year 2030, Canadian seniors will number over 9.5 million and makeup 23 percent of Canadians.
As a transportation provider, what should you look for when purchasing an accessible van for seniors' transportation?
When considering purchasing a vehicle for a fleet or transportation program serving seniors, you'll want to consider the following vehicle functions and features.
Barrier-free van access
As part of the normal aging process, many people develop mobility issues that can make it challenging to navigate steps or running boards to enter and exit a vehicle independently.
A barrier-free entry system includes a ramp with railings and grab handles, making it possible for riders to safely enter and exit the vehicle independently regardless of whether they use a cane, walker, or if they are in a wheelchair.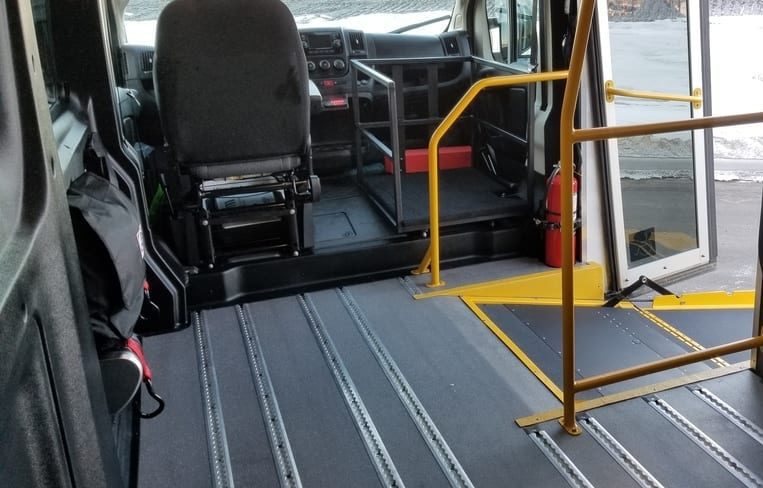 Climate comfort
Many seniors are drastically affected by cold temperatures, including increased chronic pain from conditions such as arthritis. Studies show that cardiovascular conditions can worsen through the constriction of blood vessels in response to the cold. Seniors are also at an increased risk for hypothermia as their bodies are less efficient at generating heat.
When transporting elderly persons and those with different levels of mobility, your vehicle must have adequate heat and air conditioning for the conditions. The Canadian climate means your vehicle needs to keep riders comfortable in sub-zero and sweltering temperatures. A High-Capacity HVAC system is required to do this.
In addition to a High-Capacity HVAC system, many of our clients tell us the fact that they are only using one point of entry helps keep the vehicle's temperature steady. Regardless of whether your client is a wheelchair or ambulatory passenger, one side entry door means a faster loading time.
With only one door open in the vehicle, the temperature doesn't drop as significantly as when you have two doors open.
Increased dignity
Several passengers report that they experience increased feelings of dignity as all passengers enter and exit the van through the same entrance. Those with mobility challenges are not required to access the vehicle through a separate entry way. Seniors and persons with disabilities feel more comfortable knowing they can safely enter and exit the van.
Social distancing
Throughout the COVID-19 pandemic, our clients have appreciated the built-in social distancing options that the AutoFloor floor track system provides in every full size MoveMobility vehicle. The removeable seats are easily moved to increase spacing or to reduce the number of passengers that you carry on one trip.

Increased comfort through ride quality
Bumps in the road can cause discomfort in our joints or spine. In seniors, this discomfort can become painful as they tend to have more chronic conditions that lead to increased pain.
To reduce the impact from bumps in the road, it's important that your vehicles are structurally durable. At MoveMobility, we ensure that the modifications to seniors transportation vehicles are minimal, keeping the ride quality as smooth as the OEM intended.
An example of a vehicle known as 'heavily modified' is a cutaway bus (typically over 10-passenger capacity).
Reduction in feelings of isolation
Growing research reveals that social isolation is harmful to mental and physical health. For seniors who are unable to get out due to mobility challenges or lack of accessible transportation, this means they have an increased risk of the negative impacts of social isolation.
Getting out regularly may become a reality if your senior residents or community elders are able to access a service with a vehicle that they are comfortable travelling in.

How is this relevant to you, the transportation provider?
If any of these articles resonated with you, if you would like to learn more, or if you have a story of how a MoveMobility vehicle has helped seniors in your community, we would love to hear from you.
Ensuring that the growing senior population has access to inclusive transportation has been at the forefront of MoveMobility's innovation strategy. Drawing on our extensive experience in providing world-class wheelchair accessible vehicles, we recognized the need to find solutions for the challenges that Canada's ageing population faces when accessing public transportation.
As a result, we launched our P Series line of accessible vehicles in 2019. The P Series line is a robust selection of purpose-built microtransit vehicles that have built-in solutions for the most common challenges that older adults are faced with when using public transportation options. Learn more about the P Series vehicles by clicking on the links below.