Have you ever considered how simple it is to get into and out of a vehicle? If you have Muscular Dystrophy, it's not a simple task. According to HealthPartners, over 50,000 Canadians have live with Muscular Dystrophy.
In May 2019, MoveMobility took part in an event that made life for a local Winnipeg family a little bit easier.
MoveMobility joined forces with other organizations to get the DeVries family a wheelchair van. Together, Variety Manitoba, Society for Manitobans with Disabilities (SMD), Disabilities & Health Support Unit (DHSU), and Muscular Dystrophy Canada bought a 2019 Wheelchair Accessible Ram Promaster.
There are six boys in the DeVries family, three of whom live with Muscular Dystrophy. They wished for an accessible vehicle that would mean they could travel together.
On March 26, 2019, representatives from each charity and MoveMobility visited the DeVries family home. There they surprised the family with their "gift of a lifetime", the wheelchair accessible van. The parents recalled times when they couldn't include all their children on outings and school trips. He would usually need to wait for his father to lift him in and out of a truck.
It was clear how much this wheelchair accessible van meant to the family. Watch their reaction at home: Click here!
Variety's Gold Heart Gala – May 2019
The DeVries received the vehicle at the 2019 Variety Gold Heart Gala. This gave MoveMobility time to convert the Ram Promaster into a PL Classic, configured with a rear entry wheelchair lift and seating.
With the help of many sponsors and volunteers that enable "kids to be kids", Variety held a happy event. During the Gold Heart Gala, several deserving families received gifts. These gifts, including wheelchairs and adaptive equipment, relieve the financial burdens families face.
The Ram Promaster wheelchair van was the star attraction at the Gala. After it was officially gifted to the DeVries family, they eagerly drove home with their new wheels.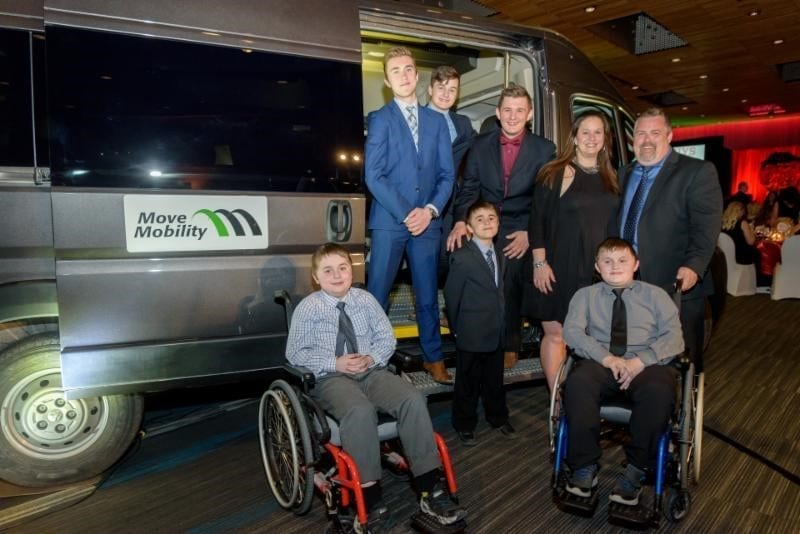 Family Reaction at the Gold Heart Gala
An accessible vehicle makes transportation for families with children with disabilities much easier. It takes the anxiety and stress of transferring their child into a vehicle off their minds.
The DeVries family said "how much the vehicle meant to them and how it would make their lives run smoother in different ways." It was important to them that the whole family could 'finally' travel together. They were already making plans for where to go.
The smiles on their faces and happy tears in their eyes showed they were grateful for the gift. More than ever, they were ready to make new memories as a family.
Partnerships with organizations like Variety Manitoba give families hope for their children. Together, we can ensure that children with disabilities don't face financial hardship.
Photos courtesy of Variety Manitoba