Vancouver's downtown eastside area is one of the most vulnerable and marginalized communities in Canada. It's home to many individuals who face poverty, substance abuse, addiction, homelessness, mental health concerns, and violence. A large portion of these individuals face difficulties accessing primary healthcare services. Mobile primary care is a good way of addressing these concerns.
Despite the crisis in Vancouver's downtown eastside, mobile health vans have emerged as an essential solution in delivering care and support directly to those in need. At MoveMobility, we manufacture mobile medical vans that help reduce barriers to healthcare and transportation. We're also one of Canada's two Ford Qualified Vehicle Modifiers, proving our commitment to the highest standards of safety and quality in vehicle conversions.
In this blog post, we'll delve into the numerous benefits of utilizing mobile health vans in this vulnerable area of Vancouver.
Understanding the Vulnerable Population in Vancouver's Downtown Eastside
Before taking a closer look at how mobile health vans can benefit Vancouver's downtown eastside, it helps to understand how vulnerable the population that lives there really is. The Indigenous population comprises around 39% of the people living in Vancouver's downtown eastside. This factor highlights the importance of culturally sensitive healthcare services that honors both their traditions and values.
Some of the barriers that Indigenous individuals face when accessing healthcare in this specific area are:
Trauma and distrust: Historical trauma among Indigenous populations has led to a deep-rooted mistrust of healthcare systems, resulting in a reluctance to seek care, skepticism towards medical professionals, and fear of cultural insensitivity.
Culturally appropriate services: A lot of healthcare services don't consider the cultural beliefs, practices, and healing traditions of Indigenous communities. The absence of culturally appropriate care can lead to feelings of alienation, disrespect, and a lack of confidence in the healthcare system.
Socio-economic factors: Indigenous individuals in Vancouver's downtown eastside face socio-economic factors like unemployment, poverty, inadequate housing, and food insecurity. Because of these difficulties, they prefer mobile health vans because the vans meet them where they're at, understand their challenges, and respect their culture.
Systemic Discrimination and Racism: Indigenous individuals often encounter systemic discrimination and racism within healthcare systems. Stereotyping, bias, and unequal treatment can negatively impact access to quality care, hinder effective communication, and perpetuate health disparities.
What is Mobile Primary Care?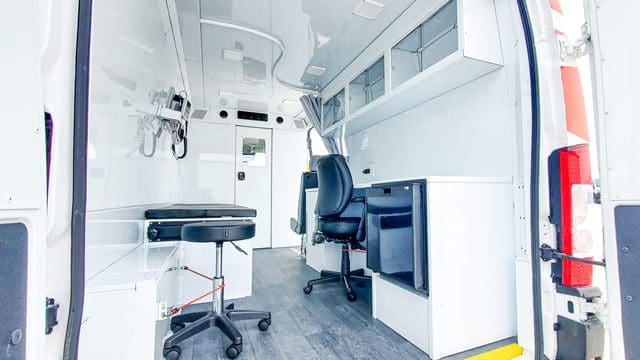 Mobile primary care refers to the provision of healthcare services that are delivered directly to patients where they're at. Mobile primary care services are often delivered through specially equipped vehicles, known as mobile health vans or mobile clinics, that are equipped with medical equipment, supplies, and technology to provide a wide range of healthcare services on-site. 
These vans can travel to different locations, set up temporary clinics, and deliver care to individuals who may be dealing with the discrepancies we mentioned earlier. The services provided by mobile health vans include:
Primary care consultations

Health assessments

Preventive screenings

Vaccinations

Medication management

Health education
Mobile health vans act as a lifeline for individuals dealing with the unique challenges of being homeless in Vancouver's downtown eastside. These vans ensure they have access to essential healthcare services in a convenient and accessible manner.
How Can Mobile Primary Care Help in Vancouver's Downtown Eastside?
Mobile primary care can play an important role in addressing the healthcare needs of the Indigenous population.
There are several ways in which mobile primary care can help:
Health Education and Prevention
Mobile health vans can provide health education initiatives that leave Indigenous individuals feeling empowered to make better decisions about their health. 
This can be in the form of:
Information about preventative measures

Health screenings

Chronic disease management
Collaboration
Many different organizations can purchase mobile health vans to collaborate with the various Indigenous organizations in Vancouver's downtown eastside. This collaborative approach will ensure culturally appropriate care by people who are aware of the challenges faced by the Indigenous population.
Accessibility
Mobile health vans bring healthcare services directly to the community at Vancouver's downtown eastside. This can help eliminate any transportation barriers that prevent access to healthcare facilities.
Outreach and Engagement
Mobile health vans are a perfect tool to actively engage with the Indigenous population in Vancouver's downtown eastside community. Through engaging with the population right where they are, support, rapport, and trust are built between the community members. This proactive approach can encourage individuals to seek better care and take more control over their health. 
Health Screenings and Early Detection
Another way how mobile primary care can help in Vancouver's downtown eastside is by conducting regular health screenings and assessments. Conducting health screenings in this population can reveal things like:
Chronic conditions

Infectious diseases

Mental health issues

Substance abuse
Chronic Disease Management
Many Indigenous individuals face higher rates of cardiovascular diseases, diabetes, and respiratory conditions. Mobile primary care services can meet the Indigenous population where they're at and provide ongoing monitoring, medication management, and support for individuals with chronic conditions. Regular follow-ups and access to healthcare providers can help individuals better manage their health and prevent complications.
Mental Health and Addiction Services
Mobile health vans are also ideal for organizations that provide mental health assessments, counseling, and addiction support. As part of these services, referrals can be provided to Indigenous individuals for treatment programs, support groups, and peer networks. All of this can help reduce harm and support individuals toward a straighter path to recovery.
Health Advocacy
Some individuals have difficulty navigating the complexities of the healthcare system. Mobile health vans can serve as advocates and navigators for Indigenous individuals, providing support, guidance, and empowering them to play an active part in their health. 
Mobile Primary Care: Empowering Downtown Eastside with MoveMobility
As you can see, mobile primary care services through mobile health vans are a vital solution for addressing the healthcare needs of the Indigenous population in Vancouver's downtown eastside. The vulnerable nature of this community, coupled with the barriers they face in accessing healthcare, calls for innovative approaches that prioritize cultural sensitivity, accessibility, and comprehensive care. 
Mobile health vans provide a unique platform to deliver healthcare services to those in need, right in their own community. At MoveMobility, we understand the importance of mobile primary care in improving the health outcomes of the Indigenous population in Vancouver's downtown eastside. As a leading manufacturer of mobile medical vehicles, we're committed to providing high-quality solutions that support the delivery of primary care, screenings, mental health services, addiction support, and more.
Our range of mobile health vans is designed to meet the specific needs of healthcare providers and organizations working in the Vancouver downtown eastside area. To learn more about our mobile medical vehicles and how they can support your mobile primary care initiatives, take a look through our website. Together, let's make a difference in the lives of those who need it most.