The cold of winter is slowly creeping upon us in Canada. If your organization has finally decided to purchase a wheelchair accessible or mobile medical van before this upcoming winter season rolls around, make sure to place your order before the winter roads deadline. 
Missing the 2024 winter roads season order deadline could potentially mean you won't get your vehicle when you need it. This can end up lagging your organization's efforts to provide transportation and mobile medical services to your target population.
Our mission at MoveMobility is to help you help your clients. We do that by manufacturing specialty vehicles that are accessible to all. We know that each new van conversion improves your riders' travel or healthcare experience, and we don't want you to miss the deadline to place your order this winter.
After reading this article, you'll know all about the advantages of ordering your vehicle before the deadline. You'll also learn about some of the challenges you might face if you wait too long to order. 
What's the winter roads deadline to place orders for vans?
If your organization is thinking about getting a wheelchair accessible van or a mobile medical van for the winter season, you might be wondering when to place your order. The deadline for winter orders is important to make sure you get your vehicle on time. Here's what you need to know:
Keep an eye on February: The exact date for the winter order deadline can vary, but we aim to have everything sorted out by the start of February. This means that if you plan to purchase a wheelchair accessible van or a mobile medical van for the upcoming winter, it's a good idea to get in touch with us and finalize things well before February rolls around.
Why the deadline matters: Why is this deadline important? Well, ordering in advance ensures that you'll have your van ready when your clients need it most. Winter can bring challenging weather conditions, and having your accessible van or medical van on time means you can provide essential services without any delays.
So, mark your calendar and reach out to us to secure your wheelchair accessible van or mobile medical van for the winter season. We're here to help you remove barriers to healthcare and transportation, no matter the weather.
Benefits to placing orders in advance before the winter roads deadline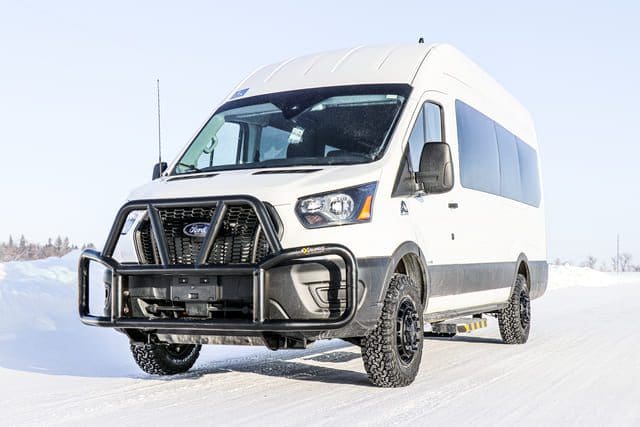 Is there a good reason to place your order for wheelchair accessible and mobile medical vans well ahead of winter? Absolutely! Ordering in advance offers advantages that can make a big difference for your community.
Guaranteed vehicle customization
When you order early, you can secure a vehicle tailored to your needs. We don't just have vans sitting on the lot that are perfectly customized for specific organizations; we build them to meet your specific requirements. Ordering early means you're guaranteed to have the right vehicle ready when you need it most.
Instead of settling for what's available, you get the freedom to choose the van that works best for you. It's all about ensuring you have the right tools for the job.
Peace of mind
Placing your order ahead of time will let you enjoy peace of mind knowing that your organization's winter transportation and healthcare solutions are locked in for your clients. You won't have to worry about last-minute rushes or delays, and you can focus on what really matters – serving your target clients and communities.
If you're thinking about wheelchair accessible and mobile medical vans for the winter season, don't wait. Order in advance to guarantee the right vehicle for your community's needs. We're here to help you every step of the way, ensuring you have the best possible support for getting your vehicle.
How do we accommodate winter demand and production?
Have you ever wondered how our team at MoveMobility manages production and delivery schedules to meet the high demand for wheelchair accessible and mobile medical vans during the winter season? We've got you covered, and here's how we do it:
First come, first served: At MoveMobility, we believe in fairness. We handle orders on a first-come, first-served basis. This means that the sooner you place your order, the sooner we can guarantee your specialized vehicle. Getting ahead of the line ensures you have your winter road solution when you need it.
Special requests welcome: We understand that the winter road timeline is tight. That's why we're open to special requests. If you have specific needs or requirements, let us know, and we'll do our best to accommodate them. We're here to tailor your vehicle to fit your community's unique demands.
Convenient delivery options: While we don't deliver vehicles directly to communities on the ice roads, we make the process as convenient as possible. We can arrange delivery to the nearest hub, such as Red Lake or Thompson. And for those who prefer a more hands-on approach, some customers choose to fly down and pick up their vehicles in person.
On-time delivery commitment: We understand the urgency of the winter roads, which are only open for a limited time. That's why we work tirelessly to ensure your specialized vehicles are ready and delivered on schedule. Our commitment is to get your vehicles out the door and into your communities on time, every time.
3 challenges from waiting too long to place your order
Waiting too long to place your order for a van could lead to unexpected challenges and delays, and no one wants that. Here's why it's important to order in advance:
1. Parts availability
Imagine ordering a specialized van, such as one with a Trail Kit, only to find out that some of the necessary parts are unavailable. Waiting until the last minute could mean we can't fulfill your order completely. To prevent this, it's best to order in advance. This way, we have ample time to gather all the necessary parts and ensure your van is fully equipped for winter.
2. Smooth sailing through winter
Winter can be unpredictable, and waiting until the last minute could leave you scrambling to get the vehicle you need. Ordering in advance guarantees that your van will be ready and available when you need it. It's all about avoiding those last-minute hiccups and ensuring a smooth journey through the winter season.
3. Your reassurance
When you order your wheelchair accessible or mobile medical van ahead of time, you gain reassurance. You won't have to worry about missing out on important components, like the Trail Kit, or facing unexpected delays. Instead, you can relax, knowing that your van is prepared to tackle the challenges of winter.
So, don't take chances with the winter season. Order your wheelchair accessible or mobile medical van in advance, and let us take care of the details. It's the best way to ensure a hassle-free and safe winter journey for your community.
For information regarding the purchasing process, read our article on buying an accessible vehicle – your process with MoveMobility.
How long does the order process take?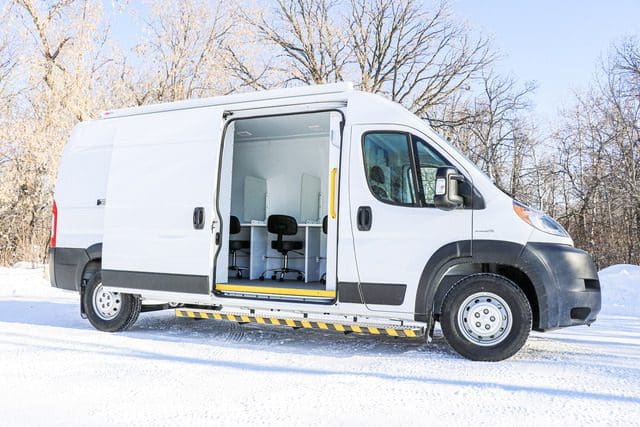 You might be wondering how long it takes from the moment you place an order for a wheelchair accessible or mobile medical van to its arrival during the winter season. Let's take a closer look at that.
Usually, it takes about 3-4 weeks from the time you submit your order to when your van arrives. But remember, the exact timing can vary based on a few factors.
The lead time depends on the specific build of your van. Customizations can take a bit longer, as we want to make sure your vehicle meets all your needs. So, it's necessary to factor in the time needed for any special modifications.
When you order your van plays a role too. Ordering well in advance is your best bet to guarantee timely delivery. We know how crucial it is to have your vehicle ready for the winter roads, so planning ahead is a smart move.
We keep a close eye on the weather conditions, especially during the winter season. Safety is a top priority, and we ensure that your van can safely cross to your location. This extra care may add a bit of time, but it's worth it to ensure your vehicle arrives in top shape.
Ordering before the winter roads deadline makes a difference
Most of the winter road communities we serve are in Northern Manitoba and Northern Ontario. The timing of winter road openings and closings can be uncertain, often dependent on the unpredictable climate. As a result, communities and organizations are eager to get their vans as soon as the roads are open and safe for travel.
However, here's the catch: If you wait until the last minute to order, you might face delays due to the rush of demand. That's why we encourage ordering sooner rather than later. Doing so can ensure you get exactly what you need without the stress of last-minute logistics.
What's next in your journey with MoveMobility?
You came to this article trying to learn more about the winter roads season order deadline for wheelchair accessible and mobile medical vans.
You learned that it's better to place your order well ahead of time so you don't experience any delays.
Our team at MoveMobility tries their best to help organizations like yours reduce barriers to transportation and healthcare. That's why we emphasize the importance of early order placement. We want your vehicle to be customized with exactly what you need to serve your clients in the best way possible.
To get your order process started, talk to an expert today.
By this point, you might be wondering how much it costs for a wheelchair accessible van or a mobile medical van. Take a look at these 2 articles to figure out the costs involved: