Mobile medical van customization can be challenging for a couple of reasons. One hurdle is finding the right balance between customization and keeping the vehicle safe for your clients. Another challenge is dealing with the limited space available in these vans. Cost is also a factor to consider, as each mobile medical van conversion option comes with a price tag. The combination of these challenges requires careful planning to work around. 
At MoveMobility, we're experts and manufacturers in the mobile medical van industry. We design vans that get rid of some of the barriers to healthcare that people face. We work with you to customize mobile medical vans based on your unique requirements.
In this article, we'll talk about customizing mobile medical vans. You'll learn about the different ways you can change these vans to fit your needs. You'll also find out how much it costs, how long it takes, and what challenges you might face along the way.
What mobile medical van customization options are available?
You can customize mobile medical vans in many ways to meet your specific needs. Here are some common options to consider:
Inside the Van
There are many customization options available inside the van.
Cabinet styles and placement: You can choose different cabinet designs and decide where they should be installed. This helps organize medical supplies efficiently.
Locks and solid doors: You can boost the security of your mobile medical van by adding locks to cabinets and using solid doors. Doing so will prevent unauthorized access to equipment and medications.
Medical devices: You can get various medical devices installed in the van, such as: 
Adjustable lights with different lighting styles

Diagnostic centers

Exam beds with stirrups
These tools allow healthcare providers to examine and treat patients on the go.
Additional accessories: You can also request additional accessories like steps, trays, tissue roll holders, and glove box holders. These items make it easier for healthcare professionals to work efficiently.
Outside the van
There are also options on the exterior of the van.
Vehicle wrap: You can fully wrap the mobile medical van with your organization's custom design or logo. This not only promotes your brand but also gives the van a professional and attractive look.
Awnings: Adding awnings to the van's exterior provides sheltered areas for patients during outdoor procedures or waiting times. It protects them from the weather and ensures their comfort.
Customizing a mobile medical van allows you to optimize its functionality and make it more suited to your program or organization's needs. The mobile medical van manufacturer you work with will make sure that your customization options don't impact its integrity.
Restrictions and challenges on mobile medical van customization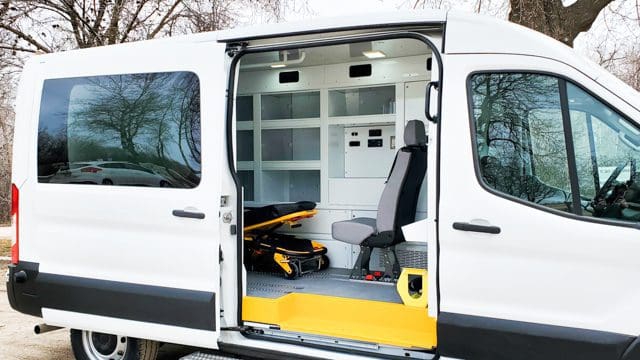 There are some limitations to keep in mind with mobile medical van customization. Let's explore these limitations in more detail:
Space limitations
Mobile medical vans are full-size vans, not buses or trucks. This means that space is limited for customization. You need to consider the van's size and make sure that the features you want can fit within that space. A mobile medical van needs enough room for people to walk through and have access to both side and rear doors. 
When it comes to seating, the design of the van's floor system allows seats to be placed in specific areas and only facing the front or rear. It's not possible to have seats in multiple locations or facing sideways due to space constraints and safety concerns.
Regulatory and compliance requirements
During the conversion process, it's important to follow the rules. The rules are in place to ensure the safety of patients in the van. There are regulations that specify the type of seats that should be used, where they should be placed, and how they should be designed. 
Other compliance factors to consider include installing grab handles, rails, and proper ventilation. All of these measures help create a safe and comfortable environment inside the van.
Medical equipment
Certain medical equipment can get expensive, and we don't use uncertified or unapproved devices in our builds to cut corners in costs.
What is the mobile medical van customization process?
At MoveMobility, we offer two ways to customize mobile medical vans: standard build packages and custom builds. Let's look at the steps involved in the process:
First discussion: Our sales team will talk with you to understand what you need. Based on our conversation, we'll decide if a standard build package will work or if we need to create a custom build just for you.
Meeting with an expert: If we go for a custom build, you'll meet with an expert who knows a lot about conversion options. In this meeting, we'll discuss your preferences and figure out what's possible and practical.
Design layout and quote: Using your preferences, we create detailed designs and layouts for the customized van. These designs show where things like cabinets, equipment, seating, and other features will be placed. We'll also give you a quote that tells you how much it will all cost.
Customer approval and changes: Next, you review the design layout and quote. If you're happy with it, you can accept it. But if you want to make some changes, we're open to that. We want to make sure you're satisfied with the design.
Once you approve the design and quote, we start making and customizing the mobile medical van to match your specifications. Our skilled team pays close attention to detail to bring the design to life and make sure the final product meets your expectations.
How long does mobile medical van customization take?
The time it takes to customize a mobile medical van can be different for each person. If you already know what you want, the process can be faster. We have in-depth experience working with the Ram Promaster and Ford Transit models, so we can quickly see if the customer's customization ideas are doable.
The part of the process that takes the longest is when a custom design needs engineering work. We also have to consider how busy our production schedule is. Right now, it usually takes about 6 to 8 months to fully customize a medical van if engineering and design are needed.
What does mobile medical van customization cost?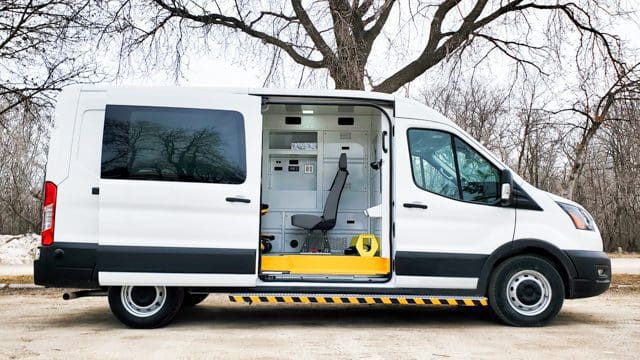 Mobile medical van conversion costs are different for each customer. It depends on what you want and need. Some things that can affect the price include the medical devices you want and how many changes need to be done to the van. Most mobile medical van conversions cost around $170,000, but some can be as much as $250,000 if there are extra upgrades. Keep in mind that this is the total cost of the van and not just the conversion itself.
There isn't a fixed cost because every client wants something unique. However, at MoveMobility, we do have standard mobile medical van packages like:
These options serve as a great starting point for customization. The cost can also depend on the number of vehicles the customer needs, as design costs can be divided among multiple units.
Does mobile medical van customization impact functionality?
When we customize mobile medical vans, people often worry if it will affect how well the van works. At MoveMobility, we care about making sure our vans work great and keep you safe.
We build our mobile medical vans using lightweight prepainted aluminum, so any extra weight from the conversion is very small. We make sure the changes we make don't affect the chassis or how the van runs. That means your converted van will work just as well as it did before any work was done to it.
Another important thing to note is the material we use during the conversion process. We only use medical-grade-approved equipment that is functional, easy to clean, and can be sterilized. They're also designed to not soak up moisture, so the van will stay in good shape and keep working for a long time.
Your next steps toward a mobile medical van
You landed on this article wondering about mobile medical van customization. 
You've learned about some of the conversion options, the costs, how long it takes, and the process to get started. 
If you have more questions about mobile medical van customization, talk to an expert today. 
Or, if you're looking for more information, check out these articles: