Learn about the Blood Tribe community and hear from Kash Shade, Blood Tribe Department of Health, on the implementation of the community's Mobile Medical Unit.
Community profile
Located in Standoff, Alberta, the Blood Tribe (Kainai First Nation) is one of Canada's largest and most populous reserves. The Blood Tribe has many entities that support members' daily lives, including Housing, Community Engagement, Health, EMS, and more.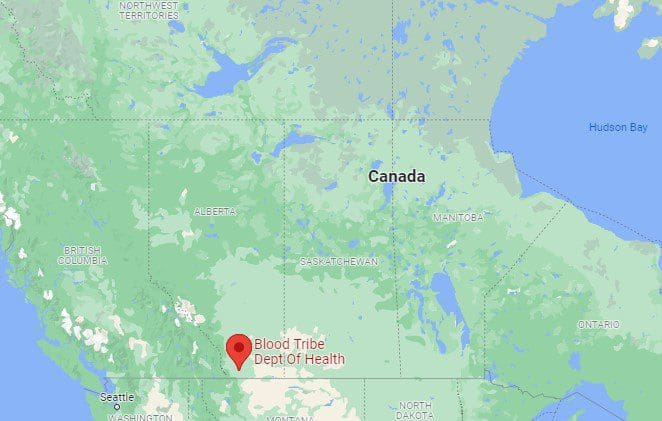 Identifying needs for more access to health services
During 2020, Kash Shade, the Blood Tribe Department of Health's Director of Non-Insured Health Benefits, worked with MoveMobility to add accessible medical transportation vans to the department's fleet.
Later in the year, Shade reached out to MoveMobility about our Mobile Medical Unit we had recently launched. He explained to us that community members often experience transportation challenges:
"Our community, the Blood Reserve, is the largest geographical reserve in all of Canada, so transportation is obviously a major barrier for a lot of our clients. A lot don't have access to transportation. There's not a whole of programming to help with that."

Kash Shade, BTDH
After an analysis of the community's requirements and the need for a mobile medical van to help overcome these challenges, the BTDH took delivery of and implemented a Mobile Health Unit.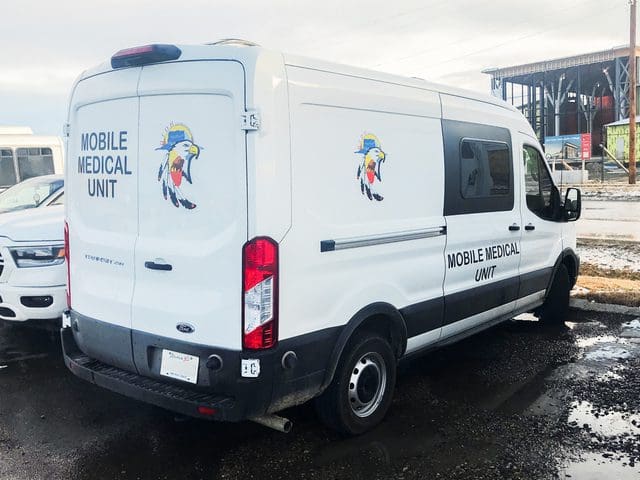 Community establishes a Mobile Medical Unit Program
The goal of implementing a Mobile Medical Unit Program is to compliment existing services, specifically Medical Transportation and Home Care Nursing. The program is designed for the Mobile Medical Unit to go to clients who require services. This eliminates the need for them to attend a traditional health clinic. It removes barriers to transportation that many community members face, meaning more clients would take advantage of the services.
This model of health service delivery provides clients who would often feel a lack of confidentiality when accessing help. The van is unmarked so it remains discreet, regardless of the service needed. It eliminates the stigma of receiving medical help that may be sensitive.
BTDH Mobile Medical Unit Program, a few months on
In late 2021, we connected with Shade to discuss the impacts of the Mobile Medical Unit Program. As the Mobile Medical Unit is shared between multiple programs, the community is finding more and more uses for the vehicle. The Mobile Medical Van is now phased into other programs, including:
Medical Transportation
Home Care Nursing
Opioid Crisis Response
Sexual Health
COVID-19 Vaccination
"This is really where the Medical Van through MoveMobility has been a really great benefit to have for our community. Without getting into too much of those other programs, it really does complement those services nicely."

Kash Shade, BTDH
Expanding the community's access to health programs
While supporting the BTDH's Medical Transportation and Home Care Nursing programs, the Mobile Medical Van maintains a crucial transportation service that supports the community's ongoing opioid crisis.
Before the COVID-19 pandemic, clients travelled by bus in large groups to pick up prescription medications from pharmacies on-reserve and off-reserve in Cardston, Alberta. However, the risk of outbreaks associated with travelling in large numbers with no social distancing meant this was no longer an option.
It is vital to the community's health to maintain the pharmacy trips. So, the Mobile Medical Unit is used to supplement the program.
"It is manned by a 3-nurse team. They use the Medical Van to deliver opioid therapy medication – Suboxone and Methadone – from pharmacies on reserve and off-reserve partners. The nurses pick up the medicine and deliver to community members who do not have access to transportation.

With help from the Nursing team and the MoveMobility vehicle, we are able to offer that service to those clients."

Kash Shade, BTDH
As part of the opioid crisis, harm reduction training and delivery of naloxone kits is also available. By making them more accessible, the community can expand the reach of these life-saving treatments.
Going beyond medical transportation and crisis response
Shade shared that in addition the regular services provided as part of Home Care Nursing, the Mobile Medical Unit allows health workers to support patients who would otherwise have to visit a physician clinic.
"Because of the awesome layout of the unit, they are able to add on extra nursing services that are not available through the Home Care program, such as phlebotomy and blood work."

Kash Shade, BTDH
On-reserve physician clinic can now refer clients to nurses for blood tests, who then deliver it to the labs, eliminating the need for clients to travel to a clinic.
"It is a big benefit for elders or anyone with mobility issues, on top of the transportation issues."

Kash Shade, BTDH
Physicians have also explored virtual appointments through a laptop, enabling the Mobile Medical Unit to essentially bring the physician to the client.
Reducing stigma around personal treatment in a close-knit community
The Mobile Medical Unit has phased into other programs, including the Sexual Health Program. The community is realizing more advantages to having additional clinic spaces that are not traditional health centres.
"The Sexual Health Program is very stigmatized for anyone having to into a Sexual Health clinic and be visible. Especially being a tight-knit community, even though we are so widespread," Shade said.

Kash Shade, BTDH
Serving as a one-on-one space within the unit, the Mobile Medical Van accommodates clients for private treatment. Clients aren't perceived to be receiving any given treatment, as the vehicle is unmarked and now provides a wide variety of health services.
"They could be going in there for bloodwork or be going in there for sexual health treatment, anonymous to whatever you see. You see the unit going by, and there's no identifiers on the van that says it's for sexual health."

Kash Shade, BTDH
The ability to respond quickly to changing community needs
By implementing a mobile clinic setting, the BTDH was able to adapt to COVID-19 vaccination needs fast. It means more members can get vaccinations, without having to struggle through barriers to transportation or mobility.
"They did give out COVID vaccines through the van to catch those groups that weren't coming to our main clinic because of transportation and mobility issues."

Kash Shade, BTDH
The Mobile Medical Unit has even been on standby as an extra asset to large vaccine clinics, providing a private space nearby for clients who need additional nursing care.
The future of the mobile medical unit program
Given the Mobile Medical Unit's impact on so many of the community's programs and services, Shade says they're opening it up to all divisions of the Blood Tribe Department of Health.
The next team to incorporate will likely be the Mental Health team, to provide a new mobile space for counselling services.
With the community's needs for mental health clinics and addictions counselling, the Mobile Medical Unit bridges the gap between clients who need help but are fearful of being judged for visibly receiving it.
Advice for communities considering mobile medical units
We asked what Shade would tell other communities considering implementing a mobile medical van to support their health services. Aside from the advantage of the privacy that the van offers, he said:
"Really, we see it as an extension of our physician clinic and a treatment room. It's really like you're bringing the clinic to the client. I really feel it's a tool for every single health service within our Health Department, just mobilized within the community."

Kash Shade, BTDH
See a need in your community, but unsure how to address it?
MoveMobility partners with countless Indigenous communities to learn about and support health care delivery within their community. With top priorities being enhancing accessibility and on-site care, MoveMobility's Mobile Medical vehicles are customizable to each community's needs.
Request more information using the button below, or reach out by phone at 844-951-3808.