Since MoveMobility introduced the P3 van to the accessible van market, we often get asked how it compares to the BraunAbility E3. It's not easy to understand the differences between the vans without a side by side comparison.
The E3 is a Side Entry commercial minivan conversion by BraunAbility, built on the Dodge Grand Caravan. The P3 is a Side Entry commercial van with a patent pending conversion design by MoveMobility, built on the Ram Promaster.
To help you understand the pros and cons of each accessible van, we're pleased to share a comparison. MoveMobility manufactures the P3 van, but we believe that the E3 is also a great option. Our goal is for you to understand the options so that you can make an educated decision.
Compare the BraunAbility E3 vs. MoveMobility P3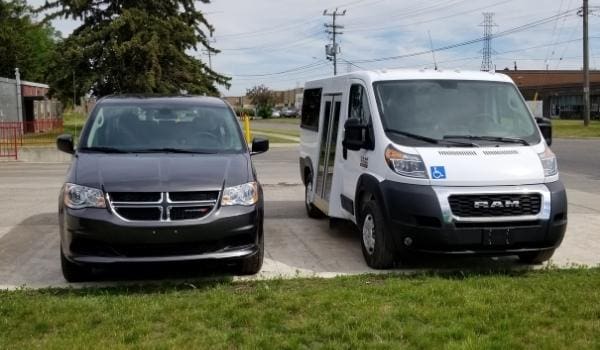 Overall Van Features
| | BraunAbility E3 | MoveMobility P3 |
| --- | --- | --- |
| Vehicle type | Dodge Grand Caravan (Minivan) | Ram Promaster Low Roof 136″ Wheelbase (smallest model of full-size van) |
| Conversion type | Side entry, manual ramp with manual sliding door | Side entry, power or manual ramp with power opening transit doors |
| Operation | Manual ramp and manual door is operated by driver | Power ramp and power doors can be operated from driver dash. Manual ramp is operated by driver. |
| Barrier-free entry | No; door and ramp must be operated by driver | Yes; door and ramp can be operated by driver for independent mobility access |
| Flexible floor system | No; floor tracks behind and in front of wheelchair positions | Yes; full flexibility for wheelchair and seat layouts with AutoFloor |
| Seating type | OEM 3rd row bench seat. Step N Roll front passenger seat | Lightweight, wipe-clean removeable seating on wheels |
| Door type | Manual sliding OEM door | Powered bus-style transit leaf doors, operated from driver dash |
| Ease of curb access | Driver parks near curb, then exits vehicle to open door and deploy ramp onto curb | Driver pulls up beside curb (glass doors allow curb visibility from driver seat), opens door and deploys ramp from dash |
| Fuel economy | Dodge Grand Caravan: 17 MPG City, 25 MPG Highway. Combined 20 MPG* | Ram Promaster 1500: 19 MPG City, 25 MPG Highway. Combined 21 MPG* |
*Based on information publicly available online.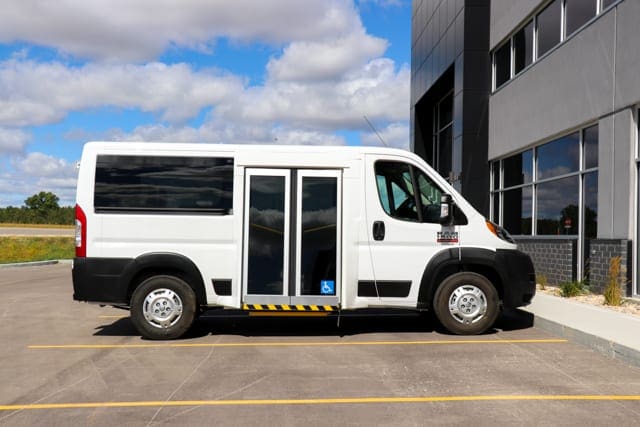 Van Dimensions and Capacity
| | BraunAbility E3 | MoveMobility P3 |
| --- | --- | --- |
| Passenger capacity | Up to 5 (7 with aftermarket folding bench) | Up to 8 |
| Wheelchair capacity | 2 | 3 |
| Ramp width & capacity | 30" wide 1,000 lb manual ramp | 34" wide, 600 lb manual ramp/1,000 lb powered ramp |
| Door opening height | 56" | 57" |
| Interior height | 61" | 63.5" |
| Usable length of floor space from back of driver area to rear of vehicle | 56" | 118" |
| Vehicle length | Approx. 209″ | Approx. 213″ |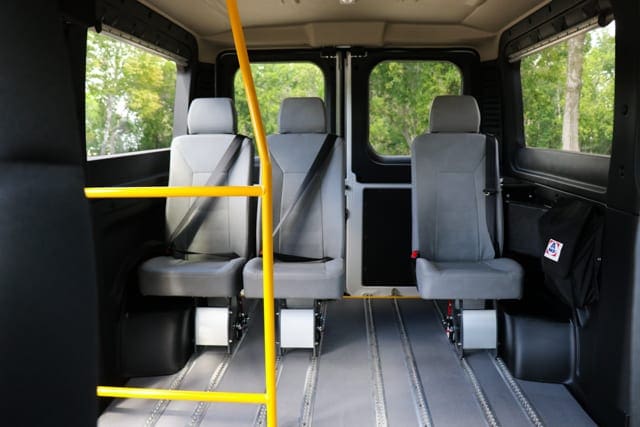 Van Availability and Budget
| | BraunAbility E3 | MoveMobility P3 |
| --- | --- | --- |
| Location of manufacture | Winimac, Indiana, US | Winnipeg, MB and Mississauga, ON, Canada |
| Purchase/delivery process | In stock or order through a Canadian BraunAbility dealer, then delivered to your location | Manufactured and delivered to your location from MoveMobility's Winnipeg and Mississauga facilities |
| Availability | Relies on chassis being sent to BraunAbility by a dealer, or BraunAbility having stock | Relies on MoveMobility's vehicle inventory dedicated to P3 manufacturing |
| Typical lead time (at time of publish) | Currently unavailable | 10-16 weeks* |
| Approximate price range | $70,000 to $85,000 | $90,000 to $110,000 |
*Based on information available at time of publishing. Subject to change without notice.
As you can see, comparing the E3 to the P3 is like comparing apples to oranges. While the vans are similar in exterior size, they offer different levels of accessibility.
Whether the E3 or P3 is right for you will depend on:
When you need a van
The availability of the E3 is currently unknown due to lack of chassis. P3 vans are in stock at MoveMobility available for conversion.
If you need flexibility for wheelchair and seat layouts
The E3 has floor tracks in front of and behind the middle row. In comparison, the P3 has AutoFloor throughout the van, giving you full flexibility.
Passenger and wheelchair capacity needs
The E3 seats up to 5 passengers (7 if ordered with an aftermarket bench), or up to 2 wheelchairs. The P3 seats up to 8 passengers or up to 3 wheelchairs.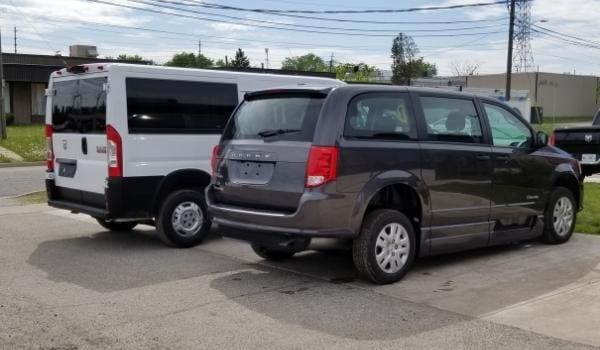 Long Term Benefits vs. Short Term Cost Difference
It's also important to weigh the value of the long term benefits such as accessibility with the short term cost difference.
For example, the capital cost of a P3 may be $15,000 more than the E3. However, you may realize more benefits such as more efficient routes with the ability to transport more passengers. By providing a different transport option for riders, ridership may increase.
On the other hand, you may be okay with waiting an undetermined period of time for a less costly vehicle with less passenger capacity.
As transportation needs change in your community over time, you should consider what van option will work for the long term while considering short term challenges such as availability.
Your best investment depends on your transport program, drivers, and passenger mobility needs.
Recommendation for BraunAbility E3/MoveMobility P3
Now that you have compared the different options for small side entry accessible vans, you may a better idea of which small to mid-size side entry van is best suited for your organization.
If you still aren't sure what type of accessible van your program needs, contact us at 844-951-3808 or by using the form below.
If you'd like to learn more about what to consider when buying a mobility van for your organization, visit our Resource Centre.