According to Indigenous Services Canada, in the last 13 years, First Nations communities had 1,300 emergencies. These led to 580 evacuations, affecting over 130,000 people. Some folks had to be evacuated more than once for different emergencies. First Nations communities face higher vulnerability to emergencies and evacuations. 
Some of the factors that cause this are:
Their remote locations

Economic situations

Floods and wildfires are much more common near First Nations communities
In an emergency evacuation, no one should be left out. Our team at MoveMobility manufactures wheelchair accessible vans and mobile medical vehicles to address barriers that could prevent people from evacuating easily, such as mobility issues. Our innovative and customizable vehicles can be tailored to your organization's needs to suit your purposes.
By the end of reading this article, you'll have a clearer idea of the 2 solutions for evacuating First Nations communities. 
What type of emergencies do First Nations communities face?
There are a variety of situations that would cause First Nations communities to evacuate. Take a closer look at the table below for examples.
| | |
| --- | --- |
| Situation | Reasons for evacuation |
| Wildfires | Immediate threat from wildfires and smoke. |
| Flooding | Severe flooding that endangers lives and property. |
| Ice jams | Flooding caused by ice jams in rivers and waterways. |
| Winter storms | Extreme winter weather, such as blizzards or ice storms. |
| Health emergencies | Disease outbreaks or public health crises. |
| Environmental hazards | Landslides, avalanches, or hazardous material spills. |
| Infrastructure failures | Risk of critical infrastructure failure. |
| Water quality issues | Contamination of drinking water sources. |
| Extreme cold | Prolonged periods of extreme cold, heating system failures. |
| Search and rescue | Evacuations related to search and rescue operations. |
What can make evacuation difficult?
When a First Nations community needs to evacuate during emergencies, it's a tough situation for everyone. But for people with mobility issues or disabilities, it can be even harder. In the case of evacuating a First Nations community in Canada, these folks encounter unique problems that we need to think about to make sure they're safe during evacuations.
Let's explore some of the factors that make evacuation difficult.
Location: Many times communities are in places that are challenging to reach. This makes it tough for people with mobility issues to get to the evacuation spots or find transportation that suits their needs.
Accessible vehicles: In some First Nations communities, there aren't enough vehicles that are accessible for people in wheelchairs or with other mobility challenges. This can make it hard for them to get around.
Trouble with communication: During evacuations, it's important that everyone gets the right information on time. But people who can't hear well have a tough time getting the information they need to make the right decisions.
Medical equipment: Some folks need special medical equipment like oxygen tanks. When they evacuate, they need to bring this equipment along, and there needs to be power to keep it working.
Shelters should be accessible: The shelters where people go during evacuations should be easy to get into for those with mobility issues. This means having ramps for wheelchairs, bathrooms that work for everyone, and enough space for special equipment.
Lack of support: During evacuation, people with mobility issues or disabilities need help from family, caregivers, or healthcare workers.  But sometimes, during evacuations, there's a chance they may not have these helpers around or will get separated from them.
2 solutions to evacuate people from emergencies in First Nations communities
Fortunately, there are 2 solutions to help people in First Nations communities evacuate from emergencies. In this section, you'll learn about how your organization can use our P4 wheelchair accessible van to do that. You'll also learn about how our Mobile Response can help in these dire situations.
P4 wheelchair van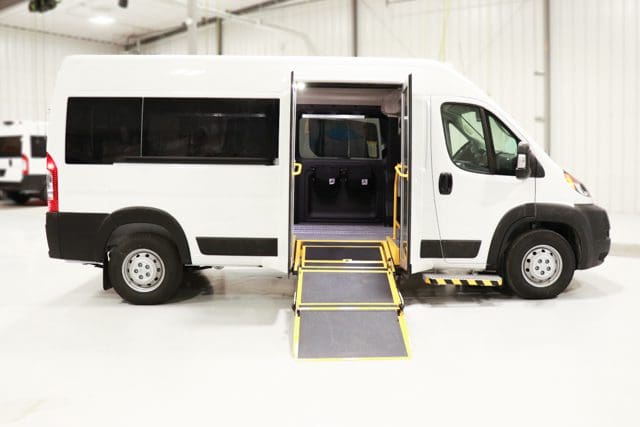 The P4 wheelchair van is based on the Ram Promaster 159" Wheelbase High Roof model. It's a great solution for ensuring the safe evacuation of people with disabilities or mobility issues in First Nations communities during emergencies. Here's how it can make a difference:
Versatile seating: The P4 can be configured for up to 10 ambulatory passengers, 3 wheelchairs, or a combination of both. This flexibility allows for efficient and customized transport. It accommodates various mobility needs during evacuations.
Accessibility: The P4 has both side entry and rear entry ramp access. This makes sure that individuals with mobility challenges can easily board the vehicle. Its unobstructed doorway and barrier-free entry eliminate potential obstacles during evacuation.
Safe and quick loading: The heavy-duty, transit-grade ramp provides smooth and straightforward loading and unloading for wheelchair users. This feature is crucial during emergency situations, where time is of the essence.
Reliable restraint system: The P4 includes a 4-point wheelchair restraint kit per occupant. It's also equipped with a self-tensioning system. This ensures the safety and security of wheelchair occupants during transit, even in challenging conditions.
Easy maneuverability: The small footprint of the P4 makes it suitable for navigating city streets. This is crucial when evacuating from urban First Nations communities.
In an emergency, the P4 wheelchair van's accessibility, seating versatility, and safety features provide a vital means of transportation. It ensures that people with disabilities or mobility issues can evacuate swiftly and securely.
If emergency evacuation involves people who are slightly injured and require a stretcher or other first aid care, then the Mobile Response Van is the right solution.
Mobile Response Van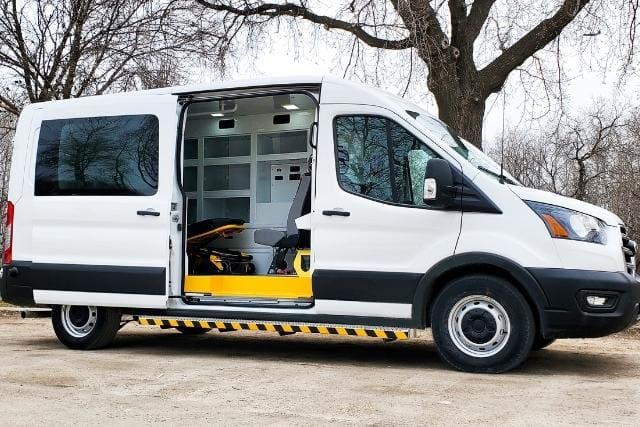 Emergencies are challenging in First Nations communities. That's where the Mobile Response Van from MoveMobility comes in, offering specific features to help during emergency evacuations.
Easy medical care and transportation: This van is a bit like an ambulance, but it's simpler and designed for non-urgent medical needs and transportation. It has a space where medical help can be given, which is super useful during emergency evacuations, especially if people are injured.
Keep in mind that it's not an ambulance for very unstable patients who require critical care. It doesn't have all the special equipment for that, such as life support devices. But when folks are stable and need to get to a hospital, it's perfect.
The Mobile Response Van can also be turned into a mobile clinic. This is great because it means people can get quick medical help without going to a crowded hospital.
Custom storage: There's ample storage for medical supplies. With the sliding doors, you have fast access to everything you need in emergencies. It's also easy to keep clean.
There are medical storage areas where you can store equipment like spine boards, oxygen bottles, first responder kit bags, first aid kits, AEDs and defibrillators, and medical gloves.
Stretchers and seats: If someone in an emergency needs a stretcher, the Mobile Response Van can be set up with that layout. Plus, you can move the seats around as needed because of AutoFloor.
Clean and bright: The van is organized and clean. It has bright lighting to make patients feel comfortable and safe in emergencies. 
Power and ventilation: The Mobile Response Van has power outlets and good air circulation. It keeps the right temperature inside, which is important, especially in Canada's changing climate conditions. People with oxygen machines don't need to worry about having no access to power because of the 4 120V power outlets.
In a nutshell, the Mobile Response Van is a helpful tool for First Nations communities during emergencies. It can be adjusted to fit different needs and provides a safe space for medical care and transportation when it's needed most.
Your next chapter with MoveMobility
Indigenous Services Canada has spent around $828 million on emergency management support in the last 4 fiscal years for First Nations communities. 
People in First Nations communities face a need for proper evacuation support during emergencies. Now that you're aware of the 2 solutions for addressing these needs, you might be wondering what to do next. 
At MoveMobility, we don't like seeing barriers getting in the way of proper healthcare and transportation. If you think your organization can make use of our innovative solutions to addressing emergency evacuation support in First Nations communities, talk to a MoveMobility expert today. 
If you're unsure whether your organization's budget can support a wheelchair van or Mobile Response Van, read these articles: