In some cases, wait times for emergency and non-emergency care in First Nations communities can reach up to two days. A lot of the time, people in these communities get a busy signal when they call 911 for medical assistance. Additionally, First Nations communities also have limited resources when it comes to medical equipment.
As seen in the case of the Sachigo Lake First Nation, an individual broke their arm and the local nursing station's X-ray machine wasn't working. The population rate of emergencies is almost 3 times higher for First Nations individuals than the rest of the general population. 
At MoveMobility, we see this lack of non-emergency care as a barrier that can be overcome. We manufacture innovative mobile medical vehicles to break down barriers for organizations that provide transportation and mobile medical services to underserved communities like the First Nations.
In this article, you'll learn about some of the issues that non-emergency care in First Nations can cause. You'll also learn about the best solution for solving these problems – the Non-Emergency Mobile Medical Van, also known as the Mobile Response Van.
What problems does a lack of non-emergency care in First Nations communities cause?
In First Nations communities in Canada, there are problems with not having enough ambulances and medical transportation for non-emergencies. This can lead to some serious issues:
Delayed emergency care: When there aren't enough ambulances, it takes longer for people to get help in emergencies. This can make health problems worse and even cause more people to become sicker or even die.
Missed appointments: Without reliable non-emergency transportation, people will miss appointments. This can have a negative impact on health.
Bad health outcomes: First Nations people, especially those who live far away from towns or cities, have worse health because of this. They might not get the care they need on time, leaving health problems going untreated.
Stress for caregivers: Family members and caregivers may face stress and worry when patients can't get help quickly.
Fortunately, there is a program called Non-Insured Health Benefits (NIHB). It helps registered First Nations and recognized Inuit people get coverage for important health services when other insurance or programs don't cover them. One part of this program is called medical transportation (MT). It helps First Nations people go to medical appointments when they need to.
In addition, your organization can help First Nations communities with non-emergency care with our Non-Emergency Mobile Medical Van. Let's take a closer look at that.
What is the Non-Emergency Mobile Medical Van?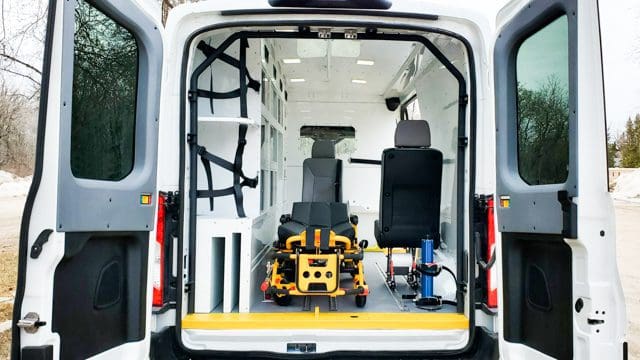 The Non-Emergency Mobile Medical van is similar to an ambulance, but it does have some differences. It can't help really sick patients because it doesn't have all the special equipment ambulances do, such as life support devices. However, it's perfect for patients who aren't in critical condition.
In First Nations communities, where getting medical help can be tough due to a lack of ambulances and transportation, the Non-Emergency Mobile Medical Van steps in to help.
5 Benefits of the Non-Emergency Mobile Medical Van
There are numerous benefits of the Non-Emergency Mobile Medical Van for First Nations Communities.
1. Medical care where you live
In First Nations communities, where hospitals can be far away, this van comes directly to the home or nearby. It's like a traveling doctor's office that can help with non-urgent health issues. This means individuals don't have to go far to get medical help.
2. Fast help when you need it
The van is like a quick-response medical team. It has a simple medical setup to treat people right away. This helps prevent health problems from getting worse because people don't have to wait for such a long time to see a doctor.
3. Customized for your target community
The van can be changed to fit the needs of your organization's target community. You can have different types of seats for different medical needs, and it has storage to keep medical equipment safe.
4. Making health fair
The Non-Emergency Mobile Medical Van makes sure that everyone in the community has the same chance to get good healthcare. It provides a clean and organized place for doctors to work.
5. Special features
Your organization can add extra features to make the van even better for your target community. These extras can help with things like controlling oxygen, providing extra light outside, and making sure people can see the van in an emergency. Take a look at some of the features below:
Feature
Description
Custom cabinetry layouts

Aluminum cabinetry that can be configured for medical supplies or specialized equipment. It has slider openings for quick access and wipe-clean, medical-friendly finishes to maintain a bright, professional medical environment.

Stretcher and attendant seating

It's configurable for stretcher transportation. It has removable attendant seats on wheels, and a stretcher securing into the floor. It also has the ability to change seating layouts on the go with

AutoFloor

.

Medical equipment storage

Dedicated storage for quick access to equipment such as spine boards, oxygen bottle holders, first responder kit bags, first aid kits, AEDs, and medical gloves on rear doors.

Clean, bright environment

Organized and clean space with both rear doors opening for easy access, ample storage for a full-size stretcher and seating, and power and air distribution controls for comfort.

Additional options

Integrated oxygen controller, exterior scene lighting, rear exterior amber flashing LED lights, high-capacity heat & A/C, and rear compartment lighting.

Anti-slip steps

Durable, anti-slip running boards for safer entry and exit, designed to prevent snow and ice buildup to minimize the risk of slips and falls.
Next stop: exploring MoveMobility's options
You came to this article looking for more information on the issue of non-emergency care in First Nations communities and how it can be addressed. 
You now know how big of an asset the Non-Emergency Mobile Medical Van can be for your organization in helping to resolve the issues we discussed.
Our goal behind every van conversion we complete is to make healthcare and transportation better for your clients. We're a manufacturer and not a dealership. We strive to understand your challenges, and we customize vehicles according to your needs. If you have any questions surrounding our Non-Emergency Mobile Medical vans, talk to a MoveMobility expert today.
If you're on the fence about Non-Emergency Mobile Medical Vans, you should read our article on Mobile Response Van vs. Ambulance: Which is Right for Your Organization? 
To get a better idea of how much these vans cost, read our article How Much Does a Mobile Medical Van Cost in 2023?