Ramps and lifts. You know both of them have the same result–getting passengers into a wheelchair van safely and securely–but the way they get there can be vastly different. So, which one is right for your program?
Well, that question landed you here.
Don't worry. You're in good hands. Here at MoveMobility, we install ramps and lifts into wheelchair-accessible vans every single day, so we have a deep understanding of their strengths and their flaws.
In this article, we will go over a basic description of ramps and lifts, their differences, and what qualities you can look for in your organization to help make your choice.
Now, I know what you're thinking.
"I know how ramps and lifts work–everyone does!"
But wheelchair van ramps and lifts are a little more special than your everyday ramps and lifts.
Wheelchair van ramps vs lifts: what's the difference?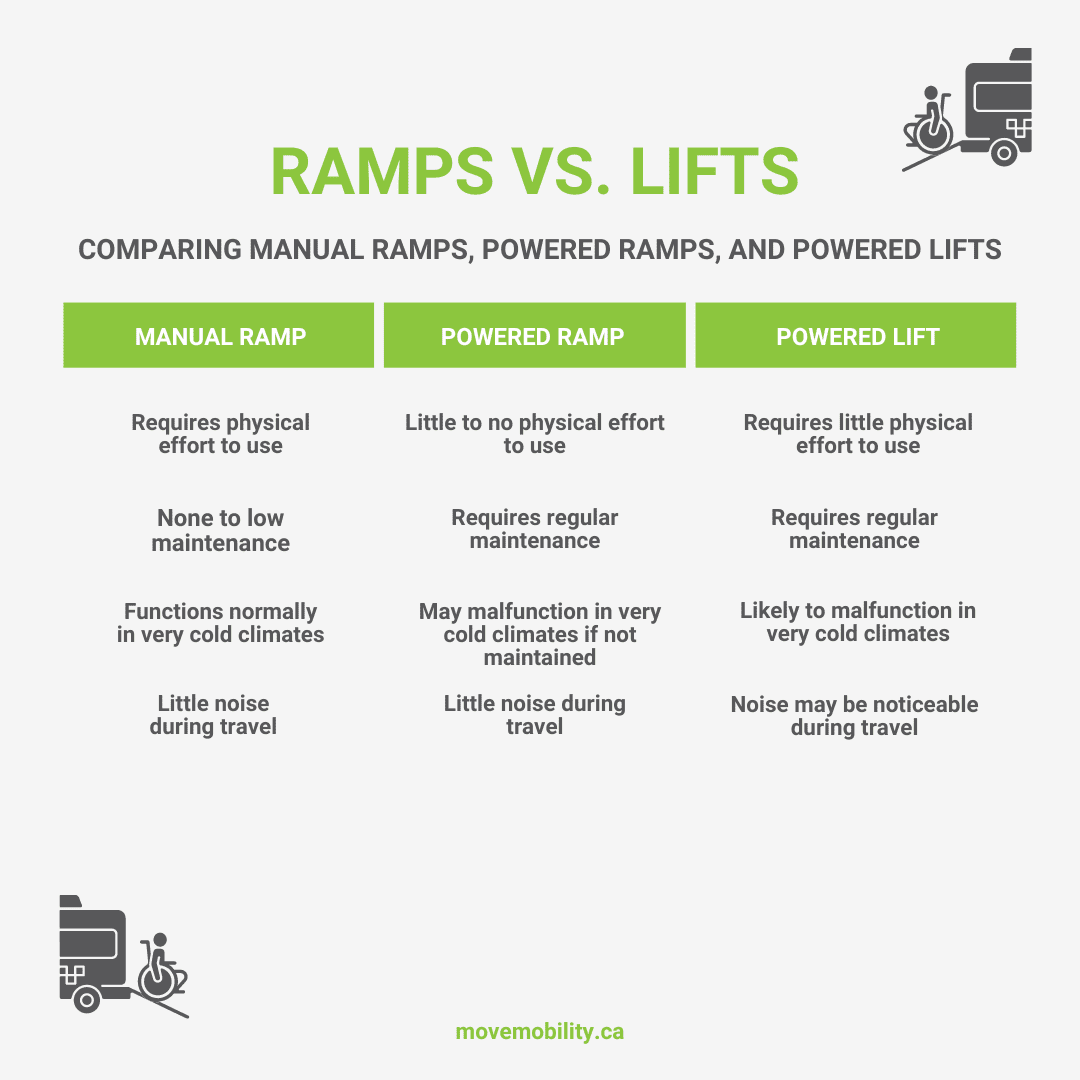 While both wheelchair van ramps and lifts are used to get passengers in and out of wheelchair vans, there is one major difference between the two.
A wheelchair van ramp is a platform that starts at the ground and travels up to the van at an angle.
A wheelchair van lift will lift a passenger into the air until they are level with the van floor.
Now, you'll compare each product in terms of 8 factors.
Wheelchair van ramps–what you need to know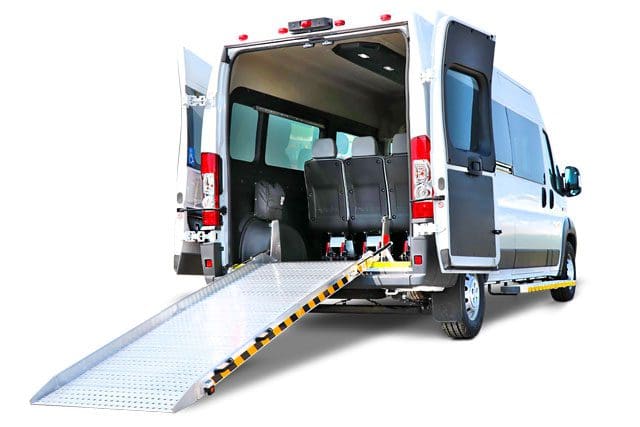 There are 8 key factors we can use to compare wheelchair ramps and lifts, and those are:
Types
Ease of use
Cost
Function in cold weather
Rear or side entry
Passenger comfortability
Noise level
Stretcher access
1. Types
We offer two kinds of ramps here at MoveMobility: the manual ramp and the powered ramp.
1. The Manual Ramp
You operate a manual ramp by unlatching it and lowering it to the ground. Then, a wheelchair user can be wheeled up the ramp or a walker user can walk up the ramp. Super simple.
Here at MoveMobility, a manual folding ramp is used on full size, rear entry vans such as the TR Classic and the PR Classic.
2. The Powered Ramp
The powered ramp is hydraulic (powered by pressure from a liquid), and it has many different features that the manual ramp doesn't have:
Heavy-duty, transit grade
Doesn't block the entryway when stowed
Can remain stowed for walk-on passenger access
1,000 lbs weight capacity
Has integrated handles for manual deployment when needed
Here at MoveMobility, the powered ramp is unique to the P Series vans, which are the P3, P4, P5, and P6. For more information on the P Series vans, visit this page.
2. Ease of use
One extremely important factor to consider when choosing between a manual ramp or a powered ramp is who will be operating the ramp.
Your staff has to be strong enough to operate the ramp and push wheelchairs up and down the ramp nearly every day. If your staff aren't capable of doing this, we recommend a powered ramp because it requires no physical effort.
The manual ramp, on the other hand, requires your staff to manually fold and unfold the ramp (but it is equipped with a spring-assist mechanism to reduce physical strain). The manual ramp is also lightweight, making it easy to deploy.
3. Cost
The powered ramp is initially more expensive than the manual ramp, but it offers the convenience of operating at the push of a button.
So, your focus shouldn't be on the cost, but rather what is a better fit for your staff and clients using the van.
4. Function in cold weather
Since it snows in most of Canada, the deciding factor between a manual ramp and a powered ramp is usually if your organization lives in a location that gets extremely cold for a long period of time.
For example, we would hesitate to recommend a powered ramp to anyone in Northern Manitoba.
This is because the powered ramp–like any hydraulic mechanism–may struggle to function in extreme cold, and it can break down.
With the manual ramp, there is no hydraulic system, so it won't break down from the cold.
5. Rear or side entry
Ramps can generally be installed on rear or side entry full size vans.
Two popular ramp conversions we sell at MoveMobility are the PR Classic and the TR Classic.
6. Passenger comfortability
Ramps may be steep and long, and pushing a large or heavy wheelchair up a ramp may cause physical strain to the driver.
7. Noise level
When compared to hydraulic lifts, the manual ramps do not typically make noise when deploying or folding. There are less moving parts to rattle or squeak while driving.
8. Stretcher access
Manual ramps are available with swing-and-fold functions that allow the ramp to provide full stretcher access to the rear entrance of the Ram Promaster and Ford Transit. As a result, non-emergency patient transport organizations who need to transport wheelchairs and stretchers find this convenient.
Wheelchair van lifts–what you need to know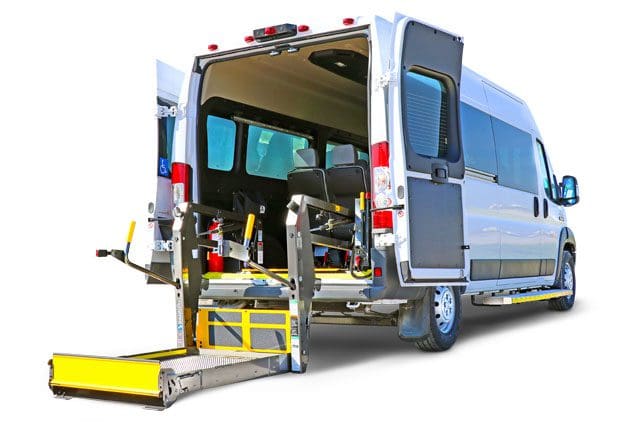 1. Types
1. The powered lift
A powered lift is a hydraulic platform controlled by an operator. The lift unfolds from the back of the van and lowers to the ground. After the wheelchair user boards the lift, the driver controls the lift as it raises up to be level with the van's floor. The wheelchair user can then enter the van to be secured for travel.
We offer two lift sizes here at MoveMobility, one for the average-sized wheelchair (which is 34 inches) and another for larger wheelchairs (which is 37 inches).
The wide 34" lift is very popular and big enough for almost any program. The extra wide 37″ lift is the largest on the market and we usually only recommend it for programs that frequently need to transport bariatric wheelchairs.
2. Ease of use
A handheld pendant controls the power lift. The operator does not need to lift or push any components to deploy the lift.
This means that when loading and unloading wheelchair passengers, the hydraulic lift requires minimal physical effort from operators, which helps prevent physical strain or injury to operators.
3. Cost
A power wheelchair lift typically costs more than a manual ramp. A hydraulic lift has a lot of moving and electrical parts.
Although the cost of the lift is higher, many communities prefer this option because it's easy to use and doesn't require drivers to physically load wheelchairs into the van.
4. Function in cold weather
Like any mechanical equipment, lifts have more of a tendency to break down in cold weather. There are more moving parts in a lift–and more things that could potentially go wrong when tested by a Canadian snowfall.
If the hydraulic lift is unused or left outside in extreme cold for a long period of time, you may experience trouble using it again for the first time. It is recommended to raise and lower the lift every few days, even if the van is not being used for transportation. This keeps the lift functioning well.
5. Side entry or rear entry
The Ram Promaster can have a side or rear entry lift, but rear entry is the most common choice.
The Ford Transit can only have a rear entry lift. Side entry lifts aren't usually possible because they can interfere with the airbag system.
Check out this article to learn the pros and cons of rear entry vs. side entry wheelchair vans.
6. Passenger comfortability
Occasionally, elderly or differently abled passengers may fear the feeling of riding the lift. Patients with dementia may experience this feeling while the lift is in motion.
7. Noise level
A power lift can be quite loud when driving because it's stored against the back doors of the van. This can cause a rattling noise, especially when going over bumps.
8. Stretcher access
Unlike the ramp, a lift doesn't provide stretcher access.
Qualities to look for in your organization that can help you decide between a ramp vs. lift
Whether or not a ramp or a lift is right for your organization depends on many factors, but the most important factor is simply… your passengers.
Which option you should choose depends on what your passengers need, what they want, and what they like. It depends on how your program operates, where you're located, and what your organization's budget is.
Let's break down what kinds of qualities your organization can have to determine if a ramp or a lift is the right fit for you.
Who ramps are right for
If the below checklist sounds like your organization, then a ramp would be your best bet.
You need a low-maintenance option
You're located in a remote area that gets very cold temperatures
You have support staff strong enough to push clients up the ramp
Your passengers use a walker and don't feel comfortable being lifted into the air with a lift
Who lifts are right for
If this checklist sounds more like your clients, then it's possible a lift would fit your program best.
Your drivers need the convenience of a lift
You're not located in a place that snows a lot in winter
Your client's wheelchairs are heavier
Looking for more information on wheelchair lifts? Check out this related article that breaks down their pros and cons in more depth.
Your next steps in choosing a ramp or lift for your wheelchair van
You came to this article to learn if a ramp or lift is better for your organization.
Now, you know how ramps vs. lifts work and what qualities to look for in your organization to help you make the right choice.
At MoveMobility, we install ramps and lifts into wheelchair-accessible vans every single day, so we have a deep understanding of their strengths and their flaws.
If you still don't know which option is right for you, talk to a MoveMobility expert now.
Or, learn more about wheelchair-accessible vehicles by checking out these related articles: