So you're thinking of getting manual ramps for your wheelchair vans.
Maybe you live in a location that gets very cold in winter, and you want to know if a manual ramp is best for you. Or, maybe you had a lift on your last wheelchair van and you're looking for an option that's less noisy for your passengers.
For whatever reason you're here, choosing the right mode of getting inside a wheelchair van is vital to the efficiency of your transportation, the comfort of your passengers, and the overall success of your organization.
If you choose the wrong kind of ramp–a powered ramp, for example, instead of a manual one–and you live in a remote location, you could end up paying more for repairs because of the "wear and tear" of cold temperatures and rough winter roads.
So, being informed on the ins and outs of all kinds of manual ramps, powered ramps, and powered lifts is essential to choosing the right ramp.
And that's where we come in. In this article, you'll learn how manual ramps work, what their pros and cons are, and who they're generally right for.
Manual ramps for wheelchair vans: what are they?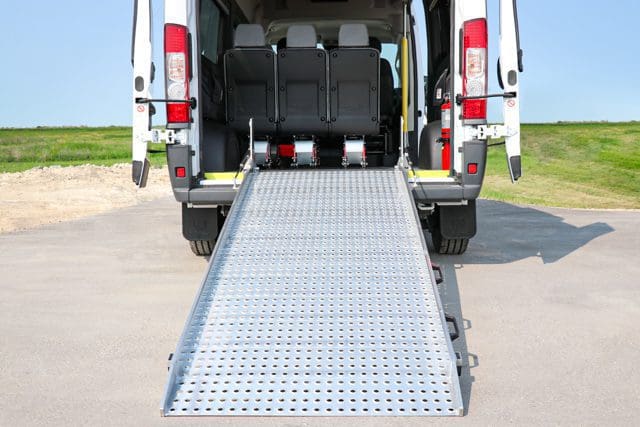 A manual ramp is an angled surface with a hinge in the middle that allows it to fold in half. The ramp is stowed on the inside of the van doors.
To deploy the ramp, you unfold it and gently guide it down. They are "shock assisted", making them easy for lowering and raising.
To actually use the ramp, there are three options:
1. If your passenger has a power wheelchair, they can simply ride up and down the ramp.
2. If your passenger has a manual wheelchair, they will need to be wheeled up and down the ramp.
3. If your passenger is a walker-user, they can walk up or down the ramp.
Click here to see a comparison of ramps vs. lifts.
Now that you understand what a manual ramp is, you may be wondering what the pros are to having a manual ramp installed on your wheelchair van.
Manual ramps for wheelchair vans: what are the pros?
Manual ramps are easy to use
As the name suggests, a manual ramp doesn't have any electrical or hydraulic elements–instead, the ramp is secured using a seatbelt-style latch. It doesn't use any hooks, pins, straps, or other complicated tools.
You simply take hold of the handles and deploy the ramp to the ground.
Manual ramps work in any climate
With no hydraulic or electrical elements, the manual ramp is reliable even when tested by a Canadian snowfall. Many northern communities rely on a manual ramp because it's not likely to break down in cold temperatures.
Manual ramps are lightweight for simple deploying
The manual bi-fold ramp is lightweight to deploy and fold due to the materials they're made from.
Manual ramps are quiet when deploying
When compared to a hydraulic lift, manual ramps are very quiet. They don't typically make noise while deploying because there are fewer moving parts to rattle or squeak.
Manual ramps accommodate heavy wheelchairs, bariatric use, and stretchers
The manual bi-fold ramp at MoveMobility is 36'' wide and 112'' long, making it easy for bariatric wheelchairs and stretches to access the van.
Manual ramps are also available with swing-and-fold functions that allow the ramp to provide full stretcher access to the rear entrance of the Ram Promaster and Ford Transit.
This makes it easy for non-emergency patient transport organizations to transport wheelchairs and stretchers.
Now that you know what the pros are to having a manual ramp, you may be wondering what the cons are.
Manual ramps for wheelchair vans: what are the cons?
Manual ramps can be steep and long for heavy wheelchairs
Pushing a large or heavy wheelchair up a ramp may cause physical strain on the driver.
There is a potential for passengers/clients to fall if safety precautions not taken
While manual ramps are fast and easy to deploy, your drivers should take extra caution when loading and unloading wheelchair passengers to make sure the wheelchair doesn't veer to the side of the ramp.
To avoid this, drivers must make sure they have a strong grip on the wheelchair so that it doesn't veer–if it does veer, stop, correct the direction of the wheelchair, and then keep going.
Manual ramps for wheelchair vans: who are they right for?
Remote communities in cold climates
Non-emergency patient transport companies offering stretcher transport
MoveMobility wheelchair vans with manual ramps
These are the two conversions we offer with manual bi-fold ramps at MoveMobility.
PR Classic: Rear Ramp Ram Promaster
MoveMobility's Rear Ramp Ram Promaster wheelchair van is built on the Ram Promaster 159" Wheelbase High Roof model.
The PR Classic can have up to 10 ambulatory passengers, 3 wheelchairs, or a combination of both.
The PR Classic comes with:
AutoFloor and removable seats
Ambulatory and wheelchair access
High ground clearance, no lowered floor
Front Wheel Drive for excellent traction on snow and ice
Learn more about the PR Classic Rear Ramp conversion here.
TR Classic: Rear Ramp Ford Transit
The TR Classic is used by programs that need wheelchair and ambulatory passenger transportation. This includes Adult Day programs, commercial transit, municipal fleet, shuttle services, and medical transportation programs.
The TR Classic can help your organization avoid:
Rider discomfort
Driver complaints or injuries
Declining ridership and program participation
Increased costs of running heavily modified buses
Learn more about the TR Classic Rear Ramp conversion here.
Your next steps to getting a manual ramp for your wheelchair van
You came to this article to learn everything you need to know about manual ramps.
Now, you know how they work, their pros and cons, and who they're generally right for.
But if you still aren't sure if a manual ramp is right for you, talk to a MoveMobility expert now.
Or, check out these related articles for more information: