If you're an outreach program providing services such as mobile health, housing, or mental health and addictions counseling, then you likely know that trust between individuals and healthcare services can be an extremely tenuous thing.
Imagine this: you struggle with addiction. You've been struggling for a long time.
You've tried to get help. You tried addiction counseling, but you found it difficult to connect with counsellors. You didn't feel comfortable going into clinics. So, you kept struggling. And you stopped asking for help.
When an addictions counseling service loses trust from its patients, then those patients won't continue on their journey toward sobriety–and the ever-increasing addictions crisis across North America continues to prosper. Nearly 21 million Americans have at least 1 addiction, but less than 10% seek out treatment.
This can make it very difficult for programs like yours to meet their goals–which is, ultimately, to help people. Mobile outreach vans can make reaching this goal easier in 3 distinct ways:
Coming to people who are not able to travel for medical attention
Going to people in remote areas who do not have means of transportation to access health services
Bridging the gap between healthcare providers and those who need healthcare the most–building trust so that patients will seek out the help they need
In this article, you'll learn what a Mobile Outreach Van is, why they're used, and who they're right for.
At MoveMobility, we've sold over 70 Mobile Medical Vans to programs like yours in Canada alone, and we've seen first-hand how these vans help programs meet their goals.
We've seen them provide things like naloxone kits (a life-saving drug that can reverse the effects of opioids such as fentanyl, heroin, morphine, and codeine) to communities disproportionately affected by addiction. Naloxone kits have reversed thousands of overdoses across Canada–saving thousands of lives.
Read on to discover how a Mobile Outreach Van could do the same for your community.
What is a Mobile Outreach Van?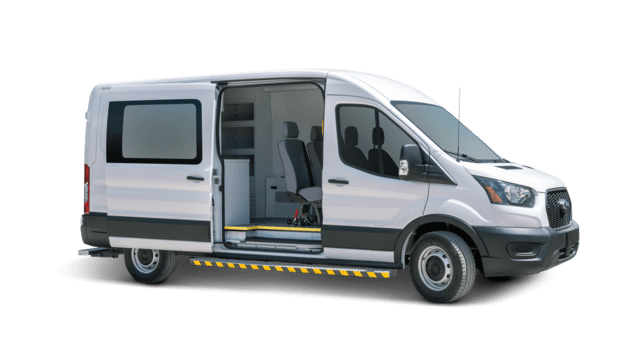 A mobile outreach van is a method of community outreach to individuals experiencing homelessness, addiction, or other conditions that cause them to rely on external support for daily living.
By meeting individuals where they are, outreach programs can build trust among vulnerable populations using outreach vans. In contrast to a traditional clinic building, vans are ambulatory and facilitate a "boots on the ground" approach.
This approach is vitally important because it allows healthcare to meet people where they are. This can look like either a patient-centric approach or a prevention-focused approach–or, a mix of both:
Patient-centric approach: reaching out to people who feel intimidated to seek medical advice. This may be due to cultural or language barriers.
Prevention-focused approach: underlying health conditions are diagnosed before they become irreparable.
The Mobile Outreach van provides transportation and a clinic space in one, allowing you to transport patients and treat them all in one space.
How are they used?
Underserved communities are often close-knit communities. Individuals facing homelessness or addictions often face stigma when going to traditional clinics, causing feelings of guilt, shame, embarrassment, and depression. As a result, people who need help the most don't seek it out.
Mobile Outreach Vans can be the solution. Once established, they become a familiar presence in the communities they're in. They sit in grocery store parking lots or near festivals–places easily caught by the eye.
Eventually, they're not only a familiar presence in the community, but part of it. Fear and mistrust of medical professionals slowly begins to fade, and eventually, the people who need help the most become more likely to seek it out.
Mobile Outreach Vans also provide the opportunity to reach more people in need. Instead of focusing all outreach efforts on those who go to drop-in services consistently, vans allow outreach services to connect with those who don't go to these centers.
As a result, many outreach services travel through different neighborhoods instead of being permanently stationed in one location, helping many individuals at once.
Learn more about the positive impacts of medical vans here.
What are the advantages of having one?
Mobile Outreach Vans can make all the difference when it comes to providing accessible healthcare to your community. Watch this video from the MoveMobility YouTube channel to discover how a mobile medical van improved health disparities in The Blood Tribe (Kainai First Nation) reserve. Or, read about the impacts here.
Who are Mobile Outreach Vans right for?
We recommend Mobile Outreach Vans for programs involved with one or more of the following services:
Housing
Mobile health
Harm reduction
Referral services
Overdose prevention
Mental health and addictions counseling
Mobile Outreach Vans are also used for distributing food, clothing, and water to communities experiencing poverty or a natural disaster, such as a tornado.
We also recommend a Mobile Outreach Van for those living in remote Indigenous communities, where healthcare services experience extreme delays. Click here to see how much a mobile medical van costs.
Your next steps to securing a Mobile Outreach Van for your program
You came to this article to learn if a Mobile Outreach Van is right for your program–whether you provide mobile health, housing, or mental health and addictions counseling services.
Now, you know what a Mobile Outreach Van is, their advantages, why they're used, and who they're right for.
If you're still not sure if a Mobile Outreach Van is right for your program, talk to a MoveMobility expert today.
Or, check out these related articles: