Is your organization in need of a wheelchair van? Are you struggling to transport clients in wheelchairs or those with mobility challenges?
If so, you've come to the right place.
At MoveMobility, we manufacture hundreds of wheelchair accessible vans each year. We deliver these to communities across Canada, so we understand the things you want to ask when learning about mobility vans.
A wheelchair accessible van is a vehicle that's modified to allow individuals who use wheelchairs to enter, exit, and travel in the van while remaining seated in their wheelchair. These modifications are typically made to minivans or full size vans. They involve adding a wheelchair ramp, wheelchair restraints, and other features that accommodate the needs of people with disabilities.
Wheelchair accessible vans have become more and more popular over the years. They provide a safe, convenient, and comfortable mode of transportation for people with disabilities and allow them to travel with ease, whether it be for medical appointments, social outings, or everyday errands.
In this article, we will explore the various features of a wheelchair accessible van and how they are beneficial to those who use them.
Key Components of a Mobility Van
The wheelchair ramp/lift
One of the key features of a wheelchair accessible van is the ramp or lift. This allows individuals who use wheelchairs to enter and exit the vehicle without having to transfer from their wheelchair to a car seat. A ramp can be manual or powered and is located at the side or rear of the van. A lift is hydraulic and is operated by a hand control device.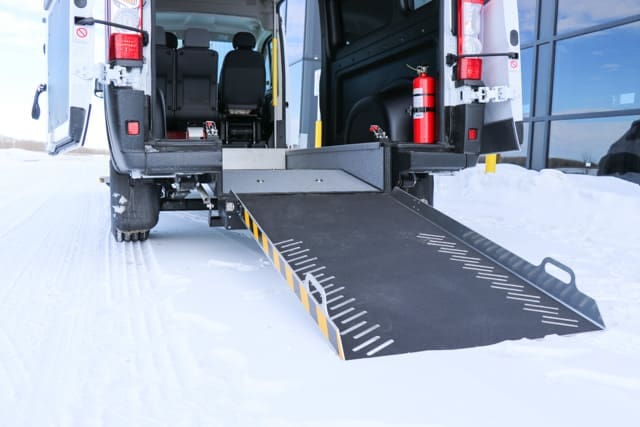 The van's floor
Another important feature of a wheelchair van is the floor. In some vans, the floor is lowered. Lowering the floor of the vehicle creates additional headroom and space for individuals who use wheelchairs. It allows for a more comfortable and spacious ride for the individual in the wheelchair.
MoveMobility's full size mobility vans do not have lowered floors.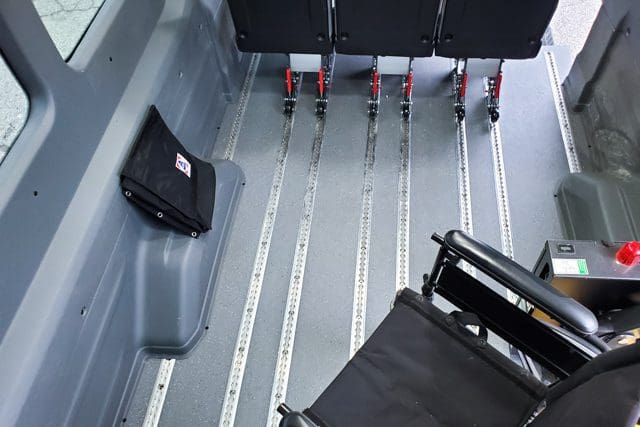 Tie-downs and wheelchair restraint systems
Other modifications that may be made to a wheelchair van include the addition of wheelchair restraint systems to secure the wheelchair in place during travel. This ensures that the individual in the wheelchair is safe and secure while the van is in motion.
When using the tie-down and restraint systems, it's important to know how to secure a wheelchair into a van safely.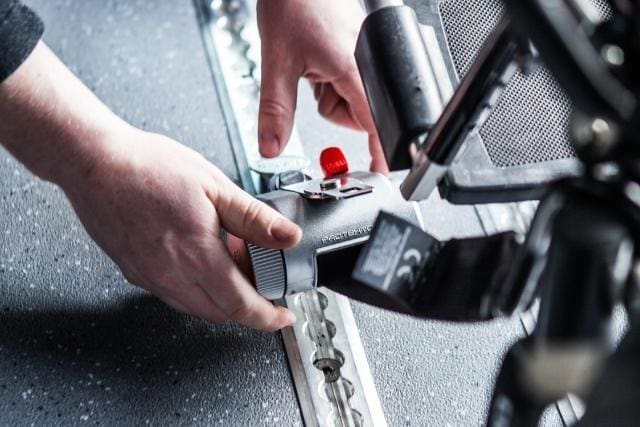 Types of wheelchair accessible vans
Wheelchair accessible minivans
Wheelchair accessible vans come in various sizes and styles to accommodate different needs and preferences. Minivans are a popular option, as they are compact and easy to maneuver. However, sometimes minivans do not offer enough space, so it's important to know how to choose between a minivan and a full size van.
Full size mobility vans
Full size vans offer more space and may be a better option for larger wheelchairs or for programs that need to transport more than one wheelchair at once. This type of van is best for organizations transporting multiple riders with varying mobility needs.
Cutaway buses with wheelchair access
Cutaway buses are an option for programs that need to transport over 10 passengers at the same time. They are often equipped with a wheelchair lift to accommodate wheelchair users.
Factors to consider
Van size and accommodations
When considering purchasing or renting a wheelchair van, be sure to choose a van that is large enough to accommodate the individual's wheelchair and any additional passengers or equipment. Consider the individual's physical abilities and needs to ensure that the van is equipped with the necessary modifications.
Cost and price
The cost of a wheelchair van can vary greatly depending on the type of modifications made and the size and style of the vehicle. It is important to research different models and options to find a van that fits within your organization's budget while also meeting your riders' needs.
Your next steps to learning about wheelchair vans
In conclusion, a mobility van is a valuable mode of transportation for individuals with disabilities. The modifications made to the van, such as the ramp and floor, provide a safe and comfortable way for individuals who use wheelchairs to travel.
When considering a wheelchair accessible van, it is important to take into account your program's needs and budget to find a van that is both practical and affordable.
Have questions about wheelchair vans? Talk to a mobility expert today.
Or, check out these related resources: