Introduction
It started with a grant application.
Julie Armitage runs an adult day center in British Columbia, called ConnectABILITY Okanagan. She has a handful of clients and she's focused on providing direct, one-to-one community support services such as community outings and building relationships.
In 2022, she applied for a Community Living BC grant that would allow her to purchase a wheelchair van.
And she got it.
But with that success came a new challenge: how was Armitage going to find the right wheelchair van for her clients?
After receiving the grant, Armitage contacted MoveMobility. Together, we started the process of finding the best wheelchair van for her unique needs.
The challenge ConnectABILITY Okanagan faced
Armitage first noticed a need for a wheelchair van when she took on a client in a wheelchair.
"[The client's] access to the community was quite limited," said Armitage.
While ConnectABILITY's services are mainly one-on-one, Armitage likes taking her clients out on group "field trips".
But because she didn't have an accessible vehicle, group outings were difficult to coordinate.
Armitage would sometimes have to rely on the wheelchair user's caregiver to drop him off at locations because she did not have an accessible vehicle.
"It didn't allow for a lot of flexibility," said Armitage.
For every group outing, Armitage would have to take two or three cars to ensure everyone was able to get to the location.
How we responded
As a relatively new service provider, Armitage said she didn't know the right questions to ask to find the best wheelchair van for her agency because she had never bought an accessible vehicle before.
She didn't know if she should get a side or rear entry van and how each option would affect parking.
She didn't know how a ramp vs. a lift would impact the efficiency of getting her clients in and out of the vehicle.
And she didn't know how to find the answers she needed.
While MoveMobility is based in Winnipeg, Manitoba, and Mississauga, Ontario, we deliver vans all over Canada.
So, we set up a meeting with Armitage and another organization that had purchased a wheelchair van from us previously in B.C. Armitage was able to go to the organization and see what the van looked like and how it worked in person.
And, as it turned out, that wheelchair van was exactly what ConnectABILITY Okanagan had been looking for.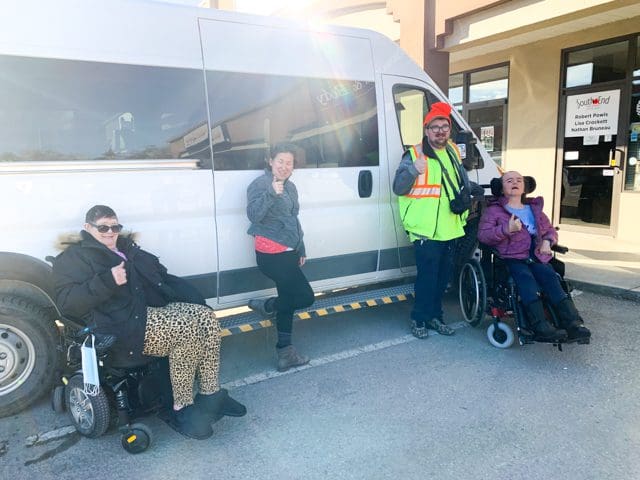 Credit: Julie Armitage, ConnectABILITY Okanagan
The results
ConnectABILITY received their van in early 2023, and it "made a world of difference," according to Armitage.
Connection
Armitage said that before, her clients who use wheelchairs would not always be able to join the group for outings because they didn't have the correct vehicle.
"They've spent a lot of time at home and being isolated," said Armitage.
Now, Armitage can go pick up clients from their homes and take them to community outings, such as art programs. Her clients can now participate in programs they're interested in, without the added barrier of transportation.
"There's always something to be doing in the community," said Armitage.
Flexibility
Having a full size van means Armitage can now transport up to 10 people in her van.
Rather than having to take two or three cars, everyone can sit together while Armitage drives them to community outings–such as a kangaroo farm.
"Now we can all be in one vehicle, which is way more fun," said Armitage.
The van also has a customizable layout with removable seats, which has made it easy for ConnectABILITY to easily change the van layout on a client-by-client basis.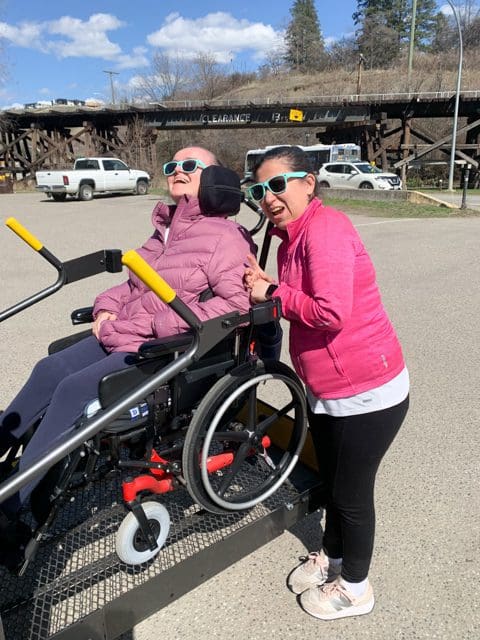 Credit: Julie Armitage, ConnectABILITY Okanagan
Opportunity
With her clients finding connection in their community, they're also finding opportunities that they didn't have before, said Armitage.
"They're getting out and networking and building relationships and building friendships," said Armitage.
Not only have her clients found more opportunities, but ConnectABILITY Okanagan was also able to take on more clients now that they can transport wheelchair users safely.
"You guys went above and beyond," said Armitage.
Conclusion
Armitage's story isn't over.
ConnectABILITY is still driving through the streets of B.C., transporting a range of clients to community engagements. They've seen significant improvements in their service's ability to connect their clients to the community–and you could too.
If you're like Armitage, and you know you need a wheelchair van but you don't know where to start, download our free guide that includes everything you need to know to buy the right wheelchair van for your program.
Don't know what you're looking for? Talk to an expert today to get a full need analysis based on your specific program.
Or, check out our Resource Centre to see in-depth articles from leading industry experts, such as: