The Dodge Grand Caravan was Canada's top-selling minivan for over 25 years, and a favourite of our clients' to be be converted to be wheelchair accessible.
The Side Entry conversion has been a staple for many of MoveMobility's commercial clients. This is true for organizations in a variety of settings, including commercial transportation, group homes, care homes, and rural and remote communities.
With hundreds of side entry accessible Dodge Grand Caravans in use across the country, its discontinuation has certainly left some big shoes to fill.
Developing an Accessible Van that exceeds the needs of its everyday users
At MoveMobility, we were up for the challenge of finding an accessible vehicle that was as easy to operate, reliable, and cost-effective as the Dodge Grand Caravan. Through consultation with our valued clients, we determined that it was critical to include the following features:
Side entry wheelchair access
Small footprint, like the Dodge Grand Caravan
Ease of use
Maneuverability and drivability
Cost-effective operation
Similar price point to other side entry minivan options
Armed with this information, we set out to design a replacement. The MoveMobility P3 was launched, built using the Low Roof Ram Promaster with 136″ Wheelbase. This means the P3 is very similar in size to the Dodge Grand Caravan, as shown in the side-by-side picture below.
It's as easy to operate and drive as the Dodge Grand Caravan. Fuel and maintenance costs are very similar, and the price tag is less than most expect.
Who and what is the MoveMobility P3 an ideal fit for?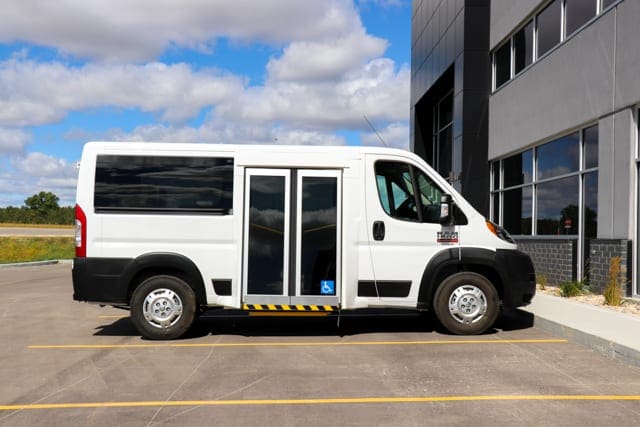 In addition to the must-haves mentioned above, the P3 is a great fit for organizations and program managers who experience:
Concern about their ambulatory passengers safely entering and exiting their vehicles
Frustration that they cannot change seating configurations in their current vehicles
Negative feedback from drivers who experience strains and discomfort from having to 'duck' to secure wheelchair passengers in smaller vehicles.
If this sounds familiar or if you're facing issues causing you to need to replace your side entry Dodge Grand Caravan vehicles, reach out to MoveMobility. Our team of dedicated Mobility Experts is available for a no-obligation conversation to determine if the P3 may be a fit for your program.