So, your organization has finally decided to invest in a wheelchair accessible van and you're actively looking for manufacturers to start the process. Choosing the wrong manufacturer for your organization's needs can lead to discomfort for passengers, limited customization options, and poor support. 
At MoveMobility, we've designed, developed, and delivered hundreds of wheelchair vans to organizations like yours. Our vans are accessible to all riders of all mobility levels. We see challenges as the next opportunity to do something better, and it puts a smile on our faces when we see barriers to transportation and healthcare broken down.
In this article, we'll be comparing Goldline Mobility vs. MoveMobility. By the end of reading this article, you'll have a clearer picture of which company will fulfill your mission.
Who is Goldline Mobility?
Goldline Mobility & Conversions specializes in wheelchair accessible vehicles, adapting driving controls, and mobility solutions. They work with organizations that provide mobility transportation, individuals, and community groups. The company sells new and used wheelchair accessible vans and mobility equipment. 
They do their conversions out of London, Ontario, and have been in business for around 40 years. Goldline Mobility is a recognized member of the National Mobility Equipment Dealers Association (NMEDA) and The Association for Driver Rehabilitation Specialists (ADED), adhering to Canadian Motor Vehicle Safety Standards (CMVSS). They hold a National Safety Mark (NSMJ91) from Transport Canada, emphasizing their commitment to safety.
Goldline guarantees the workmanship on its conversions for three years or 60,000 km, covering material and defects.
Vehicles from Goldline Mobility
Goldline Mobility offers a wide range of wheelchair accessible vehicles and also advertises mobility equipment. 
Here's a quick glimpse into some of the vehicles that Goldline Mobility offers:
| | |
| --- | --- |
| Vehicle Type | Description |
| Personal Vehicles | Vans, cars, trucks, and SUVs |
| Commercial Vehicles | Taxis, community vans, and EMS vans |
| Side-Entry Vehicles | Offers maximum flexibility and independence |
| Rear-Entry Vehicles | A comfortable, convenient, and affordable option |
| Mobility Equipment | Transfer seats, Wheelchair lifts, Driving controls, Ramp assists |
Who is MoveMobility?
At MoveMobility, we specialize in manufacturing wheelchair accessible vans and mobile medical vans. Aside from the side-entry Dodge Grand Caravan, we do all of our design and manufacturing upfits in-house in Winnipeg, Manitoba. 
All of our vehicle modifications are certified and approved by Transport Canada and the National Safety Mark is on each vehicle we convert. In the past 5 years, we've invested millions of dollars into the innovation of new mobility van concepts. We have over 50 Canadian fleet partners, and we're continually striving to develop long-term relationships with our clients and suppliers.
We believe in quality first, every time. That's why we only partner with industry-leading original equipment vehicle manufacturers, and that's also why we're able to offer our clients such high-quality, reliable, accessible vehicles. At MoveMobility, our warranty is also 3 years or 60,000 km, whichever comes first.
Vehicles from MoveMobility
At MoveMobility, we offer various wheelchair accessible and mobile medical van options that can be customized depending on the needs of your organization. 
Here's a look at the options we offer:
| | |
| --- | --- |
| Vehicle Type | Models Offered |
| RAM Promaster Wheelchair Accessible Vans | P Series, VL Series, P Flex Accessible Van, PL Classic, PR Classic |
| Ford Transit Wheelchair Accessible Vans | TL Classic, TR Classic, T6 Accessible Van |
| Mobile Medical Vans | Mobile Medical Response Van, Mobile Medical Clinic Van, Mobile Outreach Van, Mobile Mitigation Van |
| Wheelchair Accessible Minivans | Rear-Entry Minivan, Side-Entry Minivan |
Differences between Goldline Mobility vs. MoveMobility
There are a couple of differences that set Goldline Mobility and us at MoveMobility apart. Let's take a closer look.
Vehicles
Goldline Mobility has a strong focus on personal vehicles for wheelchair accessibility. They also offer mobility equipment for cars, trucks, and SUVs. 
At MoveMobility, our main focus is on wheelchair accessible and mobile medical vehicles for commercial use. While we still work on an individualized basis, we aren't a typical dealership that operates in the same fashion. We work with organizations that provide transportation and medical services to people facing barriers to accessing these services.
The biggest difference between Goldline Mobility vs. MoveMobility in terms of vehicles is that our vehicles at MoveMobility serve more than just reducing barriers to transportation. We customize mobile medical vehicles to reduce barriers to healthcare. Goldline Mobility's vehicles are focused on reducing barriers to transportation and mobility.
Clientele
Goldline Mobility customizes vehicles designed to meet the unique needs of individuals with mobility challenges. They serve a wide range of customers, including families, businesses, and organizations in need of wheelchair-accessible or improved mobility vehicles.
Their solutions are ideal for:
People with disabilities

Seniors

Caregivers

Taxi drivers

Community service providers

Emergency medical services
Goldline Mobility provides both new and used vehicles that fit your budget and needs.
At MoveMobilty, some of our clientele include First Nations and Indigenous organizations, community living and adult daycares, organizations providing outreach services, public transfer services, and personal use. We focus on modern, efficient Euro-style van vehicles. 
We serve clients across Canada from our locations in Winnipeg, MB, and Mississauga, ON. Even if you're far away, we offer virtual demonstrations. We specialize in wheelchair accessible vehicles and mobile medical vans, not wheelchairs or home mobility products.
Our expertise lies in converting vans for wheelchair accessibility and customizing vans for mobile healthcare. We're here to make healthcare and transportation accessible, and we know it's important to find the right fit for your specific needs.
When it comes to clientele, the main difference here is that MoveMobility has a stronger focus on working with organizations. While Goldline Mobility is also focused on commercial vehicles, it's not their primary focus.
Similarities between Goldline Mobility vs. MoveMobility
Goldline Mobility and we at MoveMobility are both companies that make wheelchair accessible vehicles and help people who have trouble moving around. We both work in Canada and help customers all over the country. 
We also both sell new and used vehicles that are already converted or can be converted to suit the customer's needs. The goal of both of our services is to help our customers move around in communities and be independent.
Which company should you choose?
Ultimately, the decision on which company you should get your vehicle from depends on your needs. If you're looking for a personal wheelchair van for your family, Goldline Mobility is a little more focused on that. If your goal is to provide mobile healthcare in a remote community, you'll be better off with us at MoveMobility.
Also, the majority of our customers at MoveMobility are organizations instead of individuals or families. So, if the scope of your program is a little more broad than just one person, that's another reason why you might want to choose us.
What's next?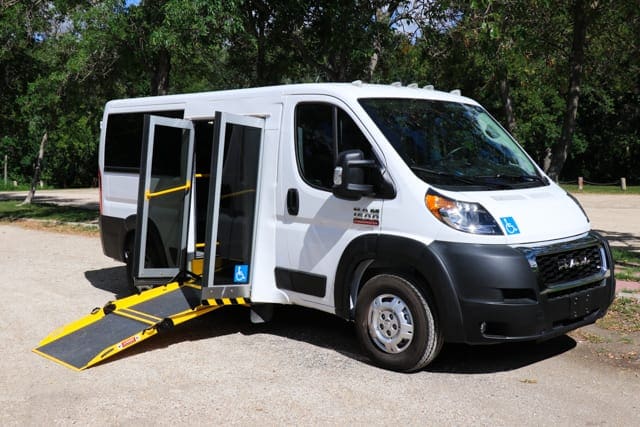 You came to this article because you've been looking for different wheelchair accessible van manufacturers. 
Now that you learned about some of the differences and similarities between Goldline Mobility and us at MoveMobility, you should also compare some of our wheelchair van options by reading this article our article on comparing the options for wheelchair accessible vans.
You'll also want to know more about how to choose the right wheelchair van for your needs. Read our article on how to choose a wheelchair van in 11 steps for more information on that. Additionally, if you have any other questions that will help you on your purchasing journey, talk to an expert today.