Not having the National Safety Mark on wheelchair vans can lead to problems. Without the National Safety Mark (NSM), it's hard to be sure if the wheelchair van has been properly designed and modified. This means there might be potential risks and dangers that could harm the passengers.
When there's no NSM on a wheelchair van, it can also be tough to trust that it's in good condition and meets the necessary safety requirements. This can make people feel worried and unsure about using the van for transportation.
At MoveMobility, we're experts in manufacturing wheelchair vans that follow all of the rules. Our vans are certified by Transport Canada (CMVSS) and we adhere to the NSM on every modified vehicle we manufacture. We're also one of Canada's two Ford Qualified Vehicle Modifiers. 
In this article, you'll learn why having the NSM on wheelchair vans is so important. We'll also talk about some of the NSM requirements and challenges manufacturers face. By the end, you'll understand why having the NSM is so important for wheelchair vans.
What is the National Safety Mark on wheelchair vans?
The NSM on wheelchair vans is like a special stamp that shows the van is safe to use. It's a way to make sure the van meets important safety rules. Just like a gold star on a test, the safety mark lets us know that the van is designed and modified properly to keep people with disabilities safe during their travels. 
Having this safety mark is really important. It means that the van has been checked and approved by experts who make sure it meets specific safety standards. They test things like wheelchair restraints and ramps to make sure they work correctly. When a van passes all of the tests, it gets the safety mark, showing that it's been given the thumbs up and is safe to ride in.
Requirements for the National Safety Mark on wheelchair vans
If a company in Canada makes wheelchair vans and ships them from one province to another, they have to put the NSM sticker on them. Beyond that, this rule applies to any company that manufactures vehicles in Canada and wants to transport them to different places. 
Design and construction standards: The wheelchair van must be built in a specific way to make sure it is safe. This includes how it's made and modified to fit wheelchairs.
Safety features and equipment: The van needs to have important safety features and equipment to keep passengers safe. This includes:
Securement systems for wheelchairs

Ramps or lifts that are easy to use

Safety devices like seatbelts and airbags
Testing and inspections: Experts will carefully test and inspect the wheelchair van to make sure it meets safety requirements. They will check things like the wheelchair securement systems and ramps to ensure they work correctly.
Compliance with regulations: The wheelchair van must follow the rules and guidelines set by Transport Canada. These rules are in place to make sure the van is safe and meets the necessary standards. 
If you ever come across a vehicle in Canada with a NSM on it, now you know why it's there. Check out more of the rules and regulations for the NSM. 
How do wheelchair vans get authorization to affix the National Safety Mark?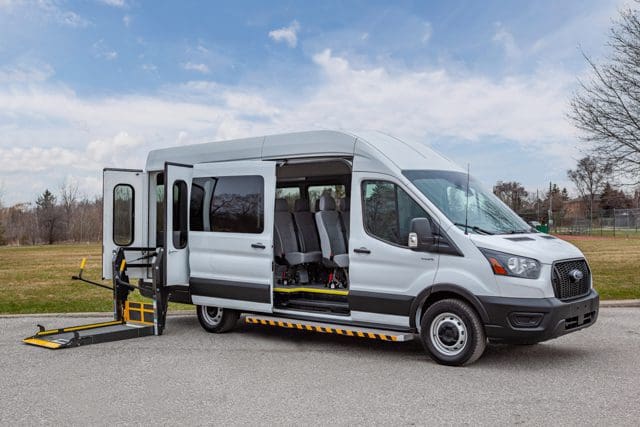 Getting authorization to put the National Safety Mark on wheelchair vans involves a few steps. 
Step 1: Request an NSM application package
Companies need to contact Transport Canada using the contact information at the bottom of their webpage and ask for an NSM application package. Transport Canada will send the package with instructions.
Step 2: Submit required information
When the NSM application package arrives, you need to fill it out with all of the requested information. The NSM application package can be a bit intimidating to fill out if you're not familiar with motor vehicle safety regulations and technical standard documents. It helps to appoint someone in your organization that's familiar with these documents to make the process easier.
Step 3: Assigning someone to understand the rules
Sometimes the rules are hard to understand. That's why companies usually assign someone that fully understands them. This person should know about safety standards and make sure the wheelchair vans meet all the requirements. 
By following these steps, you get the authorization to put the NSM on your wheelchair vans. It shows that your company knows and follows the safety rules set by Transport Canada. This way, organizations can trust that the vans are safe for transporting their clients.
What is the D409 for motor vehicles?
The Canadian Standards Association D409 is a standard for motor vehicles for the transportation of people with physical disabilities. It provides technical specifications on the design and construction of motor vehicles and lift systems and ramps that people with physical disabilities use for boarding and exiting.
The D409 is updated periodically to ensure that it remains relevant and up-to-date with current technology and safety requirements.
D409 Safety Kit Compliance
To ensure the safety of passengers, wheelchair vans must meet D409 regulatory requirements. One of the requirements is the D409 safety package. This package includes various essential items to enhance safety during transportation. A safety package for wheelchair vans must include some of the key components listed below:
1. Fire extinguisher (10 lbs): A fire extinguisher on board is required in case any fire hazards arise.
2. Backup alarm: Wheelchair vans need backup alarms to alert pedestrians when the van is reversing to increase awareness.
3. Road triangle kit: This kit contains reflective triangles that can be placed on the road in case of emergency or breakdown. They alert other drivers that they should proceed with caution.
4. First aid kit: First aid kits are important for immediate medical assistance in case of emergencies that might occur during transit.
5. Ambulatory entrance lighting: Wheelchair vans need lighting at the entrance to ensure safe entry and exit.
These important items ensure the safety and well-being of passengers in wheelchair vans. Every modified wheelchair van requires this safety package to meet the necessary regulations.
Challenges in obtaining the NSM for wheelchair vans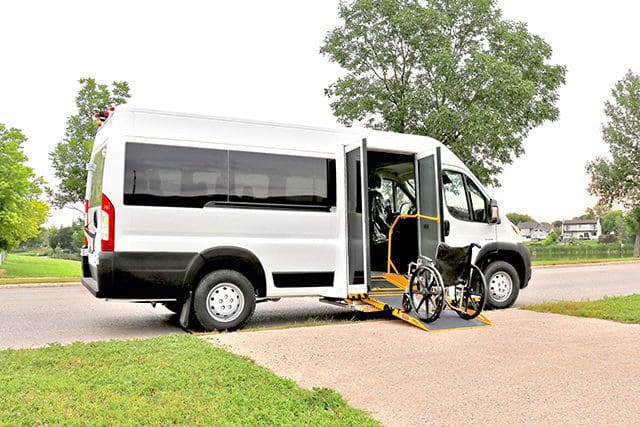 Manufacturers of wheelchair vans can face some hurdles when trying to follow the rules and regulations of the NSM. Let's take a look at some of these challenges:
Design modifications: Designing and modifying wheelchair vans to meet safety standards is a complicated job. Manufacturers have to add special features like ramps and securement systems. They have to make sure everything works well and is easy to use.
Costs: Making sure wheelchair vans follow the safety rules can be expensive for manufacturers. They have to use quality materials, conduct testing, and go through a certification process, which costs extra money. Some manufacturers might try to save money by taking shortcuts. But when they do that, the vans may not meet the safety rules, which is a problem.
Changing Safety Rules: The safety rules for wheelchair vans can change as time goes on. Manufacturers need to pay attention to these changes and make updates to their designs and processes. This way, they can make sure their vans stay safe and follow the new rules that are put in place.
Key takeaways on the National Safety Mark for wheelchair vans
You came to this article looking for more information on the NSM for wheelchair vans. You learned that all wheelchair vans require the NSM to ensure their safe and effective transportation. 
Not having the National Safety Mark can raise concerns about the condition of a wheelchair van. It can lead to legal issues, especially in the case of an accident, can cause issues with insurance companies, lower your reputation, and even limit your market potential in your industry.
The NSM is proof that the van complies with national safety regulations. With the NSM, your clients can trust the vehicle is suitable for transportation and that it has undergone proper inspections. 
At MoveMobility, all of our wheelchair vans have the NSM, and Transport Canada does routine annual inspections on the vehicles. 
Additionally, vehicle manufacturers such as Ford and Dodge inspect MoveMobility vehicles to ensure they're legal and safe for road use.
For more information on a related topic, check out our article on wheelchair accessible van laws and regulations.
Or, take a look at some of our other articles on wheelchair vans below: