When you need a wheelchair van for your program or organization, it can be hard to meet in person to ask questions and get information if you don't live near the manufacturer where they're being made. You might feel frustrated because you can't talk face-to-face with someone who can help you. Remote meetings for wheelchair vans can make things much easier. With remote meetings, you can talk to our wheelchair van experts from the comfort of your own facility or office using your computer or phone. It's super convenient and makes it simple to discuss what you need and ask questions. 
At MoveMobility, we know a lot about making wheelchair vans. We don't just sell them, we actually design and build them. We're not like other companies that just sell vans made by someone else. We give you the whole package – the van and all the equipment that makes it accessible. We do our conversions at our Winnipeg and Mississauga locations, and if your program or organization isn't in these areas, remote meetings are a great way to plan and communicate.
In this article, you'll learn about what happens in remote meetings with your account executive. We'll talk about the benefits, the platforms used, as well some of the challenges you can face.
What is a remote meeting?
Remote meetings are meetings that use audio and video technology to talk to people who aren't in the same location. They're perfect for connecting clients with businesses who can't otherwise meet in person. Remote meetings have similar goals as every other type of meeting. 
They're used to reach a specific outcome through communication. With remote meetings, you don't have to worry about logistics and having everyone in the same room at the same time. 
Zoom or Microsoft Teams are some of the common platforms used for remote meetings. These platforms are compatible with most devices and are simple to navigate.
Let's take a closer look at how remote meetings for wheelchair vans works.
How do remote meetings for wheelchair vans work?
Suppose you live on the west coast and need a wheelchair van for your organization. If the wheelchair van isn't located anywhere near you, a couple of questions might pop up in your mind.
How can I see the wheelchair van before it's delivered to me?

How can I collaborate with the service and sales team to discuss what I want?

Do I have to travel all the way to the facility to see the wheelchair van in person?
Remote meetings have made it possible to communicate and coordinate to address all of the above questions. 
Remote meetings for wheelchair vans involve three basic steps:
1. Setting up the remote meeting
A remote meeting is set up by your account executive at MoveMobility at the request of the sales team or the customer.
2. Video conferencing link
Your account executive will send you a video conferencing meeting link for a specific date and time on the calendar. When that scheduled meeting is about to begin, you'll receive a notification for it that you can join. 
3. Join the remote meeting
Once you join the remote meeting, you'll be connected through your device's webcam and speakers with MoveMobility. At this point, you'll be able to discuss your questions and concerns. Your account executive at MoveMobility can also share updated images or videos of your wheelchair van.
Tools available in remote meetings for wheelchair vans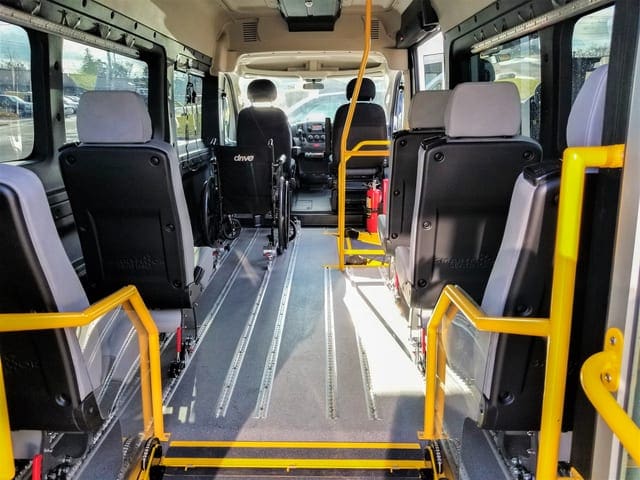 The nice thing about remote meetings is the wide range of tools available. If you have questions about your wheelchair van, your account executive can share web pages and drawings. They can discuss customization options, give you images of how your van will look, and even show you video examples. 
Here are some more features of remote meetings for wheelchair vans:
Screen sharing: With screen sharing, your account executive can show you exactly what's on their screen. This can save time that would be spent by us trying to explain to you what's on the screen, leading to confusion.
Meeting recording: Another useful tool available in remote meetings is meeting recording. With this tool, you don't even have to worry about trying to remember everything that occurred during the meeting. You can always watch it back at a later time to refresh your memory. 
Link sharing: Your account executive can share links and other helpful resources with you during the remote meeting. This helps answer any lingering questions you may have before you even have the chance to ask them.
What is the purpose of a remote meeting for wheelchair vans?
The main objective of remote meetings for wheelchair vans involves answering all of your questions. Some of the key characteristics of a remote meeting include:
Learning about what type of wheelchair van best meets your needs

Confirming exactly what you want a quote prepared for

Going over the quote and other sales material that's relevant to your wheelchair van

Providing service or repair help for your wheelchair van

Going over post-delivery training on how to use the wheelchair van and all of its equipment
Benefits of remote meetings for wheelchair vans
Remote meetings come with several benefits. One of the best things about remote meetings for wheelchair vans is the amount of time it saves. For example, if you need service on your organization's wheelchair van, a simple remote meeting can reduce downtime in comparison to you having to travel to the service center in person. This also goes for purchasing a new wheelchair van. If you're 20+ hours of driving time away from a wheelchair vendor, it's not reasonable to make the drive to discuss options when you can discuss everything in a remote meeting.
Other benefits include:
Accessibility: You can have a remote meeting anywhere that you have access to an internet connection. In today's day and age, remote meetings have become the most accessible communication medium.
Information sharing: Remote meetings make it easy to share information. The sales or service team can share resources directly with you during the call.
Increased productivity: Remote meetings can help people get more work done. When we have meetings in person, there can be distractions and it takes time for everyone to come together in one place. But with remote meetings, we can focus better and get things done faster.
Potential challenges of remote meetings for wheelchair vans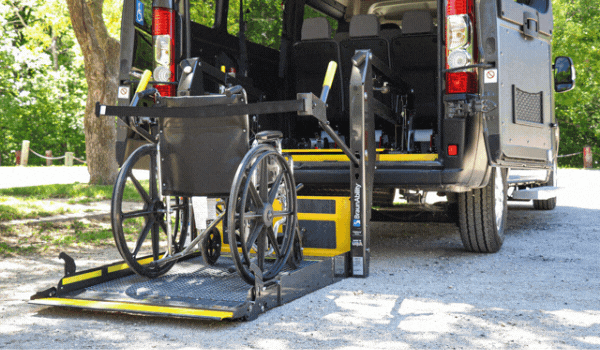 The benefits of remote meetings far outweigh the drawbacks, but there are three challenges that people can face. 
Firstly, some remote communities struggle with a strong internet connection, and a good internet connection is a requirement for these meetings. If you don't have a strong and stable connection, sometimes the meetings have to wait until you do have one.
Secondly, poor webcams and microphones can be a challenge. It's always best to test them out before joining the meeting.
Lastly, without a meeting agenda, it can cause a bit of confusion about the objective of the meeting. Nearly $37 billion is lost per year due to companies having unproductive meetings. Before the meeting, you should write down and share what questions you have with your account executive. This will be a framework for what direction your meeting should go so it's the most productive. Additionally, all parties should have their cameras on and microphones turned on.
Ready for a remote meeting about your next wheelchair van?
You came to this article wondering how remote meetings work for purchasing or servicing a wheelchair van. We hope you have a better idea of how they work and what's involved.
We at MoveMobility find that remote meetings are a great way to collaborate with our clients. We're focused on answering questions in a quick and timely manner, and remote meetings allow us to do exactly that. We like that we can provide expert advice on wheelchair van purchases remotely without our clients having to allocate time to visit our facility in Winnipeg or Mississauga.
If you're still on the fence about purchasing a wheelchair van, consider browsing through some of our other articles: