Is your program or organization in the market for a wheelchair accessible van? If so, it's important to understand the laws and regulations that apply to these vehicles. Wheelchair van laws and regulations in Canada vary by province, and that can cause unnecessary confusion among individuals looking for wheelchair vans for sale. If your program or organization doesn't follow wheelchair van laws, it can lead to legal consequences, lawsuits, lack of accessibility for your clients, and a damaged company reputation.
At MoveMobility, we're aware of the complexities and confusion surrounding wheelchair van laws and regulations. We design and manufacture wheelchair accessible vans in-house and are certified by Transport Canada with a National Safety Mark on every modified wheelchair van we complete.
In this blog post, we'll dig deeper into wheelchair van laws and regulations. After you're finished reading, you'll feel more informed, empowered, confident, and less confused about wheelchair laws and regulations.
Understanding Wheelchair Accessible Vans
Imagine a van that is specially designed to make it easier for people who use wheelchairs to get in and out of it. That's what we call a wheelchair accessible van. It's a type of van that has been modified or built in a way that allows individuals with disabilities to travel comfortably and safely.
Wheelchair accessible vans have a couple of features that set them apart from other vehicles:
Wide doors: A wheelchair accessible van has doors that are wider than regular van doors. This extra space makes it easier for someone using a wheelchair to roll into the van without any trouble.
Ramps or lifts: Instead of using stairs to get into the van, a wheelchair accessible van has either a ramp or a lift. These special features help lift the wheelchair up into the van or create a slope for the wheelchair user to roll onto.
Lowered floor: The floor is lowered inside a wheelchair accessible van. This means there is more room for the person in the wheelchair to sit comfortably. It also provides more headroom and allows them to move around and turn the wheelchair without any obstacles. Without a lowered floor, there wouldn't be enough interior height.
Wheelchair securement: There are special systems inside a wheelchair van that are used to keep the wheelchair and individual safe during transport. These systems use 3-point seatbelts, straps, anchors, or docking stations to make sure the wheelchair stays put and doesn't move around while the van is moving.
General Accessibility Laws and Regulations of Wheelchair Vans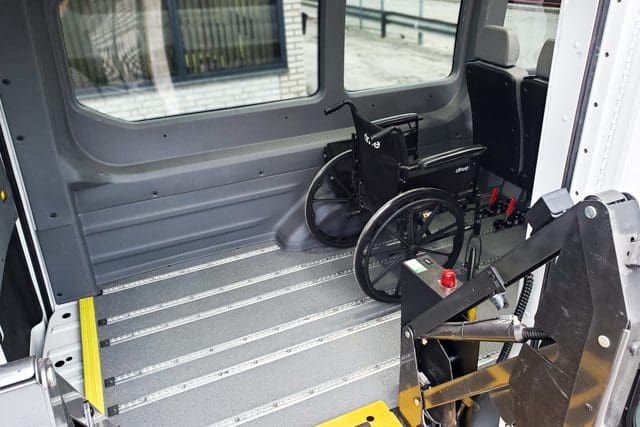 Now that we've covered a bit about what wheelchair accessible vans are, let's take a closer look at some of the regulations that surround them. In Canada, there are a few regulatory frameworks that set the standards for wheelchair vans. 
CS D409 is the first, and this sets out standards for commercially used wheelchair vehicles. The second is the Canadian Motor Vehicle Safety Standards (CMVSS) and this includes regulations that outline safety requirements for wheelchair securement and occupant safety. The third is the National Safety Mark (NSM). 
CSA D409 is a set of guidelines and regulations in Canada that specifically focuses on the construction and design of wheelchair accessible vehicles. These guidelines aim to ensure that wheelchair vans are safe, accessible, and suitable for individuals with disabilities.
Some of the key areas covered by the CSA D409 are the width of doors and ramps and the height of the floor in the wheelchair vans.
The minimum dimensions of the mobility aid clear entrance opening with lift and ramp installed are as follows:
Width – 760 mm (30 inches)

Vertical – 1400 mm (55 inches)
The width guidelines ensure that individuals using wheelchairs can navigate through the entry points easily and without any obstructions. The height guidelines that the floor should be lowered to are set in place to make sure there is enough headroom for individuals in wheelchairs. Lowering the floor of the van creates a more accessible environment for wheelchair users, facilitating their mobility and comfort.
Risks in a Non-D409-Certified Wheelchair Van
Wheelchair vans without D409 certification pose certain risks, and here are a few to consider:
Non-D409-certified vans may not meet the necessary safety standards for transporting individuals in wheelchairs.

Non-certified vans may not undergo rigorous testing to ensure their reliability and durability. This can lead to potential safety hazards. 

Using a non-certified van could result in legal consequences or fines for non-compliance with regulations.

Non-D409 certified vans may have lower resale value compared to certified ones.
CMVSS
The CMVSS is like a set of guidelines that the government has put in place to make sure that vehicles like wheelchair vans meet certain safety requirements. These standards cover various aspects of vehicle safety, including those specifically related to wheelchair securement and occupant safety. 
The CMVSS puts emphasis on:
Safety and accessibility: The CMVSS includes rules about things like seatbelts, brakes, lights, tires, and more. These rules are designed to keep everyone safe while on the road. 
Ongoing updates: The government keeps reviewing and updating the CMVSS regulations to make sure they stay up-to-date with the latest safety standards. This means that the rules can change over time as new information and technologies become available.
Following the CMVSS regulations is important for wheelchair van manufacturers and converters. These rules help ensure that wheelchair vans meet the necessary safety standards that will deem them safe and accessible for individuals with disabilities. When you're looking to purchase a wheelchair accessible van, you should be looking for a manufacturer that abides by government requirements, such as the CMVSS.
By purchasing a wheelchair accessible van from a manufacturer that complies with the above regulations, you're getting a van that's ensured to meet the necessary safety requirements.
National Safety Mark

Transport Canada approves and sets the regulations for vehicles, and the National Safety Mark (NSM) symbolizes that the vehicle meets these approved standards. This mark indicates that the wheelchair van has undergone specific tests and inspections to ensure it is safe for use on Canadian roads.
The NSM is something clients should pay attention to when buying a wheelchair van because it's like a stamp of approval that shows a vehicle meets the safety standards set by Transport Canada. If a manufacturer doesn't put the NSM on each vehicle, it could mean they have not met the necessary safety standards or have not undergone the required testing.
Working with such a manufacturer poses risks as there might be unknown safety issues or defects in the van that could put passengers in danger. It's important to be cautious because using a non-NSM compliant van could lead to accidents, injuries, or discomfort during transportation.
Buying from a manufacturer that puts the NSM on every vehicle might be more expensive compared to others. However, the higher cost is often justified by the assurance of safety, quality, and compliance with regulations. It's a trade-off between paying a little more upfront to ensure the well-being of passengers and potentially facing greater risks and expenses in the long run.
Modifications Required To Make a Van Wheelchair Accessible in Canada
The structural and non-structural modifications are what make up what we know as a van conversion. When it comes to a van conversion, there are two main types of changes that can be made.
Structural modifications involve taking out parts of the van's structure and replacing them to create wheelchair accessibility. One common example is when they lower the floor of the van. Doing this allows more space for someone in a wheelchair to move around comfortably inside the van.
Non-structural modifications are a bit different. Instead of changing the structure of the van, these modifications involve adding special features to make it wheelchair accessible. One example is installing a wheelchair lift or a fold-out ramp that can come out from the floor of the van. These features make it easier for someone using a wheelchair to get in and out of the van without any hassle.
What About Licensing Regulations for Wheelchair Vans?
If you're driving a wheelchair van in Canada, the type of license you'll need depends on the province you live in. For the following provinces, you'll need a class 5 license:

Manitoba

Saskatchewan

Alberta

Newfoundland and Labrador

Prince Edward Island

Nova Scotia

New Brunswick

Quebec
British Columbia is where things get a bit different. Here, you'll need a class 4 license and this license is broken up into two categories: restricted and unrestricted. 
The Class 4 restricted license allows up to 10 people, including the driver, in one van at a time.

The Class 4 unrestricted license allows up to 25 people in an accessible bus or other wheelchair accessible vehicle.
It's always best to check with your specific province's licensing requirements to make sure you're on the right track with local regulations.
Are There Compliance Laws Regarding Safety Inspections?
To keep your wheelchair van in premium condition, it's helpful to get routine inspections and maintenance. It's a good practice to have your wheelchair van inspected at least once per year to ensure it meets the necessary safety standards. It's also important to note here that different jurisdictions have specific requirements regarding inspection intervals. 
Additionally, some jurisdictions require formal government inspections for wheelchair vans. These inspections are also conducted at specific intervals. 
Parking Laws and Regulations
The Parking Permit Program in Manitoba aims to improve accessibility for individuals with disabilities. It enables those who have a valid disability permit to park in designated accessible parking spaces that are closer to entrances and facilities.
Parking laws and regulations also apply to other motorists. A minister from the government issues the mentioned permit exclusively to individuals with a physical disability that severely limits their mobility. It's important for everyone to respect these designated spaces and not park there unless they have a valid permit. Violating these rules can result in fines, so it's important to follow them to ensure equal access for disabled individuals.
Navigating Wheelchair Van Laws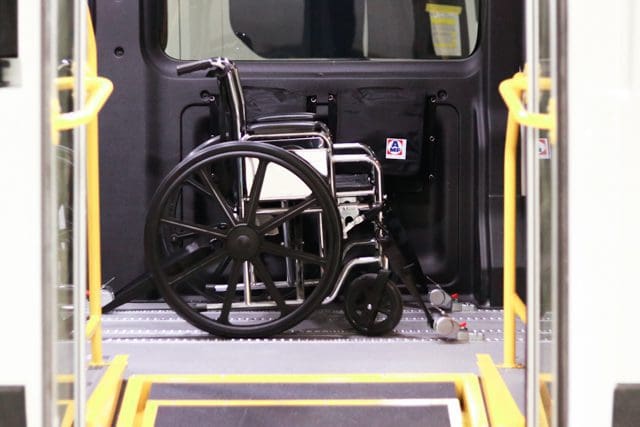 You arrived at this article feeling a bit confused about the laws and regulations about wheelchair vans. Now that you've got a deeper understanding of navigating wheelchair van laws and regulations, consider taking a read through some of our other articles. If you have any questions related to these laws, feel free to contact us.