Are you thinking about purchasing a mobile medical van for your program or organization? Mobile medical vans are a large investment, and the decision to get one requires careful consideration. It can be a daunting task determining your budget and figuring out all of the requirements you'll need for your mobile medical van. If you don't go about buying a mobile medical van the right way, you can deal with functionality, regulatory, safety, and budgetary issues.
Don't worry, we're here to help. At MoveMobility, we're a Transport Canada-certified mobile medical van manufacturer with a focus on innovation, integrity, and inclusion.
In this blog post, we'll provide you with a step-by-step approach to buying a mobile medical van. By the end of the article, you'll have a better grasp of what these vans are and all of the steps required to get one.
What's a Mobile Medical Van?
A mobile medical van is like a doctor's office on wheels. It's a special vehicle designed to bring medical care and services to people who may have a hard time getting to a hospital or medical clinic. It's an efficient way to bring healthcare directly to communities or individuals who need it the most. 
At MoveMobility, we have 4 different types of these vans:
MC model

MM model

MO model

MR model
What's Inside of Each?
Inside a mobile medical van, your program or organization will find everything needed to provide medical care. There are secure partitions for privacy between the driver and rear compartments where doctors can check up on patients. There are also special medical tools and equipment for tests and treatments. Let's take a closer look at some of the specifics of each mobile medical van at MoveMobility.
MC Model | Mobile Medical Clinic Van: The MC model has a doctor's office on wheels setup with floor-to-ceiling cabinetry. It includes a patient bed with under-bed storage, an optional sink/fridge, a power supply, and rear heat/air conditioning.
MO Model | Mobile Outreach Van: In the MO model, you get mobile office desk space, overhead storage, removable passenger seats, floor-to-ceiling cabinets, power supply, rear heat/air conditioning, and options for a sink, fridge, and cab divider.
MR Model | Mobile Response/Non-EMS Mobile Medical Van: The MR model has lightweight, removable seats, customized cabinetry layouts, medical equipment storage areas, rear heating/air conditioning, a 12V incubator plug, and more.
MM Model | Mobile Mitigation Van: The MM model includes individual desk pods for optimal privacy, mobile office space, overhead storage cabinets, a secure partition for privacy, sink and countertop space, and rear heat/air conditioning.
Why Are Mobile Medical Vans Important?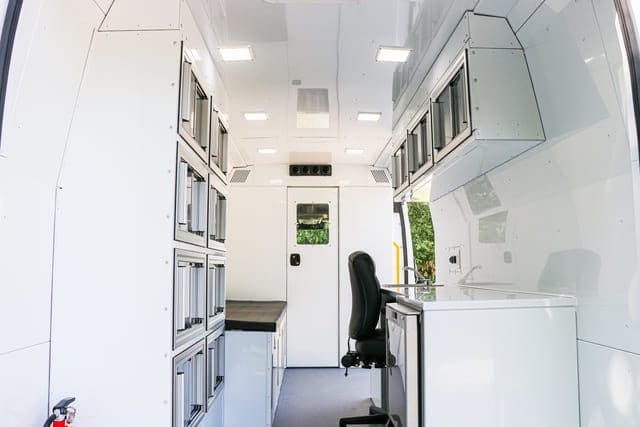 Mobile medical vans are important because they help people who might have accessibility issues with going to a regular doctor's office. For example, if you live far away from a hospital or don't have access to transportation, a mobile medical van can come to you. 
Additionally, they also improve access to healthcare in communities with financial restraints, language barriers, and mobility issues.
Check out our article on the advantages of mobile medical vans for more information.
What Can They Do?
The great thing about mobile medical vans is that they can do a lot! 
They can prevent emergency room visits by giving clients a safe, non-emergency treatment option.

They give remote communities accessible healthcare.

They improve health outcomes by providing healthcare before issues become serious.
Now that you know what a mobile medical van does, let's go over the steps on how your company can acquire one.
1. Determine Your Needs and Budget for Your Mobile Medical Van
Before you get too far ahead of yourself, you need to figure out what budget you're working with and the specific requirements of the mobile medical van itself. 
In this step, a couple of questions to consider are:
How many patients do you plan to serve?

What medical equipment and facilities do you need in the van?

Does your company have financing options?
This first step sets the foundation for the rest of the buying process and gives you a better opportunity to focus your search on a more targeted selection of mobile medical vans. If your company requires financing options to fund the purchase of the mobile medical van, now is the time to secure the necessary financing. 
Explore different financing options available to you, such as loans, lease agreements, or grants, and choose the one that best suits your financial situation and needs. Here is a detailed guide on how much a mobile medical van costs.
2. Evaluate Mobile Medical Van Features, Customization Options, and Entry Points
After you've figured out your budget, you'll want to take a closer look at what features and customization options you need for your mobile medical van.
Some things to consider are:
Interior layout: Ensure the van has enough space for the medical equipment and facilities you require for your specific needs. When considering the interior layout of a mobile medical van, you should also think about if you'll require features such as:
Medical exam bed

Office desk space

Cabinetry

Fridge

Sink
Accessibility: As you're thinking about the features of your mobile medical van, you should make sure your clients can access the van and that they feel comfortable approaching it without experiencing stigma or hesitation.
Power supply: Make sure the van has a reliable power supply for medical equipment.
Storage capacity: Assess the storage options available to keep medical supplies and equipment organized.
3. Figure Out if You Want a New or Used Mobile Medical Van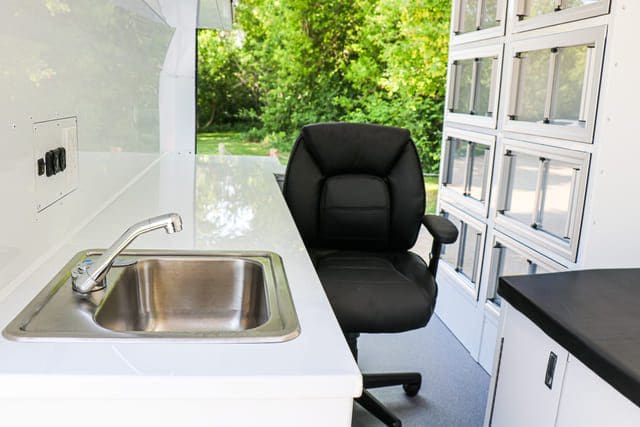 The next step in buying a mobile medical van is deciding whether you want to purchase a new van or a used one. Both options have their pros and cons. 
Here's what you need to consider:
New Van: With a new van, you're getting a more reliable product and won't run into as many service problems compared to a used one. It can be customized and tailored to meet your specific needs. However, new vans can be more expensive.
Used Van: A used van may be more affordable but can come with more service problems. It has already been converted, so you won't be able to request specific conversions. Keep in mind that you might not get exactly what you need with a used van. A used van also won't be designed specifically for your program, so it may not meet your needs.
4. Find Trustworthy Manufacturers for Your Mobile Medical Van
At this point, you can now start researching some reliable manufacturers for your van. This step is important because the manufacturer you choose will directly affect the quality and performance of your van.
When deciding on a manufacturer, some things you'll want to keep an eye out for are:
Certifications and Standards
Make sure the manufacturer meets all the safety and quality requirements. Look for certifications and standards that show they follow the rules. In Canada, for example, you should look for a Transport Canada-certified manufacturer that includes the National Safety Mark on their vehicles. These certifications ensure your van will be safe and reliable.
Check Testimonials
Check out what other people have to say about the manufacturers you're considering. Read customer reviews and testimonials to get a sense of their reputation. If you see positive feedback and recommendations from satisfied customers, that's a good sign.
Consider Experience and Track Record
Experience matters. Look for experienced manufacturers who have been in the business for several years and know their stuff. Their track record tells you if they can deliver a top-notch product. You want to work with someone who's been around the block and can be trusted.
Compare Quotes
Last but not least, gather quotes from multiple manufacturers. Take a close look at what they offer, the prices they quote, and the warranties they provide. Price is important, but remember that the cheapest option isn't always the best. Consider the overall value and reputation of the manufacturer before making your decision.
5. Finalize the Purchase
Reaching the final steps of purchasing a mobile medical van can seem like a long process. The final step involves a few things.
Look over the purchase agreement: Before sealing the deal, carefully review the purchase agreement provided by the manufacturer. This agreement outlines the terms and conditions of the purchase, including payment details, delivery schedule, and any warranties or guarantees. Make sure you understand all the terms and clarify any questions or concerns you may have with the manufacturer.
Insurance coverage: Protect your investment by arranging insurance coverage for your van. Contact your insurance provider or consult with an insurance broker specializing in commercial vehicle insurance to determine the coverage options available.
Coordinate delivery: Work with the manufacturer to coordinate the delivery of your van. Confirm the delivery schedule and provide any necessary information, such as the location and accessibility of the delivery site.
Perform an inspection: When you're ready to accept delivery of the mobile medical van, conduct a thorough inspection to ensure everything meets your expectations and specifications. Check for any damages, defects, or missing equipment. Document any issues and communicate them to the manufacturer promptly to resolve them before putting the van into service.
Start Your Mobile Medical Van Journey Today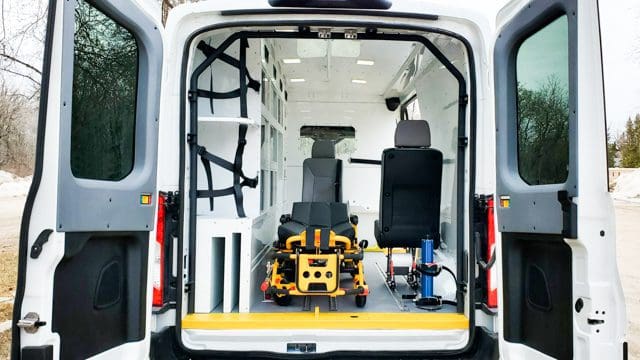 Are you still thinking about purchasing a mobile medical van for your company? While it's a big decision, it's one that will impact many lives. At MoveMobility, we're here to help. Our certified team focuses on innovation, integrity, and inclusion.
If you're ready to take the next step or have any questions, contact us today. We'll provide you with more information and help you find the perfect van to start making a positive impact in your community today.
Check out some of our other articles for more valuable insights.