Is your program or organization puzzled about what wheelchair van to purchase? Purchasing from the wrong manufacturer can end up with you getting a vehicle that doesn't fulfill your client's needs. The wrong wheelchair van can also cause headaches that result from higher maintenance needs, increased costs, and more downtime.
At MoveMobility, we manufacture wheelchair accessible vehicles and mobile medical vans that help organizations like yours reduce barriers to healthcare and transportation. We've been doing this for over ten years and know how hard it can be to choose the right manufacturer. That's why we've compiled this article comparing our P6 wheelchair van and the ARBOC Spirit of Independence.
By the end of reading this article, you'll have a clearer idea of which wheelchair van to purchase for your organization. You'll learn about the key specifications of each option so you can make the right decision. 
What is the ARBOC Spirit of Independence?
The ARBOC Spirit of Independence is a type of shuttle bus that is designed for use by hotels, executive transport organizations, non-emergency medical transport programs, and assisted living facilities. It's built on the RAM Promaster or Ford Transit chassis, which are fuel-efficient and safe. 
The vehicle has a flat floor and large windows, making it easy to move around inside and comfortable for passengers. It can carry up to 12 passengers or 3 wheelchair passengers. 
What is MoveMobility's P6?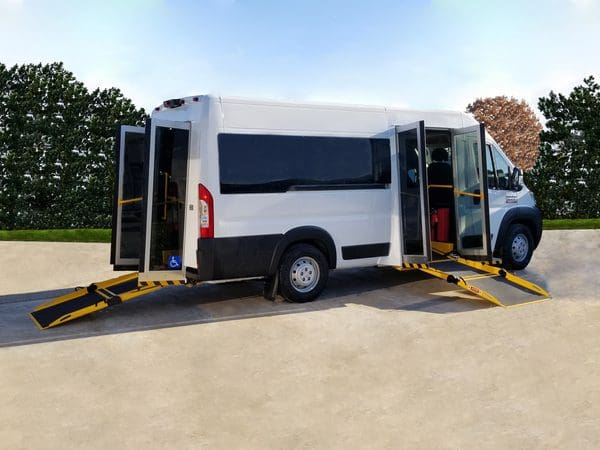 Our P6 wheelchair van is a popular and convenient option for organizations that provide accessible transportation. It's more efficient than a large cut-away bus, and it features both side- and rear-entry access. A cutaway bus is a vehicle that has a bus body mounted on the chassis of a van or a light- or medium-duty truck
The P6 features a 159" EXT Wheelbase High Roof model chassis, making it the perfect size for transportation in both busy cities and rural communities. 
Key differences between ARBOC Spirit of Independence and MoveMobility P6
When comparing the ARBOC Spirit of Independence and the MoveMobility P6, it's important to understand the key differences that set these wheelchair vans apart. Knowing the differences enables you to make a more informed purchasing decision.
Chassis 
As mentioned earlier, the ARBOC Spirit of Independence is built on a Ram Promaster 3500 Cutaway Chassis. It offers two engine options: the 3.6L Pentastar V6 Gas and the 3.0L EcoDiesel V6. It can carry up to 12 passengers and 3 wheelchairs. 
The MoveMobility P6 also uses a RAM Promaster 3500 chassis with a 3.6L Pentastar V6 engine. This van can hold up to 5 ambulatory passengers and 2 wheelchairs, or 2 ambulatory passengers and 3 wheelchairs. It can also be set up with 8 ambulatory passengers or 3 wheelchairs, or a combination of both. It has a high ground clearance without a lowered floor.
The P6 introduces the AutoFloor flexible floor and seating system. This system's ability to rearrange seats and wheelchair configurations provides a tailored experience for passengers and efficient use of space
Some situations where high-ground clearance is useful are remote communities with bumpy and muddy road conditions. It's also useful in snowy areas where other vehicles would likely get stuck.
Access and mobility
For accessibility, the ARBOC Spirit of Independence has side entry for ambulatory and wheelchair passengers. It includes stainless steel entry-assist handles for added support.
The MoveMobility P6 has dual access ramps for side and rear entry. The bus-style doors make getting on and off easier. This design choice improves efficiency and reduces wait times during loading and unloading of the van. Grab poles are situated throughout the van for both ambulatory passengers and mobility passengers. 
Additional features
There are also some additional features to consider in each vehicle. The ARBOC Spirit of Independence has LED lighting, heated/remote mirrors, and a 12V electrical system with a backup alarm. 
The MoveMobility P6 comes with a backup camera, front-wheel drive, high-capacity heat & A/C, and large windows. It also features anti-slip running boards to emphasize passenger safety while entering and exiting the van. 
Another nice feature of the P6 is the high-capacity heat and air conditioning system. This system. This system is useful for areas of Canada that get extremely hot or cold, such as Manitoba.
Certification and standards
Both the ARBOC Spirit of Independence and our P6 focus on abiding by strict regulations. The Spirit of Independence abides by the FMVSS and CMVSS regulations, and the P6 has CMVSS and D409 certification. 
If you're curious, read these articles to get a better understanding of what these wheelchair van regulations are:
Here's a table for a quick glimpse into the differences between these two wheelchair vans:
| | | |
| --- | --- | --- |
| Feature | ARBOC Spirit of Independence | MoveMobility P6 |
| Chassis specifications | RAM Promaster 3500 cutaway chassis | RAM Promaster 3500 chassis |
| Entry | One-step entry | No-step entry |
| Wheelbase | 165" | 159" |
| Engine options | 3.6L Pentastar V6 gas / 3.0l eco diesel V6 | 3.6L Pentastar v6 engine |
| Seating capacity | Up to 12 passengers and 3 wheelchairs | Up to 10 ambulatory and 3 wheelchairs |
| Wheelchair capacity | Up to 3 | Up to 3 wheelchairs |
| Accessibility | Side entry | Dual-access ramps |
| Construction design | Tubular E-coated steel cage construction | AutoFloor flexible system |
| Interior features | LED interior lights, entry assist handles | Grab poles, anti-slip running boards, LED interior lights, entry assist handles |
| Additional features | Exterior and interior lighting features | Backup camera, high capacity A/C |
ARBOC Spirit of Independence vs. P6: Which wheelchair van should you choose?
The ARBOC Spirit of Independence would be suitable for organizations like hotels, assisted living facilities, and executive transport organizations. Its slightly longer wheelbase allows it to carry 2 additional ambulatory passengers. 
Our P6's shorter wheelbase makes it more maneuverable in urban settings with tight streets and limited parking space. The shorter wheelbase on our P6 also results in easier access for loading and unloading passengers. It's suitable for organizations that need to navigate through narrow roads and rural areas. 
Final thoughts on comparing wheelchair vans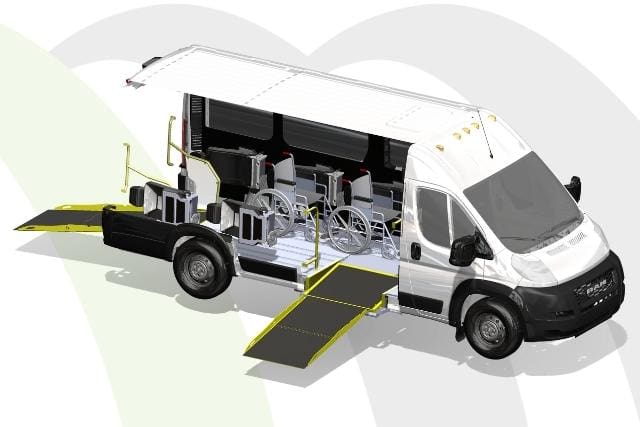 You made it to this article because you're been actively researching different wheelchair van options on the market. 
Now that you're aware of some of the differences between the ARBOC Spirit of Independence and our P6 model, you might be interested in how much wheelchair vans sell for. Read this article for more information on that: How Much Does a Wheelchair Van Cost?
Alternatively, you might also be wondering how to get funding or grants at this stage of the process. Take a look at these 2 articles to get you started:
You might also be looking at quotes from different manufacturers at this stage. Read our article on how to compare wheelchair van quotes to help you with that.
If you have any additional questions, talk to an expert today.