Does your organization provide transportation or mobile healthcare to First Nations communities year-round? In the cold, winter months throughout Canada, winter safety is a big concern. Freezing temperatures and heavy snowfall make roads in Northern communities challenging to navigate. 
At MoveMobility, we don't like seeing barriers get in the way of people receiving proper transportation and healthcare. That's why we've been manufacturing wheelchair accessible vans and mobile medical vans for organizations for over 10 years. 
We see poor winter road conditions as just another obstacle and barrier that can be overcome. We offer a solution to enhance winter driving safety for organizations like yours, serving First Nations communities—the Trail Edition Upgrade. 
In this article, you'll learn how to improve winter safety on the roads while providing your services. You'll learn all about our Trail Edition Upgrade and how this durable, robust package can help you navigate off the beaten path.
Winter hazards in First Nations communities
Winter in First Nations communities across Canada can be quite dangerous. Here's why:
Slippery roads: The roads often become icy and slippery during winter, making it easy for vehicles to skid or slide, leading to accidents.
Heavy snow: Snow can pile up quickly, making it hard to drive and blocking roads. This can make it tough for people to reach important places like hospitals or stores.
Limited help: In many First Nations communities, there aren't enough snow plows to clear the roads quickly after a snowstorm.
Remote areas: First Nations communities are often far away from cities, which means that getting help in case of an emergency can take a long time.
If your program provides transportation or mobile care services to these communities in winter, your safety and the safety of your clients are at risk. Keep reading to learn more about how you can improve your winter safety.
The Trail Edition Upgrade
The Trail Edition Upgrade is a special package that's all about making the journey safer and smoother for you and your clients, even when the roads get rough.
Imagine your regular wheelchair or mobile medical van, but tougher and more durable. That's what you get with the Trail Edition Upgrade. This upgrade is available for Ram Promaster and Ford Transit vans from MoveMobility.
How does it improve winter safety?
The Trail Edition Upgrade is a game-changer for winter safety in First Nations communities. 
Here's how its features help:
1. Off-road extreme use suspension package
This feature makes the ride comfortable, even on bumpy winter roads. It includes rear progressive SumoSprings® and self-adjusting shocks and struts. They keep your van stable and your passengers safe and secure.
2. Suspension lift kit
Rough terrain? No problem. The heavy-duty suspension lift kit lifts your van by 1.5 inches. What's remarkable about this lift kit is that it maintains the factory ride quality. So, despite the increased height, your ride remains smooth and comfortable. 
How does it do this? Incorporating steel front strut spacers with a rear block system ensures stability and ride comfort, no matter how challenging the road gets.
3. Off-road wheel & tire package
Snowy roads are a breeze with this package. These aren't your ordinary wheels and tires. They're tough 10-ply wheels and tires with a size of 245/70/R16. What does that mean? It means your van gains excellent traction and stability, making it well-prepared to navigate the snowy, gravel-covered roads that are common in First Nations areas.
4. Underbody steel protection package
Winter can be harsh on your van's engine and transmission. That's where the underbody steel protection package in the Trail Edition Upgrade comes to the rescue.
Picture it as a shield for your van's most important components. This shield is made of sturdy, powder-coated steel, built to withstand the harsh winter elements. It acts like armor, guarding your engine and transmission from the cold's damaging effects.
5. Rear body shell stiffener
With the Trail Edition Upgrade, rough roads won't wear out your van. The rear body shell stiffener provides extra support for your van's structure. This rear body shell stiffener is designed specifically to make your van more durable, especially when dealing with the tough and uneven terrains often found in First Nations areas.
6. Front grille guard
In the beautiful but rugged landscapes of First Nations territory, encounters with wildlife are a common challenge for vans providing essential services. That's where the front grille guard in the Trail Edition Upgrade becomes a vital asset.
Picture it as a protective shield for your van's front end. This robust grille guard is designed to provide maximum strength and rigidity, ensuring it can withstand potential impacts from wildlife on the road.
This extra layer of protection ensures that your van remains operational and continues to serve the critical healthcare and transportation needs of First Nations communities without interruption.
What about the inside?
Don't worry, the Trail Edition Upgrade focuses on the outside of your van. It won't affect your seats, wheelchair positions, or the floor inside. 
So, if your organization provides services to First Nations communities and relies on gravel or winter roads, consider the Trail Edition Upgrade. It's your ticket to winter safety and more reliable transportation in First Nations communities, even in the chilliest of winters.
Which MoveMobility vans is it compatible with?
The Trail Edition Upgrade is compatible with the following vans:
| | |
| --- | --- |
| Wheelchair vans | Mobile medical vans |
| P3 | Mobile Clinic Van |
| P4 | Mobile Outreach Van |
| P5 | Mobile Response Van |
| P6 | Mobile Mitigation Van |
| PL Classic |   |
| PR Classic |   |
| P Flex |   |
| TR Classic |   |
| TL Classic |   |
Navigating the road ahead with MoveMobility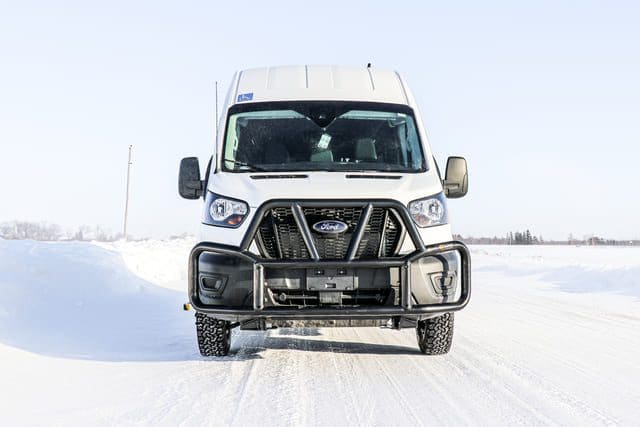 You landed on this article with the intention of gathering further insights into winter safety solutions for delivering transportation and mobile healthcare services within First Nations communities.
You're now aware of our Trail Edition Upgrade, which stands out as the premier solution for safe and efficient navigation in First Nations communities across Canada.
At MoveMobility, our mission is to empower First Nations communities by breaking down transportation and healthcare barriers with safety as our top priority. That's why we've introduced the groundbreaking Trail Edition Upgrade. 
If you're eager to enhance your organization's wheelchair or mobile medical van for safer journeys within a First Nations community, don't hesitate – reach out to a MoveMobility expert today.
If you're wanting to get this package before the winter deadline, take a look at this article for more information. 
Alternatively, if you want some more information on the costs of a wheelchair accessible van and mobile medical van before diving in deeper, read these articles: