Do you or a loved one have mobility issues and use a wheelchair to get around? In these cases, using a regular vehicle can be difficult for transporting from one location to the next. Wheelchair accessible vans can be the answer you're looking for to address this concern. Everyone has different needs, and that also means customization requirements are different between people. That can make finding the right van supplier difficult.
At MoveMoblity, we manufacture vehicles to remove barriers to healthcare and transportation. Our vision is to lead the way in providing innovative vehicles that are accessible to everyone. 
While our services are typically geared toward commercial use for programs and organizations, we won't turn away other customers who are looking for wheelchair accessible solutions for themselves or family members.
In this article, you'll learn about how we differ from a traditional dealership, our dedication to both commercial and individual clients, some of the benefits of wheelchair accessible vehicles, the costs involved, and the process of getting started.
How we differ from a dealership
At MoveMobility, we want to emphasize that our approach differs from traditional dealerships. We understand that some personal use clients may have concerns about weekend availability and test drive arrangements directly where they are. We kindly request our personal use customers to visit our facility for test drive arrangements.
Unlike traditional dealerships that are open on evenings and weekends, we have set hours from Monday to Friday and don't operate on weekends and evenings. Most of what we do involves working closely with businesses to make custom mobility solutions for what they need. But we also know that people like you need wheelchair accessible vans for yourself or your family's needs.
Even though we don't operate like a standard dealership, you can still feel free to drop by our facility and take a look at what wheelchair accessible vans we offer. 
Our consumer-driven approach
At MoveMobility, we believe in creating a world where mobility and healthcare are accessible to everyone. We really care about coming up with new ideas, working with integrity, and being inclusive. That's why we work hard to create vehicles for organizations and individuals that can change things for the better.  
While our primary focus is on partnering with organizations to address their clients' transportation and healthcare challenges, we want you to know that we're here for individuals like you too.
Your mobility needs come first
If you're looking for a vehicle that aligns with your accessibility needs, don't hesitate to reach out to us. Due to our commercial focus, keep in mind that the availability of wheelchair vans for personal use may be limited. 
Despite that, we're more than happy to assist you if we have a suitable option available. Each van we offer, whether for our commercial partners or personal users, reflects our commitment to quality and safety. 
Our used vehicle selection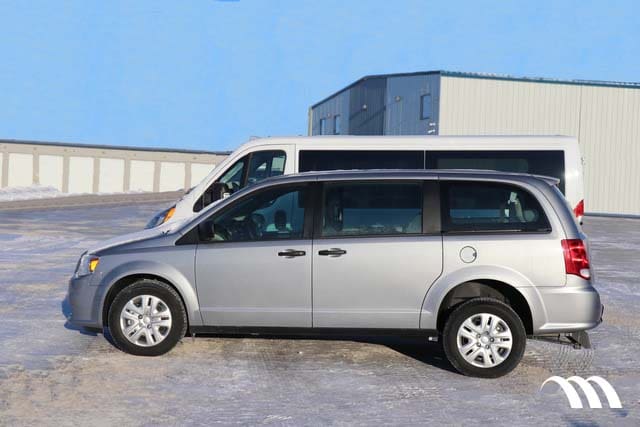 We primarily deal with new vehicle conversions, but on rare occasions, we may have used vehicles available. Keep in mind that we only have used Grand Caravan wheelchair vehicle options available and we no longer sell trade-ins. Our used vehicle selection is still relatively new, with models from 2020 and on. 
Our dedication to maintaining high standards means that our used vehicles are all in great condition. We understand that reliability is crucial for your mobility needs, and we ensure that any used vehicle we offer meets safety standards.
All of our wheelchair vans have the National Safety Mark on them. This mark ensures that each van has been inspected and determined to be safe and effective for your mobility needs. Read our article on the National Safety Mark on wheelchair vans for more information on that. 
Benefits of wheelchair accessible vans for individuals with mobility challenges
Wheelchair accessible vans are a big help if you're a senior or someone with mobility concerns. These vans are made to make travel much easier and more efficient. They're ideal for those who find it hard to get in and out of regular vehicles. 
Here are some of their benefits:
More freedom: If you have mobility issues, wheelchair accessible vans let you travel around more independently. When you can get around more easily, you can go out with friends, visit family, and enjoy outings that make overall life better.
Safe and comfortable: These vans are made with your comfort and safety in mind. They have ramps or lifts, roomy interiors, and strong tie-down systems to keep you safe while driving.
Convenient healthcare for seniors: Seniors often need to see the doctor. Wheelchair accessible vans make it simpler for them to get to medical appointments.
Community: Going to community events, religious gatherings, and local activities helps you feel like you're a part of things again, helping you feel less lonely.
Family: Wheelchair accessible vans make it easy for family members to include their loved ones with mobility challenges in family trips and events.
More power: Using a wheelchair accessible van gives you control over how you get around. You can decide what you want to do each day.
Less work: Caregivers and family members also get a break. These vans mean they don't have to lift and move people as much as they do in regular vehicles, which can be tough on the body.
Costs of our wheelchair accessible vans
Here's a breakdown of the cost ranges for our different van series:
Price range: $130,000 to $180,000
Price range: $120,000 to $155,000
Price range: $145,000 to $180,000
Price range: $110,000 to $135,000
Price range: $92,000 to $110,000
Remember, these price ranges are estimates and can differ based on specific customization and features you choose. To get a more accurate understanding of the pricing and to explore options that fit your needs, don't hesitate to contact us. We're here to assist you in finding the right wheelchair accessible van for your requirements.
Your journey with MoveMobility toward a wheelchair accessible van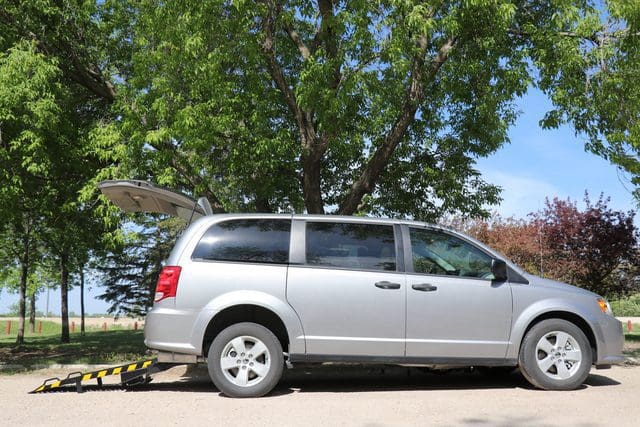 Even though you might be an individual customer looking for a wheelchair accessible van, your process with MoveMobility is no less important to us. 
Your journey involves a couple of steps:
1. Discovering compatibility
The journey with MoveMobility begins by understanding if we're the right fit for your needs. You'll communicate with an account executive and they'll learn about what you're looking for and your budget. This helps you decide if we align.
2. Needs analysis and vehicle preview
Next is analyzing your vehicle needs. This ensures we discuss relevant options. You ask questions and see our vehicles, boosting your confidence in your decision.
You'll learn about wheelchair accessible van features, like AutoFloor, ramps, flexible layouts, and custom equipment. Your account executive will suggest the best vehicle, and you collaborate on the configuration.
When you're ready for approval, you get a detailed quote. 
3. Building and delivery
Once you confirm, we start building your vehicle. We'll also deliver it to where you're located. Our customer care team will follow up and provide training and service resources.
Your MoveMobility journey is simple and tailored, from discovery to delivery.
Your next steps with MoveMobility
You came to this article wondering if we can fulfill your individual needs for a wheelchair accessible van.
You learned that even though we have a commercial focus, we'll still work with you and try to find a solution that fits your needs.
At MoveMobility, we've been manufacturing wheelchair accessible vans and mobile medical vans for over a decade. Every new van conversion we complete enhances transportation and healthcare for more people. 
If you have any questions about the wheelchair accessible van options we offer, talk to an expert today. 
Alternatively, reading through the following articles will give you a better idea if our wheelchair accessible minivans are the right fit for your needs.
If you're not sure your budget will support purchasing a wheelchair accessible van, read our article on How Much Does a Wheelchair Van Cost?
If you're new to the world of wheelchair vans and don't know much about them yet, read our article on How to Choose a Wheelchair Van (11 Steps).