Does your agency run a community living or adult day program and is in need of a wheelchair van for transportation? Not having a wheelchair van for a community living or adult day program presents many challenges, including:
Limited accessibility for clients
Dependence on inadequate alternatives, such as regular vehicles
Lower quality of life for people with disabilities
At MoveMobility, we manufacture wheelchair vans that address all of the above issues with customized features tailored to your agency's needs. 
In this article, we'll provide you with a comprehensive overview that'll help you with your decision-making as you're searching. We'll talk about the benefits of getting a wheelchair van for your community living or adult day program, some considerations to think about, and the costs.
Benefits of a Wheelchair Van for a Community Living or Day Service Program
Using a wheelchair van for a community living or day service program is more than just transportation. There are many other advantages to consider. Wheelchair vans can unlock accessibility, safety, comfort, and interaction. Let's take a closer look at the benefits.
Increased freedom
A wheelchair van allows people with disabilities to travel easily, giving them more independence.
It lets them join different activities and events outside of their usual living or service place.
Let's look at an example of Sarah, a joyful young person who uses a wheelchair. Thanks to an amazing invention called a wheelchair van, Sarah's world has grown in incredible ways. Before, regular vehicles didn't work for her wheelchair, so she could only go to nearby locations.
But now, with the wheelchair van, Sarah can travel to new spots like parks, museums, and parties with friends. This means she can join fun activities that were once a distant dream. This gives Sarah more freedom to enjoy what she loves and try new experiences.
Accessibility
Wheelchair vans are designed to be accessible. They have ramps or lifts that make getting in and out of the van simple. This means individuals can enter and leave the van without having to leave their wheelchair, which is convenient and inclusive.
Imagine a close-knit community living or day service program called "Sunshine Community Hub." Here, inclusivity and accessibility are key, especially when it comes to transportation. The hub has a special wheelchair van that helps people like Alex, who uses wheelchairs.
With a built-in ramp, Alex can effortlessly roll into the van, eliminating the need to leave his wheelchair behind. This means Alex can fully engage in activities, from workshops to field trips, enjoying every moment without any hassles. This accessible van symbolizes the community's commitment to making sure everyone can participate. It improves connections and enriches lives for all.
Safety and comfort
Wheelchair vans focus on keeping passengers safe and secure. The vans also provide enough space and proper seating arrangements for everyone to travel comfortably. At MoveMobility, your safety is our top priority. We take the well-being of your clients seriously. Our wheelchair accessible vans are certified by Transport Canada (CMVSS) and proudly bear the National Safety Mark (NSM). 
This mark signifies that we adhere to stringent safety standards. Our vans are equipped with tested securement systems, user-friendly ramps, and essential safety devices, ensuring you can trust the security of your journey. Our dedication to the NSM means that every wheelchair van we provide is a testament to safety, giving you and your community peace of mind during every trip.
Interaction
Traveling together in a wheelchair van encourages social interaction and a sense of community. People can share experiences, have conversations, and build relationships while going to different places in the community. 
A wheelchair van becomes a place where good memories happen. People share stories and have fun during the ride. These experiences make the group feel closer.
Considerations When Choosing a Wheelchair Van for a Community Living or Adult Day Program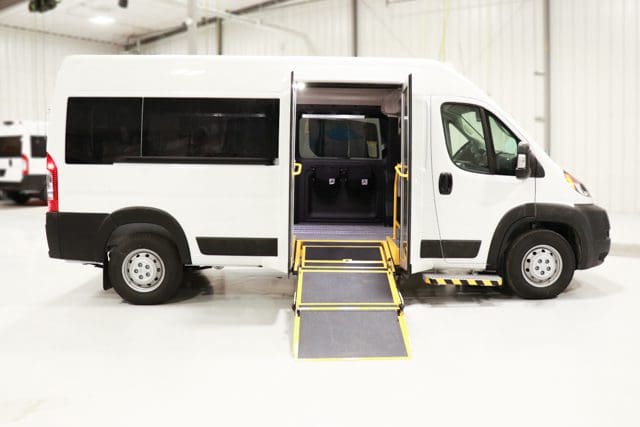 Choosing the right wheelchair van for a community living or adult day program is an important decision. It's helpful to consider a few of the following things to make sure the wheelchair van meets the needs of the program or agency using it. 
Here are some key factors to think about:
Accessibility features: The van should have features that make it easy for wheelchair users to get in and out. Look for strong ramps or lifts that can handle the weight of the wheelchair. Make sure the van has enough space for different types of wheelchairs. For minivans, the minimum dimensions of entry clearance with a ramp and a lift are 760 mm (30 inches) wide and 1400 mm (55 inches) tall.
Safety: Safety is very important when transporting people in wheelchairs. As you're searching for a wheelchair van, check if it has secure tie-down systems to keep the wheelchairs in place during the ride. It's also important to have proper safety restraints for everyone on board.
Capacity and flexibility: Think about how many people you need to transport at once. Your wheelchair van should have enough seats to fit everyone comfortably. 
MoveMobility van configurations
| | | |
| --- | --- | --- |
| Van Model | Wheelchair Capacity | Ambulatory Passenger Capacity |
| P3 Accessible Van | Up to 3 wheelchairs | Up to 8 ambulatory passengers |
| P4 Accessible Van | Up to 3 wheelchairs | Up to 10 ambulatory passengers |
| P5 Accessible Van | Up to 4 wheelchairs | Up to 10 ambulatory passengers |
| P6 Accessible Van | Up to 3 wheelchairs | Up to 10 ambulatory passengers |
Accessibility for caregivers: The van should have features that make it easy for caregivers to help people with disabilities. Look for things like low-step entry, wide door openings, and enough space inside for caregivers to move around and offer support. 
Keep an eye out for adequate interior headroom. Not enough headroom is a common complaint in smaller vans. You don't want people bonking their heads every time they have to help a client in the van.
Other considerations for choosing a wheelchair van for your program
Maintenance and durability: Choose a van that is built by a manufacturer that keeps durability in mind. Consider things like the durability of the ramp or lift, the quality of the wheelchair tie-down systems, and how reliable the vehicle is overall. You want a van that can be used regularly and provide reliable transportation for a long time.
Budget: Think about your budget and find a van that gives you the most value for your money. Look at different options, compare quotes, and think about both the upfront costs and potential long-term expenses like maintenance and fuel efficiency.
User feedback and reviews: Take the time to read reviews or ask for feedback from other organizations who have used the wheelchair van you're considering. Their experiences and opinions can give you helpful information about how well the van performs, how reliable it is, and how satisfied they were with it.
Costs Involved With Buying a Wheelchair Van for Your Community Living or Adult Day Program
If you're thinking about getting a wheelchair van for your community living or adult day program, it's important to know how much it will cost. Let's take a look at the different factors that affect the overall price of a wheelchair van.
Chassis
The chassis of the vehicle, which is the frame or body, has a big impact on the cost of a wheelchair van. About half of the total price goes toward the chassis, while the other half covers the conversion. Wheelchair van manufacturers can't control the cost of the chassis much, so it's usually similar to what you would pay at a dealership.
Conversion
The conversion of the van into a wheelchair accessible van includes various components that contribute to the overall cost. These components include:
Lighting systems
Safety equipment
Removable seating
Flooring
Custom medical equipment
Wheelchair securement restraints
Entry and exit assists (grab poles)
Heating and air conditioning systems 
Interior paneling
Insulation
Wheelchair access equipment like lifts or ramps
Here is a chart that lists the ballpark costs of a couple of different types of wheelchair vans:
| | |
| --- | --- |
| Vehicle | Budget Range |
| Rear Entry Minivan with manual ramp conversion | $75,000-$100,000 |
| P Series Accessible Vans | $120,000-$160,000 |
| Ram Promaster & Ford Transit Classic Series | $125,000-$140,000 |
| T Series Accessible Van | $140,000-$170,000 |
Funding Options for Wheelchair Vans in Community Living or Adult Day Programs
Finding funding for wheelchair vans can significantly help reduce the financial burden for community living or adult day programs. Here are some funding options to explore:
Government grants: Keep an eye out for government grants specifically tailored to community living and adult day programs. 
Transport Canada: Transport Canada has introduced a new incentive program to promote the adoption of electric vans, assisting businesses and communities in transitioning to zero-emission vehicles. You can find a list of eligible vehicles here, note that this list doesn't include the vans that MoveMobility carries. Organizations, businesses, municipal governments, provinces, and territories are among those eligible to apply.
Grant Connect: Grant Connect is a helpful online tool designed to help nonprofits identify funding opportunities. While access to the website requires a subscription fee, it can be a valuable resource for finding potential funding sources.
Check out the pricing for Grant Connect. 
Indigenous Services Canada: Indigenous Services Canada provides a range of funding opportunities specifically aimed at supporting Indigenous communities. They consistently release new funding options, some with specified deadlines and others without. It's advisable to regularly monitor their website to stay informed about the latest funding opportunities that become available.
What's Next?
Now that you know a little more about what to think about and how to purchase a wheelchair van for your community living or adult day program, why not chat with a MoveMobility expert?
Alternatively, you can also learn more about buying a wheelchair van by reading these articles:
This article will give you a good idea of the costs you can expect when purchasing a wheelchair van: How Much Does a Wheelchair Van Cost?
This article will walk you through the top 5 MoveMobility wheelchair vans for adult day programs.
The following buyer's guide will give you everything you need to know about getting a wheelchair van: The Ultimate Buyer's Guide to Wheelchair Vans.
If you're struggling with funding, this article is the one to read: How to Get Wheelchair Van Funding.